This week was all about experimenting with soapy techniques. In the Thai Tea Melt and Pour Tutorial, a melt and pour swirl technique is used to mimic cream mixing into tea. Thai tea is black tea mixed with spices and topped with some sort of cream, like coconut milk. For an authentic smell, the soap has a blend of Black Tea Fragrance Oil, Burnt Sugar Fragrance Oil and Coconut Cream Fragrance Oil.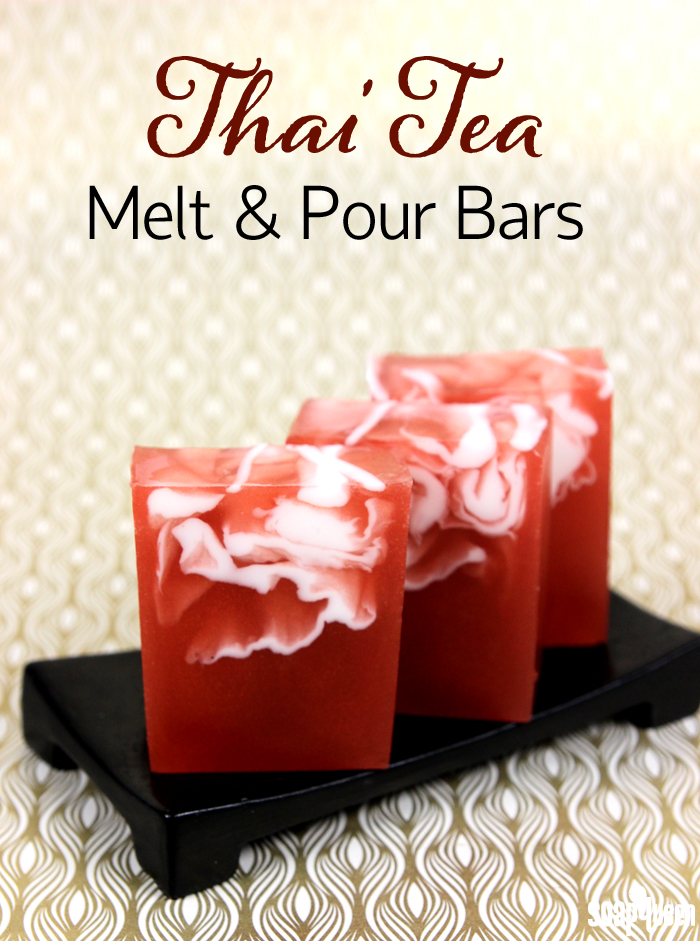 Another fun technique is a lace pattern in soap. To get the look, a mat is made with with lace and pourable silicone. After the mat is made, the soap is poured on top. In the Jasmine Lace Cold Process Tutorial, white lace soap contrasts against a purple base. Jasmine Dreams Fragrance Oil adds a fresh floral scent.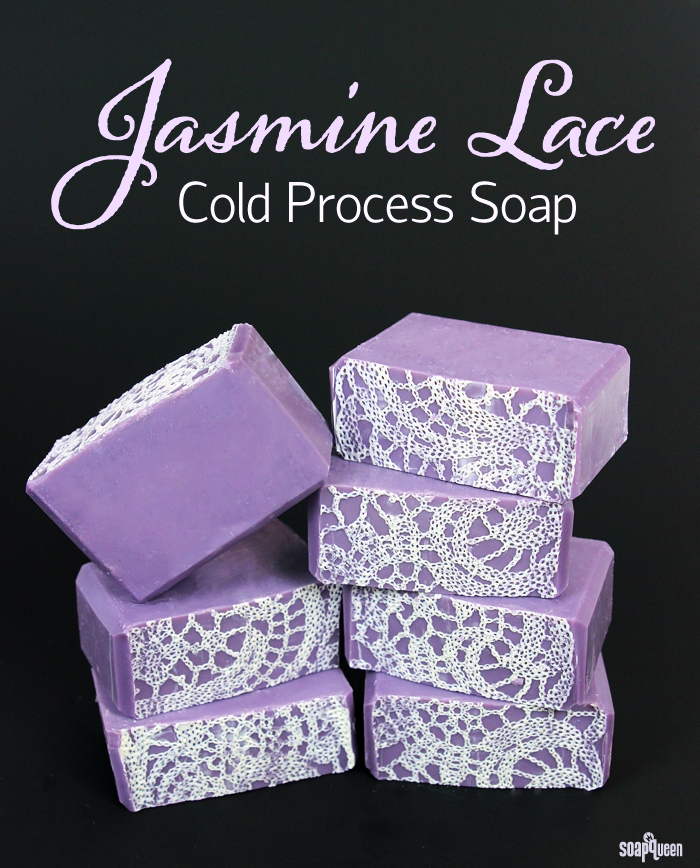 Carolyn with Siennalily Soaps makes colorful soap using a wide variety of techniques. She is constantly on the lookout for inspiration, and finds it in clothing, gardening and the buildings in Spain where she lives. Learn more about how she got started soaping in the Interview with Siennalily Soaps post.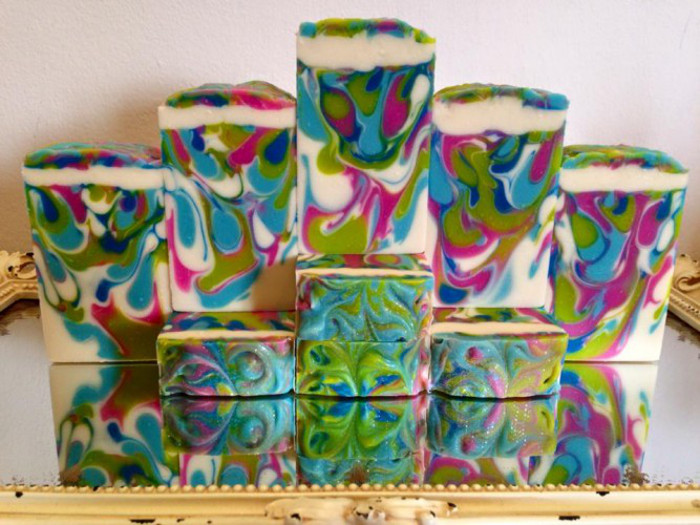 If you're looking to try a new recipe, you'll love the Paleo Egg Salad. It's made with eggs, paleo mayo and plenty of pickles. I brought the egg salad to one of the Bramble Berry barbecues. Several barbecues are held each summer, and give employees a chance to unwind and enjoy great food.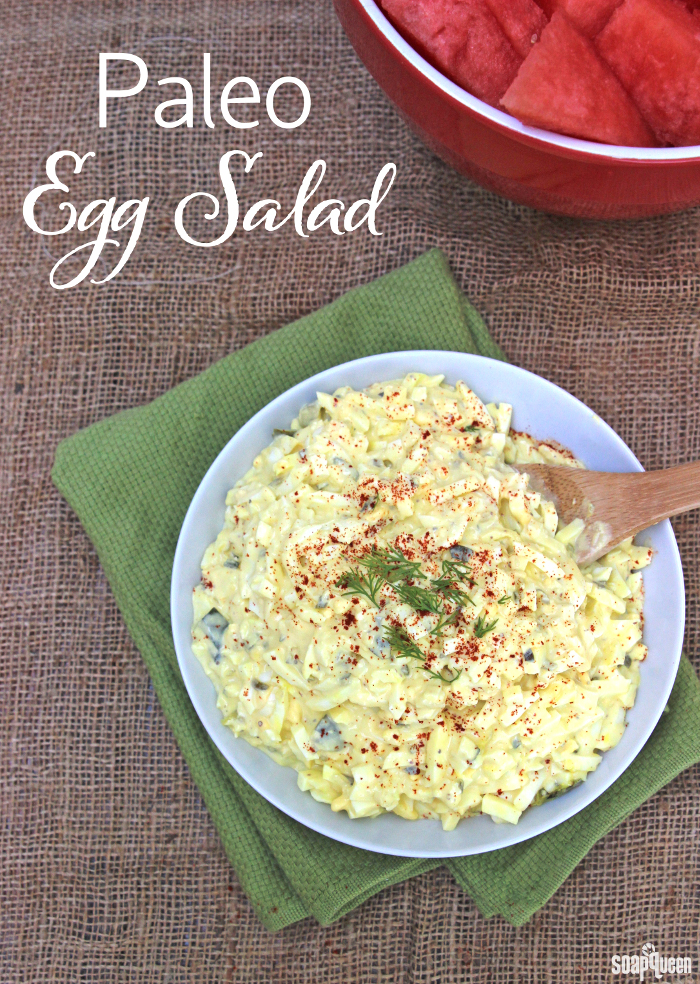 It still surprises me every day to see how many employees work at Bramble Berry. When I first started the business I processed every order from start to finish. It was  hard to learn to delegate and let go. Read more about when I felt like Bramble Berry was a "real company," and learn how you can enter for a chance to win some of our newest fragrances in the When Did I Know post.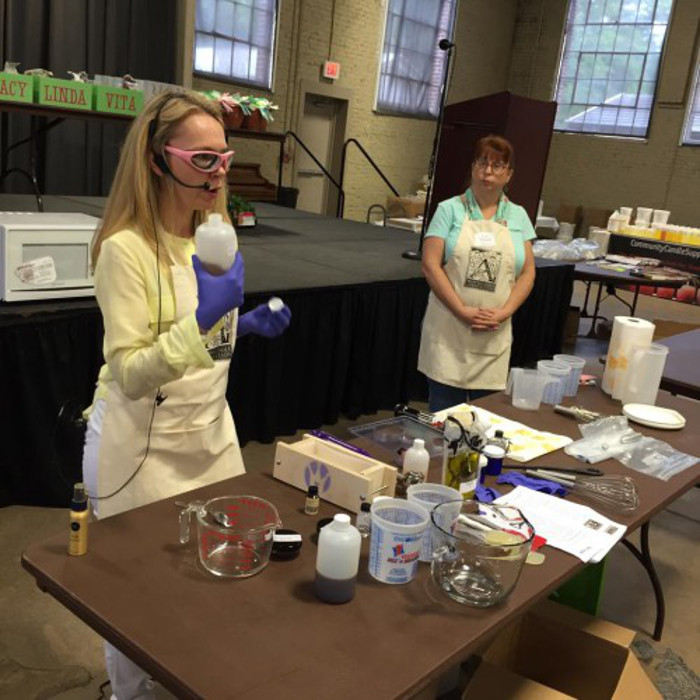 Something as small as making a gorgeous bar of soap can be a milestone in your business. Deborah with Boonie Mama's Soap made this gorgeous soap, which is scented with cucumber melon and mint. She is this week's Facebook Photo of the Week winner.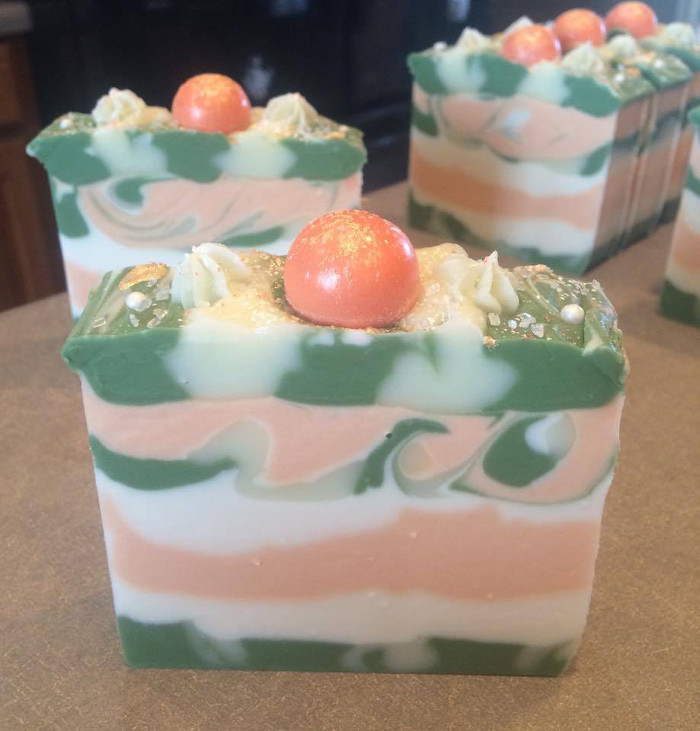 The layers in Deborah's soap are beautiful. The top has plenty of fun detail as well, including gold dust and a soap sphere. If you'd like a soapy sphere topper in your project, click through the Neon Embed Cold Process video on Soap Queen TV. Spheres look great in the Once Upon a Dream Cold Process Soap as well.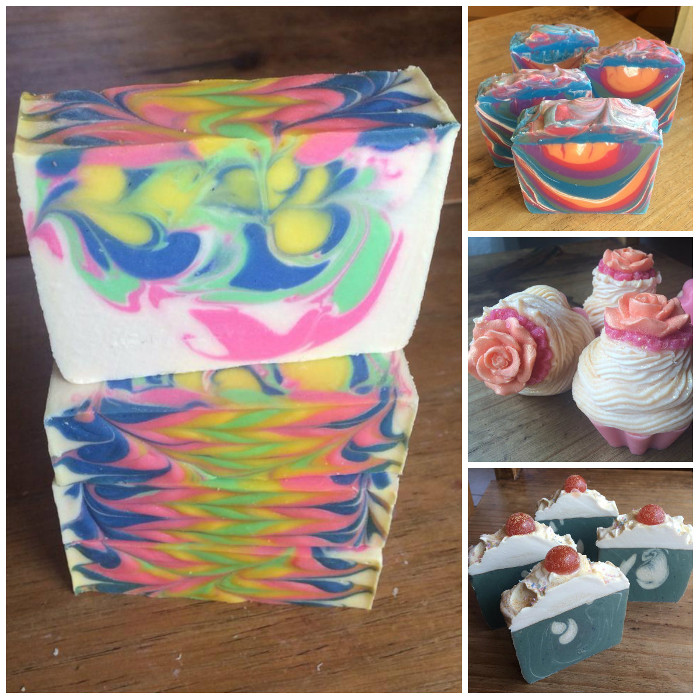 Above (clockwise, left) are Deborah's Endless Love Type Soap, Ginger Patchouli Soap, Kumquat Cupcake Soap and Blueberry Delight Soap. For more cupcake inspiration, click through the Luscious Lemon Cupcakes Tutorial. You can make bath bomb cupcakes as well. See how in this video.
Find Boonie Mama's Soap
On Facebook
On Etsy
This Orange Vanilla Cream Soap by Millie's Maa Soaps is stunning as well. The warm orange and yellow colors are accented by orange jojoba beads. The stamp has beautiful clear detail. See more beautiful soap on Millie's Maa's Instagram page.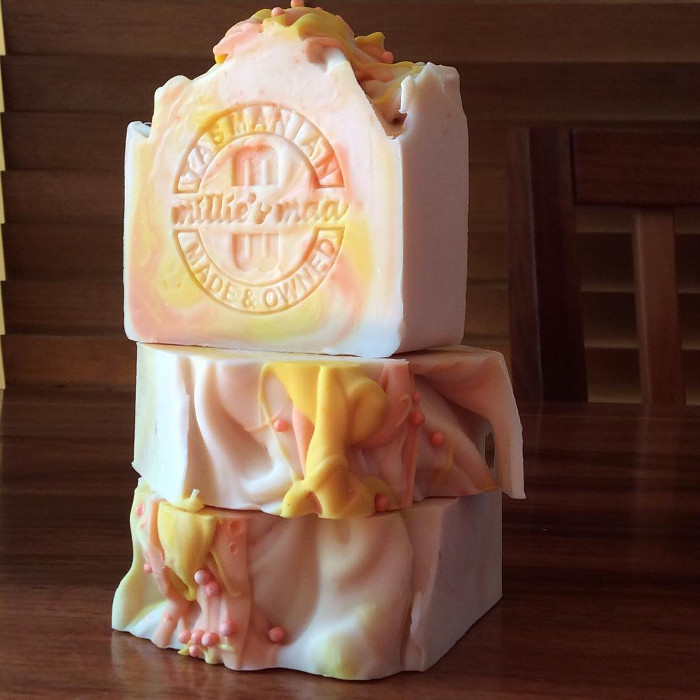 Post pictures of your crafty creations on the Facebook page each week for a chance to be featured on the Soap Queen blog and receive a sweet soapy package from Bramble Berry. Photos are chosen based on consensus from the Bramble Berry staff, so the best way to increase your chances of winning is to show us lots of photos!
To participate in the Instagram contest, hashtag your pictures with #soapshare. Each Friday, I will pick a photo on Instagram to be featured on the Bramble Berry Instagram account. 
For those of you who have been featured on the blog, we now have an official "Featured on the Soap Queen" badge! You can include that badge on your website, blog, pictures, etc. To save the badge, click here. =)