This week celebrated all things green. As part of the #SoaptheRainbow series, you can share your photos on Instagram, Twitter and Facebook with the tag #SoaptheRainbow for a chance to win a $10 Bramble Berry gift certificate. Check out this post for green project inspiration. Tomorrow is the start of blue week.
In addition, a variety of colorants and fragrance oils are 25% off with the code: RAINSOAP. See the sale items here.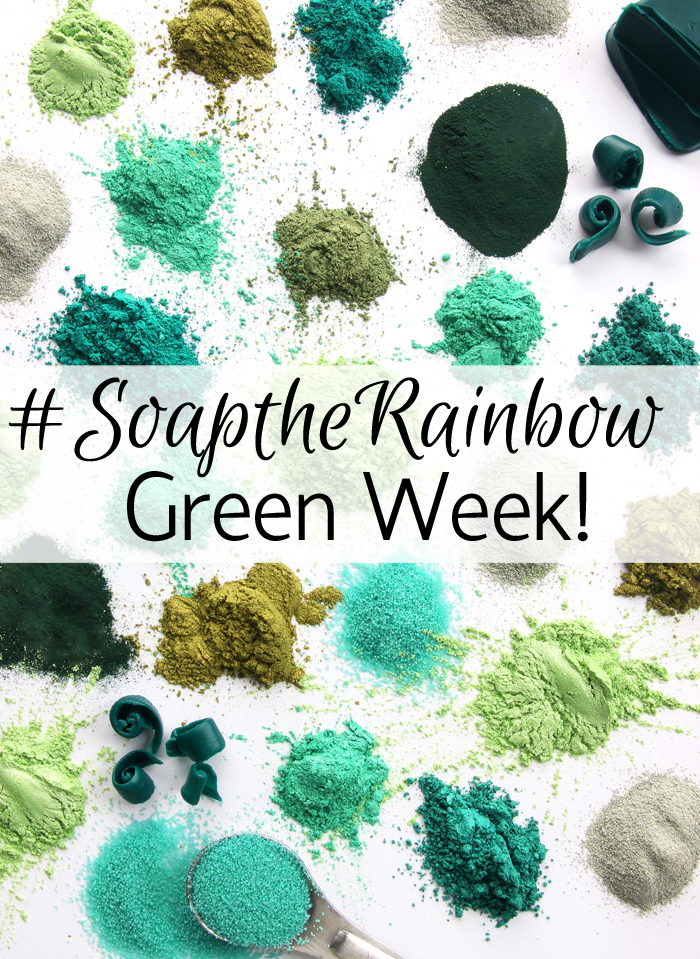 The new Green Smoothie Fragrance Oil is a perfect fit for any green project. It has notes of fresh cut kale, citrus, pear and florals. It was added to the Green Smoothie Body Butter for a crisp, refreshing scent. The recipe also contains avocado butter, grapeseed oil and green tea extract to moisturize dry skin.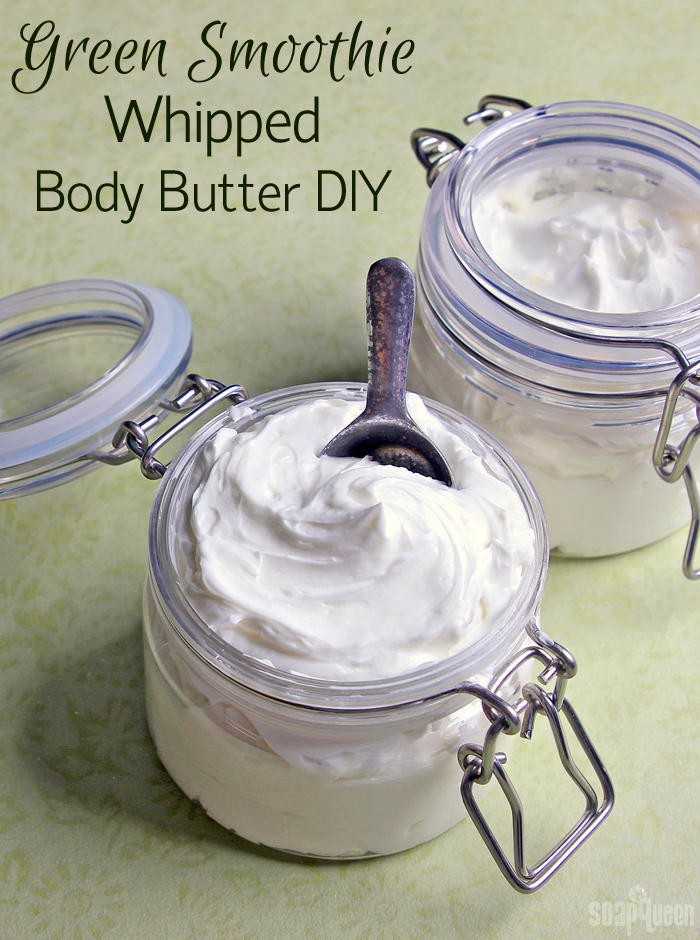 The Refreshing Lemongrass Soap is made with – you guessed it – green! It's made with Green Chrome Oxide Pigment and earthy lemongrass essential oil. Poppy seeds add contrast to the top. The soap is one of the options from the new Natural Soap Kit for Beginners. It comes with ingredients like oils, tools and printed instructions so you can make soap from scratch. It also ships free to the lower 48 United States!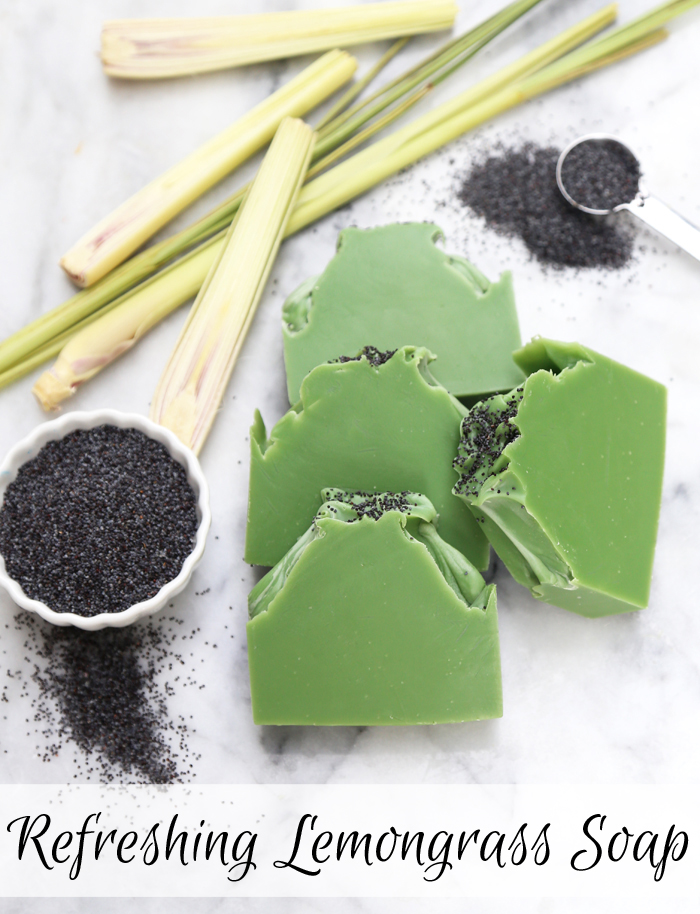 If you're looking to save a little money on your green projects, using recycled containers as molds is a great way to do so. Buying cost-effective oils can help as well. They include canola, castor, coconut, olive oil (pomace), palm oil, rice bran oil and sunflower oil. Click through the How to Save on Soapmaking post for more money saving tips.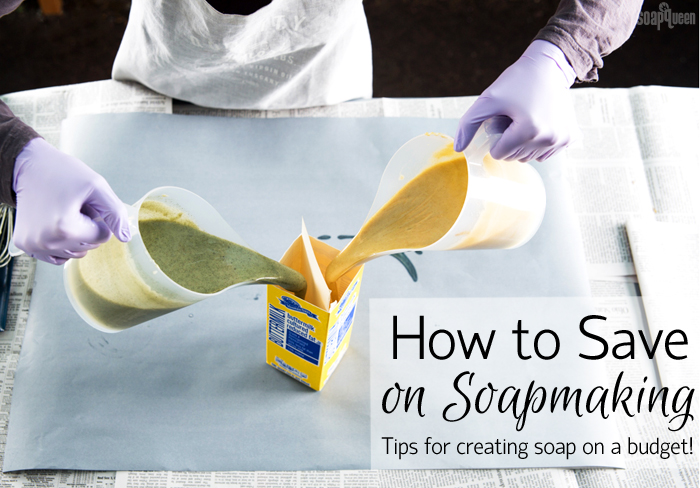 Using ingredients from your kitchen can help save money as well. Aileen with Soap Fixations used pistachio milk in her gorgeous Pistachio and Magnolia bars. They're this week's Facebook Photo of the Week.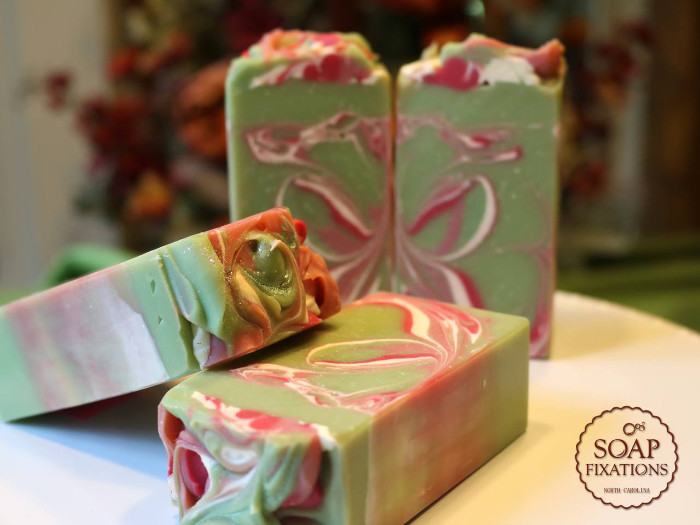 Aileen's bars feature a beautiful red and white swirl that pairs perfectly with the green. The colors are also swirled together on top for a cohesive look. I love the tall shape of the bars as well! If you love the swirl in the Pistachio and Magnolia soap, check out the Monarch Butterfly Swirl Cold Process Tutorial to learn how to get the look.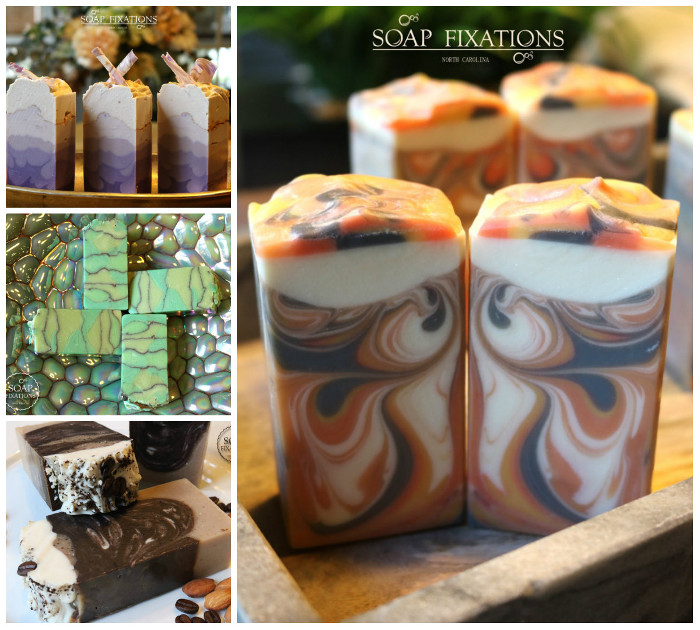 Above (clockwise, top left) are Aileen's White Pumpkin and Lilac Soap, Volcano Soap, Jamocha Almond Buzz Soap and Bamboo and Green Tea Soap. For more caffeinated goodness, click through the Espresso Shot Cold Process Tutorial. The Whipped Coffee Body Butter smells like your favorite cafe.
Find Soap Fixations
On Facebook
On the web
On Instagram
This week's #SoaptheRainbow green winners are (left to right) Triple Butter Palm Free Soap by Sophie Nicole Soaps, Avocado Soap by Iriy Soapworks and Wheaties Soap by Mama Bass Handmade Soap.

As part of our #SoaptheRainbow series, we are having a Grand Prize giveaway for a Soapmaker Super Sampler Business Kit worth more than $250! Read more about the #SoaptheRainbow series here. For a chance to win, all you have to do is join the Bramble Berry Newsletter via the Rafflecopter widget below. To sign up for the newsletter, you can sign in using your Facebook account, or you can manually enter the email address you'd like to use. If you're already signed into your Facebook account, the widget may automatically use the email associated with your account. If the widget didn't ask for your email, it's because you're already signed into Facebook. =)
After you sign up, you can earn extra bonus entries by completing tasks within the widget. These are completely optional, but the more you complete the better chances you have to win! The contest ends on August 9th at noon PST. The winner will be chosen randomly by the widget.
Post pictures of your crafty creations on the Facebook page each week for a chance to be featured on the Soap Queen blog and receive a sweet soapy package from Bramble Berry. Photos are chosen based on consensus from the Bramble Berry staff, so the best way to increase your chances of winning is to show us lots of photos!
For those of you who have been featured on the blog, we now have an official "Featured on the Soap Queen" badge! You can include that badge on your website, blog, pictures, etc. To save the badge, click here. =)