Despite our recent weeks of summer fun, fall is definitely in the air in the Pacific Northwest. I'm ready to leap into fall with this seasonal color palette and in-the-pot swirl soap. Check this out if you've been on the hunt for a great palm-free recipe, and check out another palm free recipe here and here. This recipe turns out super hard and the bubbles are medium in size with an easy rinse-off.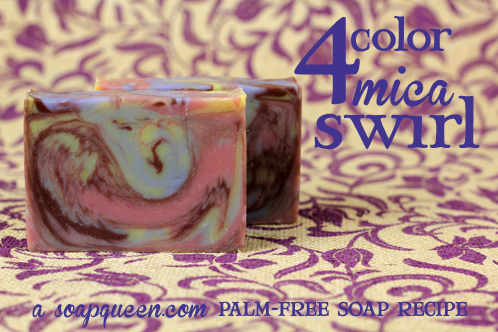 20.0 oz Coconut Oil
40.0 oz Rice Bran Oil
8.3 oz Sodium Hydroxide (Lye)
19.8 oz Distilled Water
3.5 oz Earl Grey Lemon Fragrance Oil
3 teaspoons Merlot Mica
2 teaspoons Super Pearly White
1 teaspoon Cellini Blue Mica
1 teaspoon Cellini Yellow Mica
1 teaspoon Cappuccino Mica
2 tablespoons Sweet Almond Oil
5 Pound Wood Mold with Sliding Bottom
Buy everything you need for this project with the click of a button!

For more tactile learners, this tutorial is available in our Etsy shop! Get your hands on printed instructions and a bar of soap and learn to make this palm-free soap here. [Read more…]