This week we made two exciting announcements, including the winners of our S.M.A.R.T. Goals Post. Thanks again to everyone who shared their 2014 goals with us — we had such a fun time reading them.
We also announced the beginning of our 2014 Soap Swap! In case you are unfamiliar with our Soap Swap, it's a fun way to swap your creations with fellow soap makers, learn new techniques and receive 12 bars of unique soap. Hurry and sign up now, spots are filling up quickly.
An Instagram collage of some of the lovely soaps we received during last year's Spring Swap.
This week we also shared our Honey Kisses Sheer Lipstick Tutorial, which is an inexpensive way to recreate my favorite store bought lipstick. Looking for more lip recipes? First, learn all about the process in our Talk It Out Tuesday: Lip Balm post, then give these tutorials a try! We also have you covered when it comes to cleaning up your lip balm project.
As for the Facebook Photo of the Week, this whimsical swirl caught my eye. Bonus points for their awesome use of natural colorants!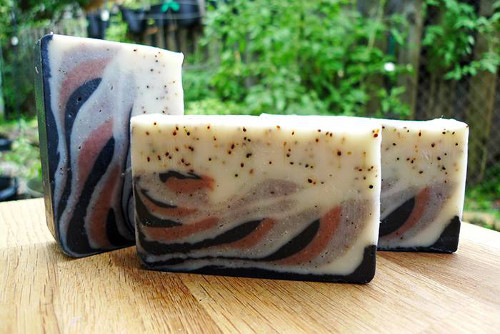 This week's Facebook Photo of the Week comes to us from Berkeley of Habitat Soap Collective. The beautiful bar above is the Blueberry Bath Bar, scented with Lavender Essential Oil and Peppermint Essential Oil. The company makes all their beautiful soaps with organic ingredients. All their soaps are also Palm free! If you're interested in trying out a palm-free recipe, check out some past tutorials we've posted: the Palm Free In-The-Pot-Swirl Tutorial, Palm Free Vertical Twist Tutorial or the Fall Sherbet tutorial.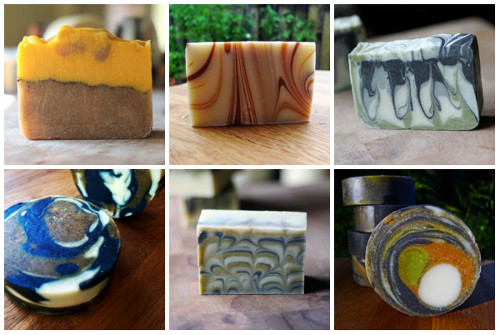 Pictured above (left to right, clockwise) is the Spiced Carrot and Apple Bar, Creamy Cocoa Bar, Winter Mint Bar, Honey and Spiced Rum Bar, Feathery Fennel Bar, and the Minty Mocha Bar. If these gorgeous soaps have inspired you to make your own natural soaps, learn about using natural colorants and see more natural color inspiration in our Make It Monday: #NaturalColorants post. You can also use natural colorants in your melt and pour projects!
Berkeley's website: Habitat Soap Collective's Website
Post pictures of your crafty creations on the Facebook page each week for a chance to be featured on the Soap Queen blog and receive a sweet soapy package from Bramble Berry!