This is quick and easy cold process recipe doubles as a way to recycle scrap cold process bars. Simply shred bars with a cheese grater and you've got a great way to embellish freshly made cold process soap. This soap was fragranced with Cherry Blossom Fragrance Oil, which moves quickly (totally worth it); it smells fantastic in finished soap. If you finish with a little glitter, you've got one beautiful bar of soap!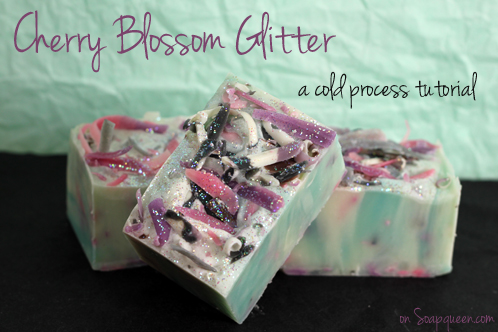 What You'll Need:
66 oz. Lots of Lather Quick Mix
9.5 oz. Sodium Hydroxide
21.8 oz. distilled water
15 – 30 oz. shredded cold process soap
4 oz. Cherry Blossom Fragrance Oil
18-Bar Birchwood Mold with Liner

Click here to add everything you need for this project (aside from the shredded soap) to your Bramble Berry shopping cart!
If you've never made Cold Process soap before, stop here! I highly recommend checking out our FREE four part SoapQueen.tv series on Cold Process Soapmaking, especially the episode on lye safety. And if you'd rather do some reading, Bramble Berry carries a wide range of books on the topic, including my newest book, Soap Crafting. You can also checkout the digital downloads for that instant gratification factor.
If you don't want to use the Lots of Lather Quick Mix, you can formulate your own recipe too. Try using some combination of Coconut, Palm Oil, Canola Oil, Olive Oil and Castor Oils. Click here to learn more about formulating your own cold process recipes from scratch. I would use a recipe that was fairly hard (lots of solid oils) to ensure that your already-hard, fully-cured shreds weren't much harder than your fully cured, final bar of soap. If the shreds are much harder than the rest of the bar, you'll end up with a bar that has little shreds or soapy nubbins sticking out of the top and sides.
SAFETY FIRST: Suit up for safe handling practices! That means goggles, gloves and long sleeves. Make sure kids, pets, and other distractions and tripping hazards are out of the house or don't have access to your soaping space. Always soap in a well-ventilated area.
COLOR PREP: Disperse 1 teaspoons of Aqua Peal Mica and 1 teaspoon of Neon Blue Raspberry Colorant into 1 tablespoon of liquid oil each (we like Sweet Almond or Sunflower). Disperse 2 teaspoon of Titanium Dioxide and into 2 tablespoons of oil. Prepping your colors in the beginning will allow you to work quickly and give you more time to work with your soap. Use the mini mixer to get all those clumps worked out smoothly.

SOAP PREP: Shred a few leftover or scrap cold process bars with a cheese grater. You can experiment with different grates, but we found the larger holes on the grater worked best and were most visible in the finished soap. Anywhere from 15 – 30 oz. for this size batch works best, but ultimately how much to shred is up to you. Set the shredded soap aside until step 4.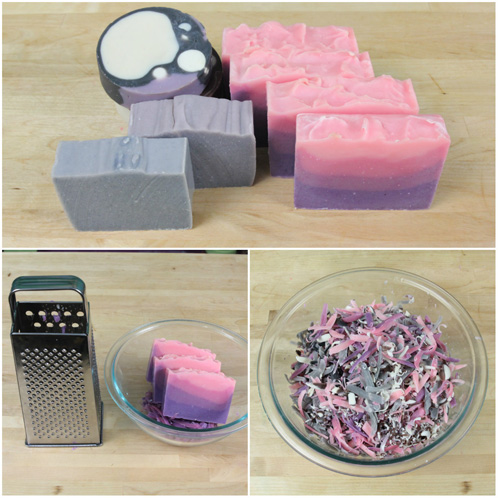 ONE: Slowly and carefully add the lye to the water, and stir until clear. Set aside to cool. If you'd like a harder bar of soap that lasts longer in the shower, you can add Sodium Lactate to the cooled lye water. Use 1 teaspoon of Sodium Lactate per pound of oils in the recipe.
TWO: Melt the Lots of Lather Quick Mix in the boilable bag it comes in to get it to be liquid. Then you can pour it out and weigh it. Once the lye water and the oils have cooled to 130°F or below (and are ideally within 10 degrees of each other), add the lye water to the oils and stick blend until thin trace.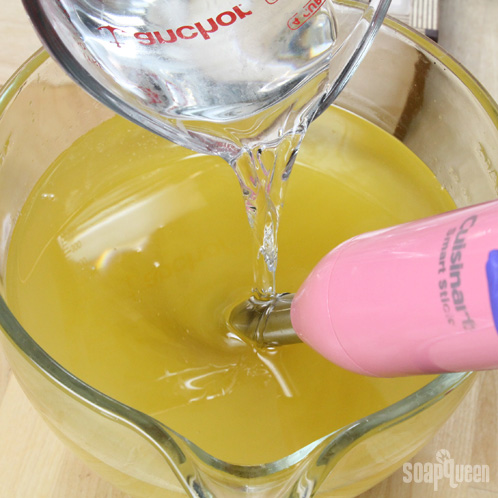 THREE: Pour off about 17 oz. of batter into two containers. You'll have a large amount of soap left over in the original bowl. This is what you want. We're getting ready to do an In The Pot Swirl into the larger batter container. Add the following dispersed colorants:
6 teaspoons of dispersed Titanium Dioxide in the original, large bowl
1 teaspoon of dispersed Aqua Pearl in one of the 17 oz. containers
1 teaspoon of dispersed Aqua Pearl + 1 teaspoon of dispersed Neon Blue Raspberry in the second 17 oz. container
Mix in the colorants, from lightest to darkest, with a wire whisk or spoon.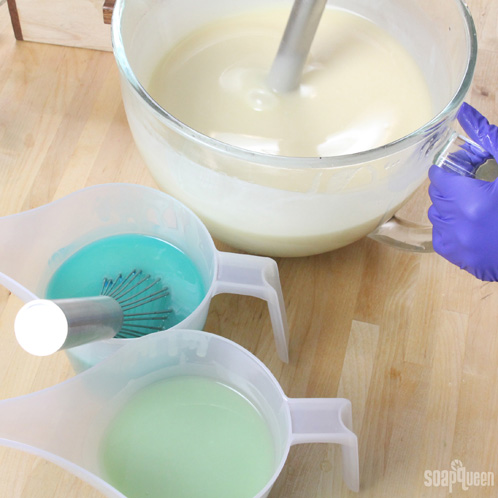 FOUR: Divide the Cherry Blossom Fragrance Oil equally among the three containers. Eyeballing is okay! This fragrance slightly accelerates trace, so after you stir it in with a wire whisk or spoon be prepared to move quickly.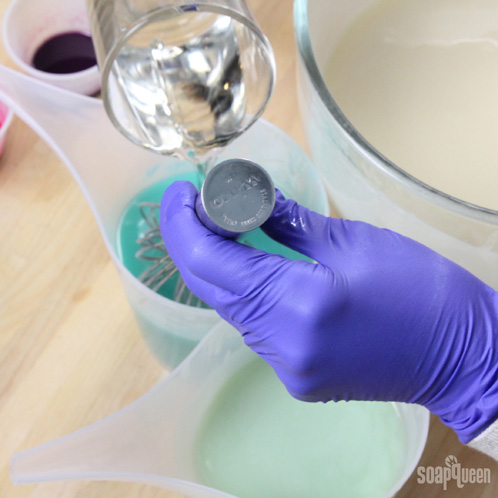 FIVE: In the large white batch of soap, add 15 – 20 oz. of the soap shreds. Be sure to save a handful to garnish the top of your finished soap at the end. Incorporate into the batter with a wire whisk or spoon.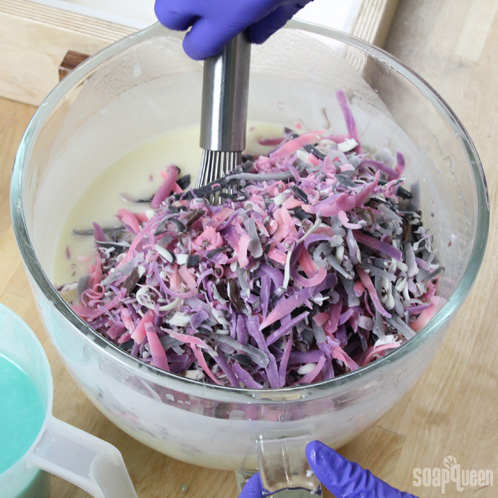 SIX: We did a modified in-the-pot-swirl for this recipe by drizzling the colored soap into the titanium dioxide-colored soap in a spiraling pattern from the outside of the bowl, inwards. Pour from a high point so that the soap penetrates the entire depth of the soap in the bowl, which will create a swirl throughout the soap.
If you'd like to try a traditional in-the-pot swirl, start by pouring the aqua-colored soap into the Titanium Dioxide-colored soap in 4 places: 12:00 o'clock, 4:00 o'clock, 8:00 o'clock, and center. Repeat with the Neon Raspberry & Aqua Pearl soap.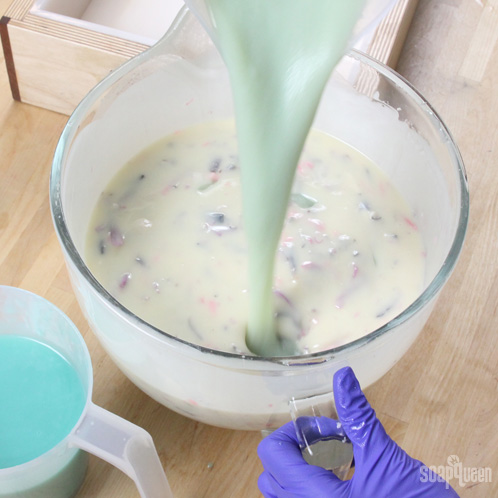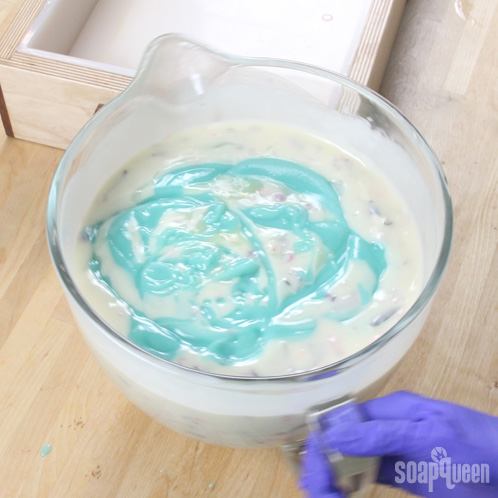 SEVEN: Slowly pour the batter in the lined 18-bar Birchwood Mold. Use a spatula to scrape the remaining soap from the bowl. Notice how thick this trace is? It's important to tamp the mold several times on the work surface to ensure all bubbles that could become trapped in the thick batter rise to the top. You don't want bubbly pockets in your soap.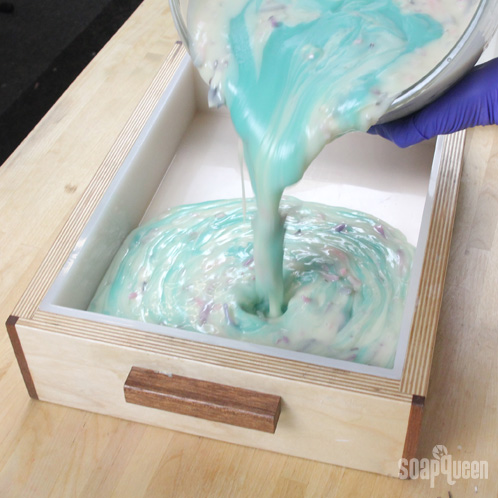 Optional EIGHT: Assemble the 18-bar mold dividers and place them straight down into the soap. Keep in mind this step is optional and you don't have to insert them if you don't want to. If you don't want to, simply skip this step and move on to step 9.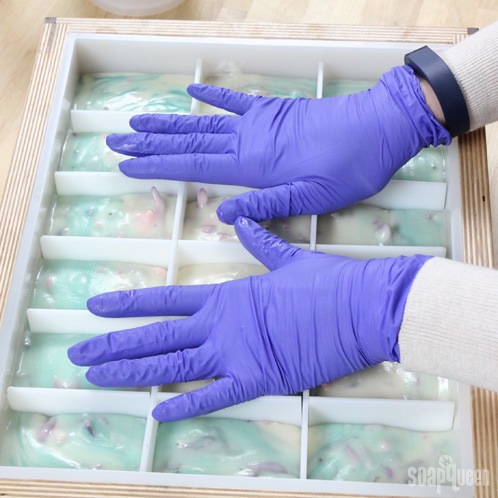 NINE: Garnish the top of the soap with any remaining soap shreds and Iridescent Glitter. Spray the entire top with 91 or 99% Isopropyl Alcohol to reduce soda ash.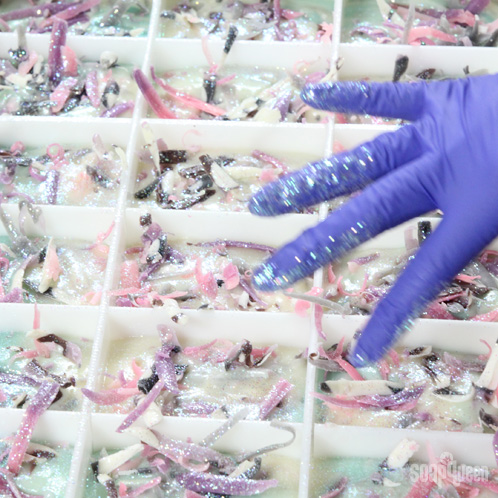 Cover and insulate for 24 hours and unmold after 3-4 days, and allow to cure for 4-6 weeks. Enjoy!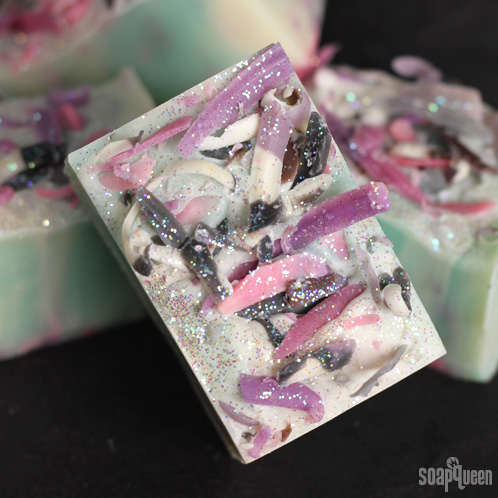 Bonus!: Check out this quick Instagram video recorded during the making of this soap: