Soap swaps are one of the most popular things on the Soap Queen Blog. Whether you're a new soaper and want to learn, or an experienced soaper looking to get inspired with new ingredient options, there's something for soapers at all experience levels. Our Soap Swap is a great way to discover new soaping techniques, get packaging ideas and maybe even meet new soapers. Think of it as a mini-soaping skill share! Read on to learn about how you can get in on the fun.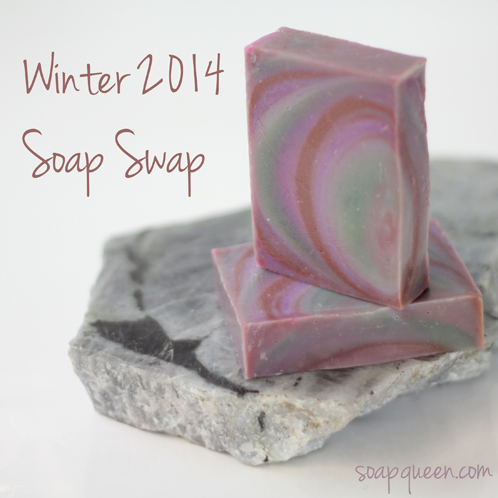 Anyone can participate in the Swap, so don't worry if you're a new soaper. The basic idea behind the Swap is that you send twelve 4 oz. bars of soap and receive 12 bars from 12 different soapers in return. You just send us the box, we do the swapping, and then a box full of diverse soaps arrives on your door step. The Swap is free, but you will pay to ship your box to us as well as to get your box back. To ensure that no two bars are alike, we ask that you email us with your first and last name, the type of soap you are making and which fragrance you'd like to use. We are only allowing two people to use the same fragrance, so email us right away to claim the one you'd like to use. You can also consult the chart at the end of this post (scroll down) to see which fragrances have already been claimed.
As a bonus, the first people to enter will automatically get a free "extra" guest soap made by me. In the past, these soaps have been fun previews of blog posts to come.

Sounds pretty good, right? More specific details are below:
1. Email us at [email protected] with the fragrance you are going to use, the type of soap you are making and your first and last name. Remember that if you send us 12 bars of cold process soap, you will receive cold process in return (the same goes for melt and pour as well). Additionally, you must use a fragrance or essential oil that Bramble Berry currently sells.
2. You pay for the return shipping of your soap by purchasing the 'Magical Soap Swap Express' on the Bramble Berry website. If you are an international customer, keep in mind that your shipping will be more and you'll have to email [email protected] to arrange your shipping.
3. You must send 12 bars that are at least 4 oz. each. It's no fun sending full-sized bars and getting tiny ones in return!
4. Your soap must arrive to us by Monday, March 17. Please plan in advance to make sure your soaps arrive to our warehouse by that date. We recommend sending your soap by March 10th.  You can send Swap boxes to:
Bramble Berry Inc.
C/O Soap Swap
2138 Humboldt Street
Bellingham, WA 98225
5. We will send out your Swap boxes by March 21. You will receive a tracking number so you can track your box.
The list of claimed fragrances is below. Many soapers have already jumped on the bandwagon so don't miss out!
An Instagram collage of some of the lovely soaps we received during last year's Spring Swap.
Cold Process Fragrances:
Melt & Pour Fragrances: