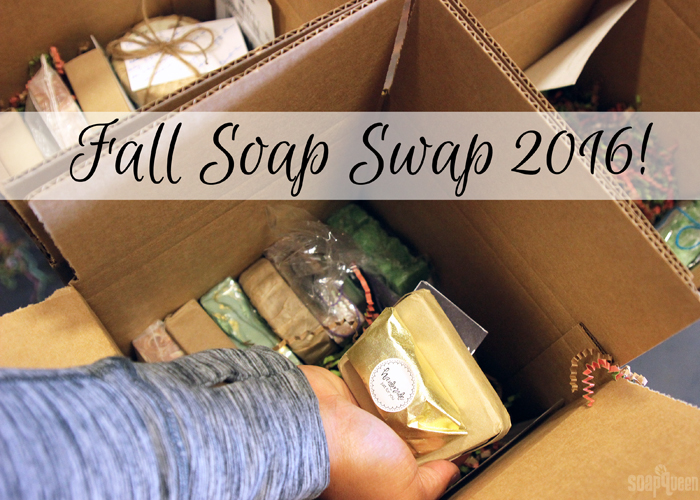 Last week, the team worked overtime to swap and send over 100 boxes of cold process soap. If you participated in the swap, be on the lookout for your box of goodies soon. If you'd like to learn more about the swap, click here. If you missed out on this swap, be sure to sign up for the Bramble Berry newsletter. That's where we will announce when the next swap will take place!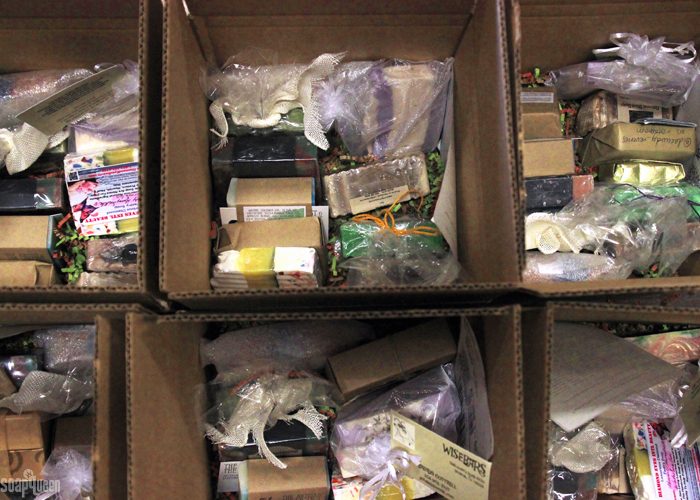 Boxes of soap waiting to be shipped to their new homes.
In the last swap, I was a participant and sent in 10 bars of soap. Opening that box was the highlight of my month for sure so I'm a participant in this swap as well. I swapped soap that will be featured on Soap Queen TV soon.  In fact, the batch I sent is the batch I made on camera during the actual filming! =) The soap is made in the 18 Bar Birchwood Mold with the Butterflies and Feathers Silicone Impression Mat to give the bars a design on top. The blue color is created with Mermaid Mica and the soap is scented with White Magnolia Fragrance Oil. Be on the lookout for that tutorial soon on Soap Queen TV. =) If you want to see the soap I received in my box, tune into the Bramble Berry Facebook page this Friday, September 30th at 2 p.m. PST.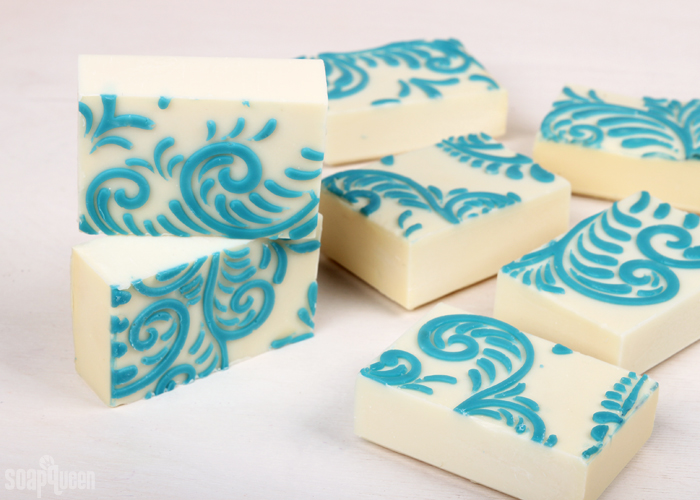 My contribution to the soap swap, made with White Magnolia Fragrance Oil.
There were so many amazing soaps in this swap. I'm always inspired by the talent in soap making community! Below are just a few of the soaps that caught my eye. I wish I could highlight all of them. The countless layers in the Moroccan Mint Soap (below) by Baabbly Soap are stunning. That techniques requires some serious skill! The colors are the perfect complement to the fresh fragrance.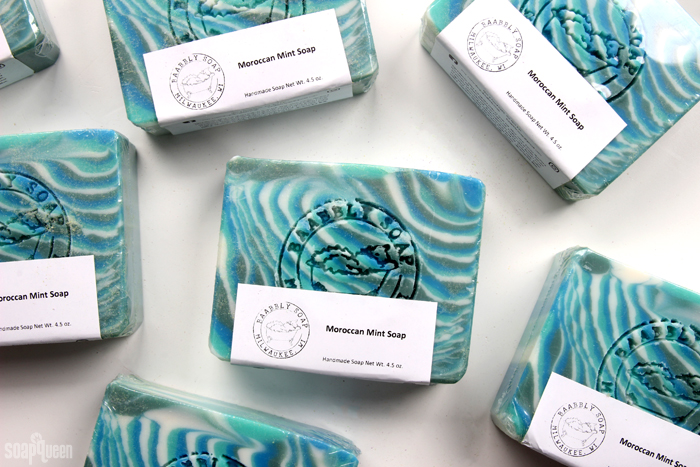 Moroccan Mint Soap made by Baabbly Soap. I love those layers!
The beautiful color palette of these Cranberry Grapefruit Soaps by Boston Creations suits the combination of Cranberry Fig Fragrance Oil and Pink Grapefruit Fragrance Oil perfectly. The addition of deep gold mica on top is a beautiful finishing touch. Mica on top of a textured soap looks so luxurious, don't you think? =)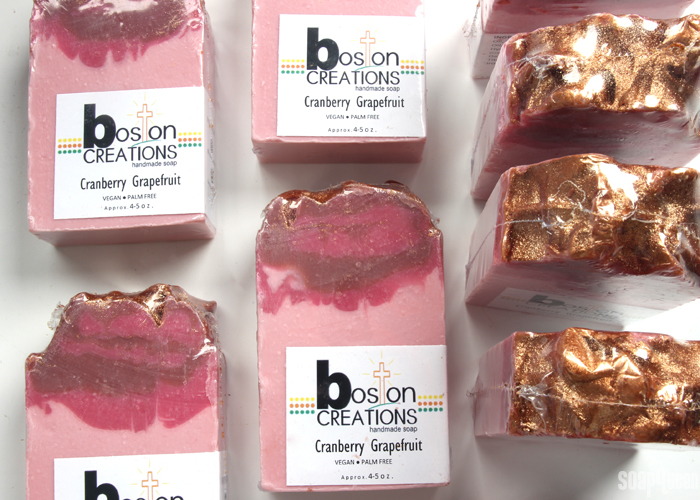 Cranberry Grapefruit soap made by Boston Creations. Pink and gold sparkle are made for each other! 
I recently shared a photo of this beautiful Bocha Bar Soap made by Bamboo Forest Soap Company on Instagram, and you all agreed how stunning it is. I love the packaging and how the bright colors of the soap peeks through the lettering. The stamp on each bar creates lovely and cohesive branding. The bars are scented with Fresh Mango Fragrance Oil.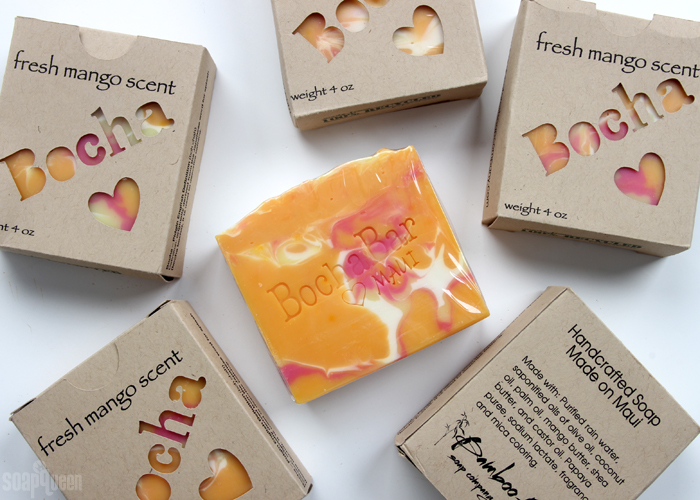 Bocha Soap created by Bamboo Forest Soap Company. These bars are a great example of how packaging can bring a product to the next level!
How adorable are these S'mores Shower Shot Caffeine Soaps by Swirling Sky Handmade? The bold layers and tall shape bring to mind a decadent cup of coffee. The green straw and coffee bean on top look fantastic. They are fragranced with a delicious combination of Hazelnut Toffee Fragrance Oil and Espresso Fragrance Oil.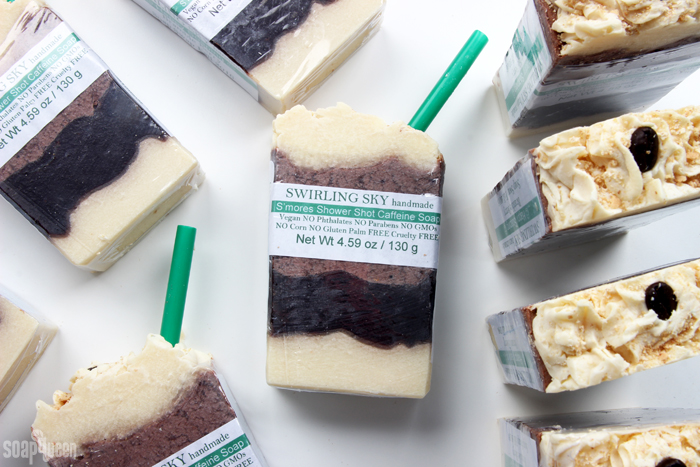 S'mores Shower Shot Caffeine Soap by Swirling Sky Handmade. The green straw and coffee bean on top look so cute.
These Beach Escapades Bars by Natural Pure Honest feature perfectly beachy layers. The bottom textured layer recreates the look of sand, followed by an ocean blue layer with white textured soap on top. They are fragranced with Salty Mariner Fragrance Oil, which is the perfect ozone fragrance for these bars.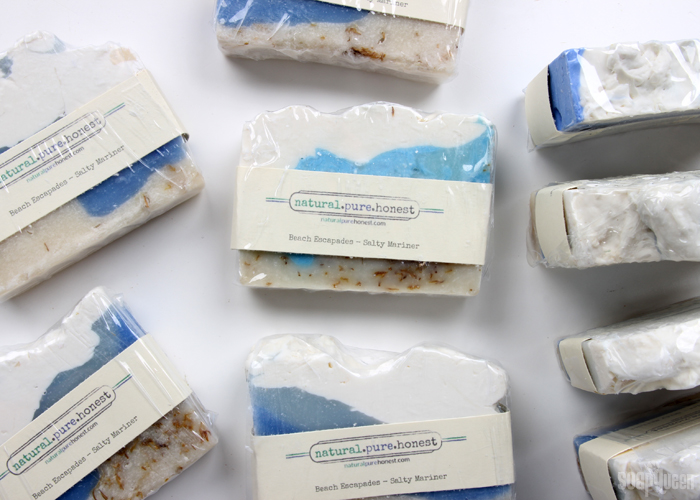 Beach Escapades Bars by Natural Pure Honest. The layers are wonderfully beachy!
Thank you to everybody who participated in the swap! I have to give my team a big thanks as well, specifically Kayla and Lily, for keeping this swap organized and running smoothly! Be sure to sign up for the Bramble Berry newsletter to be notified about the next swap. And, watch me live at 2 p.m. PST this Friday on the Bramble Berry Facebook Page as I unbox my own swap box. I can't wait to see who I swapped with =)