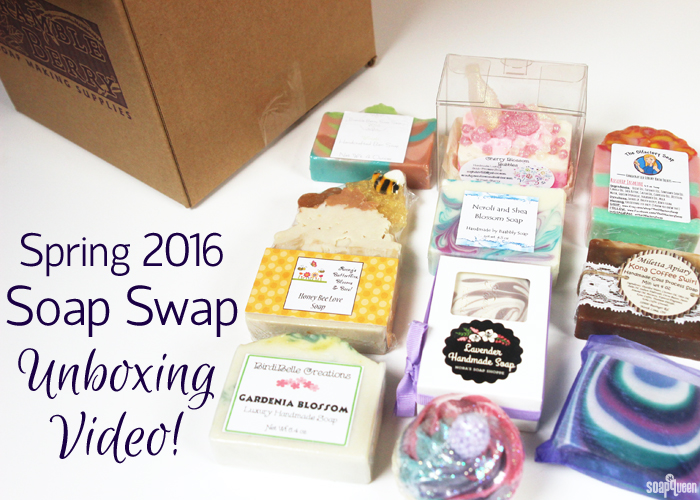 For the Spring 2016 Soap Swap, I decided to be a participant. This meant ten random soapers received one of my soaps, and I received ten different bars from soapers around the country. If you'd like more information regarding the Soap Swap, check out this blog post to read the details. Want to participate in a future swap? We will be hosting another one later this year! Be sure to sign up for our newsletter; the date of the next signup will be announced about a week in advance for newsletter subscribers only.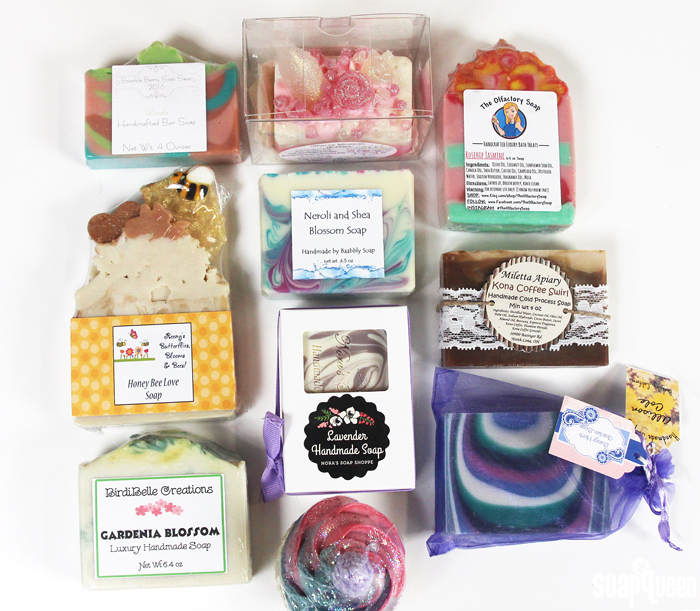 Here are all ten soaps I received in my box, they are so beautiful!
I was blown away by all ten bars in my box! They are so unique and really show off the talent of the soapmaking community. I love how each bar is so different given that all soapmakers have access to the same set of ingredients. Granted; it's a pretty big set of ingredients but still, it's awesome to see what everyone does with similar ingredients. Watch the videos below to see the live unboxing of my Soap Swap package. I included both the video on UStream below. I can't wait to use each bar. They all look and smell amazing. Thank you to everybody who participated in the swap and took so much time and effort to create beautiful bars for their fellow soapmakers. I hope everybody who participated had lots of fun. =)
Live streaming video by Ustream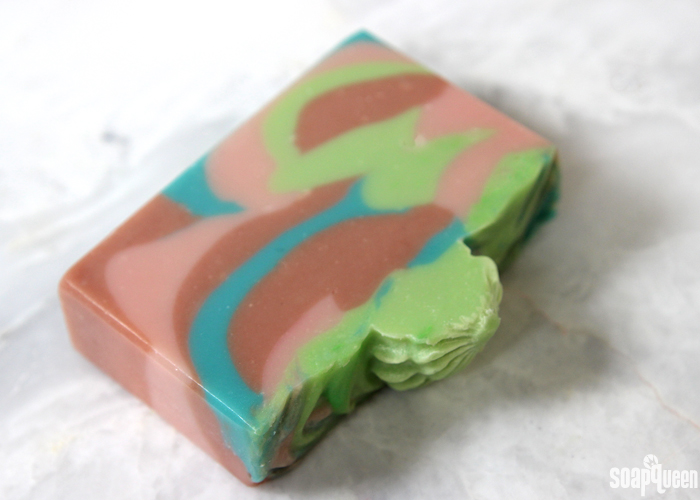 SOAP #1: The first soap was made by Ashley Stone and is scented with Wasabi Fragrance Oil. Ashley has been making soap for about four years, and hopes to open up a business soon. This lovely bar is made with several butters and coconut cream. It also contains kaolin clay and colloidal oats. I can't wait to use it in the shower. To get the layers of color, it appears Ashley used a spoon plop technique. The piping on top actually reminds me of a dollop of wasabi – such a cute idea. I also really like the colors she used; they look great together.
Find Ashley:
On Instagram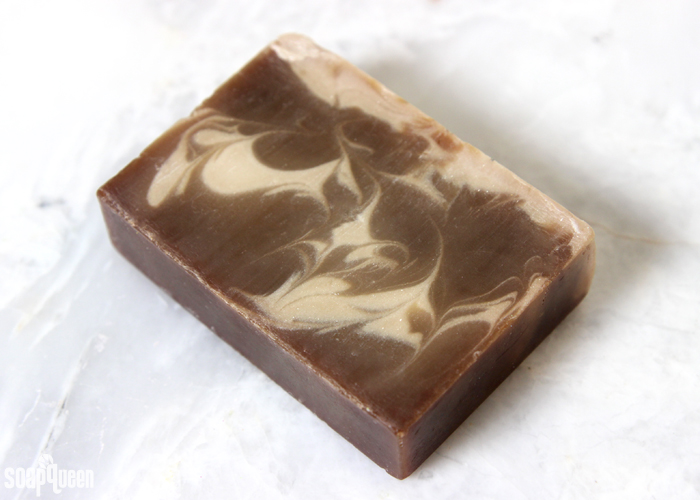 SOAP #2: This soap was made by Tina Miletta. It's scented with Espresso Fragrance Oil. I absolutely love the charming labels on this bar. The lace looks chic and slightly rustic (see group photo up at the top of this post). Tina first started making soap about two years ago as a creative way to use up beeswax and honey from her husband's bees. This bar contains beeswax which gives it a great firmness, as well as Kona coffee and coffee grounds. I love the delicate swirl in these bars.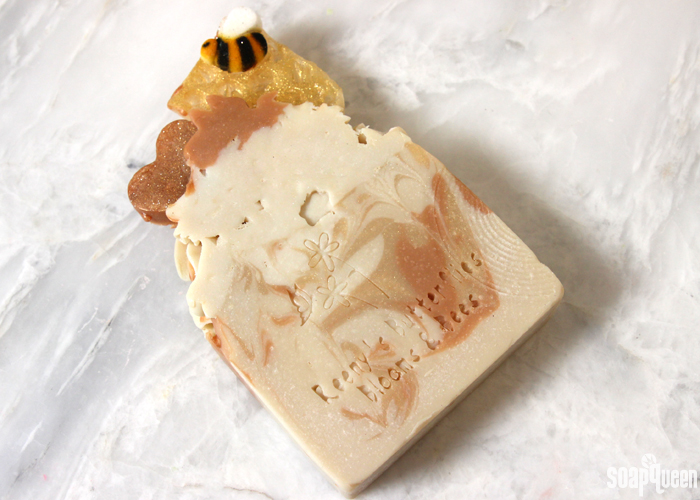 SOAP #3: My third bar came from Maureen Russell of Reeny's Butterflies, Blooms & Bees. It's scented with Wildflower Honey Fragrance Oil, which is the perfect fragrance for the bee-inspired design. It features melt and pour embeds, an adorable bee on top, cold process soap frosting and a swirl. It's such a gorgeous and impressive bar! Maureen is a backyard beekeeper and uses beeswax as much as possible. For this bar, she used King's Gold Mica and Honeyed Beige Mica. Maureen also has a blog; check it out here.
Find Maureen:
Online
On Facebook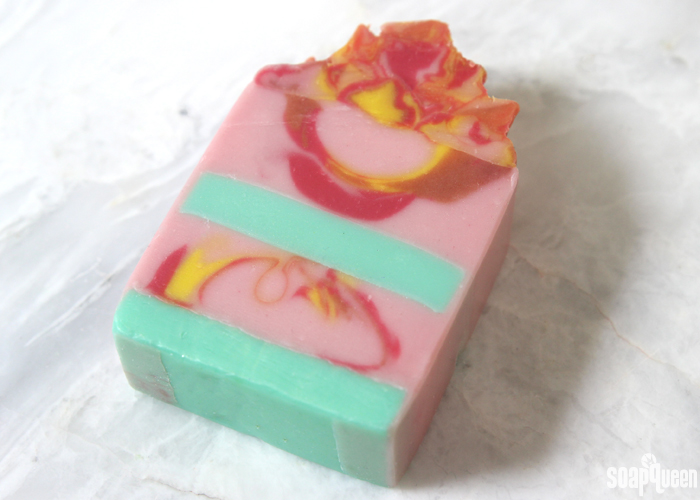 SOAP #4: This soap was made by Jenny Smick of The Olfactory Soap. Jenny used Rosehip Jasmine Fragrance Oil to go with the green, pink and red color scheme. The layers and texture in this bar are well executed. It appears Jenny used an embed in the center to create clean, straight layers; clever! The individual colors in the frosting look bright and cheery. Piping with more than one color is an advanced technique and Jenny pulls it off beautifully.
Find Jenny:
On Etsy
On Instagram
On Facebook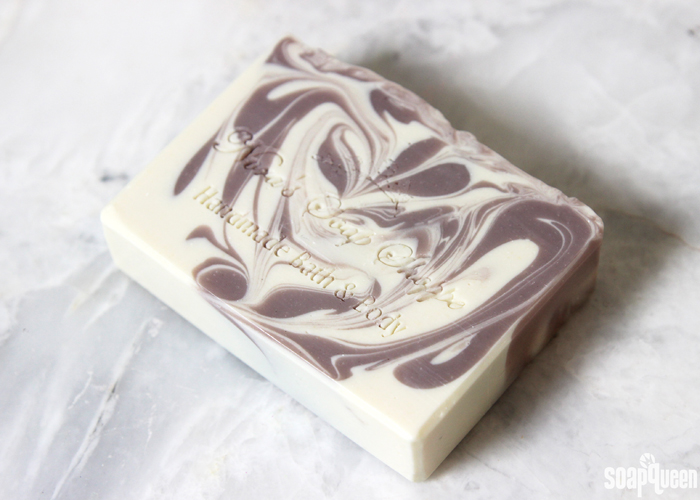 SOAP #5: The fifth soap is by Nora Mendrin of Nora's Soap Shoppe. Nora used Lavender Fragrance Oil in these bars, along with purple Brazilian Clay, Ultramarine Violet Oxide and titanium dioxide for color. The swirl in this bar is sophisticated, and the thoughtful packaging ties it all together. To top it off, Nora used a custom stamp in the center. It really puts the bar into an entirely professional level of creativity and execution.
Find Nora:
On Facebook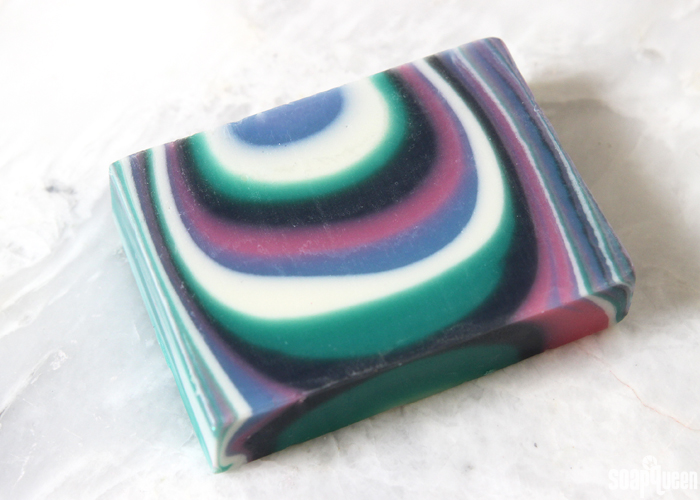 SOAP #6: This bar was by Allison Cole of Definitely Not a Farmer. Allison used Sunny Herb Garden Fragrance Oil in her bars. To achieve this design, Allison used a faux funnel pour inside the 10″ Silicone Loaf Mold. She then finished the top with an in-the-pot-swirl using all her colors – Hydrated Chrome Green Pigment, Fired Up Fuchsia Colorant, Ultramarine Blue Pigment, black oxide and titanium dioxide. I absolutely love the look of these bars; Allison did a wonderful job.
Find Allison:
On Her Blog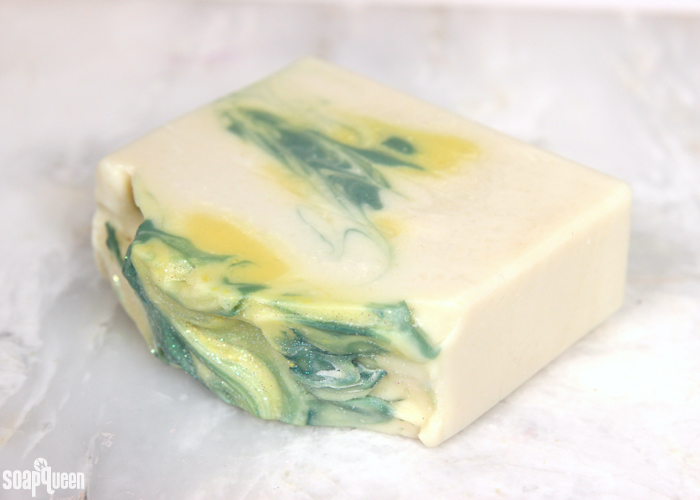 SOAP #7: Made by Shannon Conrad, these gorgeous bars are scented Gardenia Fragrance Oil. Shannon has a soaping company called BirdiBell Creations, which is named after her Golden Retriever, Birdi, and her grandmother and granddaughter, whose middle names are both Belle. These bars are made with aloe vera liquid and tussah silk fibers, so I'm sure they feel incredibly luxurious. I love the colors Shannon used in this design; they are perfect for spring.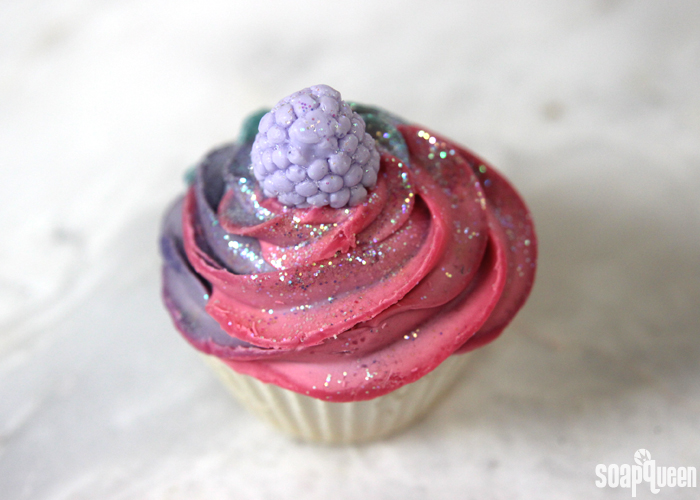 SOAP #8: These adorable cupcakes were made by Dawn Daus of Sweet Addictions Soap. Dawn used Black Raspberry Vanilla Fragrance Oil and a combination of Fired Up Fuchsia Colorant, Neon Blue Raspberry Colorant, Ultramarine Violet Oxide Pigment and titanium dioxide to achieve the gorgeous colors. I'm so impressed by the piping on these cupcakes, it's done so well! The little berries on top look cute and add to the design. =) Nora also did a great job of packaging these soaps. She used a box to make sure they did not get damaged during transit.
Find Dawn:
On Etsy
On Facebook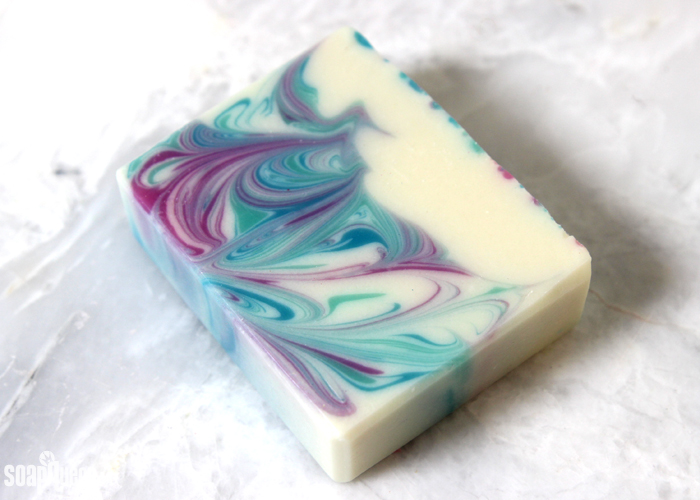 SOAP #9: This lovely soap was made by Brittany Warwick of Baabbly Soap. She used Neroli and Shea Blossom Fragrance Oil in this bar. For the design, Brittany used the Hanger Swirl Tool. The purple and blue colors in this soap look so beautiful together. It reminds me a bit of the ocean! I really like how Brittany includes all her social media channels on her soap labels. That's such a great way to help customers follow her – very clever!
Find Brittany:
On Etsy
On Instagram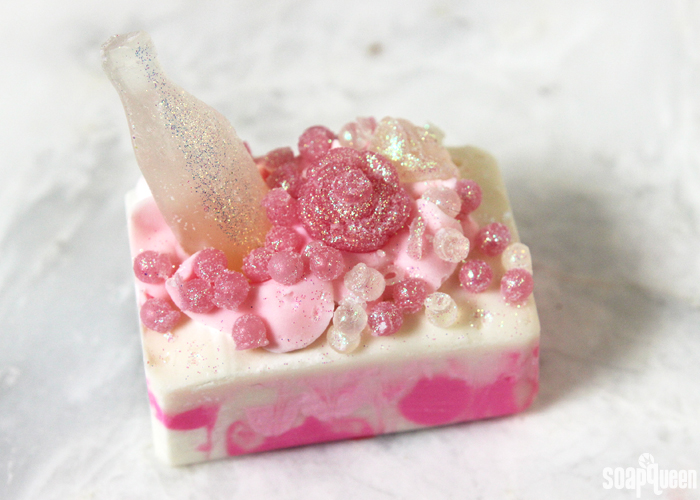 SOAP #10: Last but certainly not least is this showstopping bar made by Devin and Elisa Perry of Crowley Candle Co. & Bath Bar. Soaping is a family endeavor for Devin and her mom, Elisa, who create their soap together. This bar is scented with a blend of Champagne Fragrance Oil and Cherry Blossom Fragrance Oil. It features an amazing melt and pour champagne bottle, bubble embeds and lots of sparkle. I very rarely feel guilty about using handmade soap (yes it's beautiful, but it's meant to be used and enjoyed!), but I may have a hard time getting this bar wet. =)
Find Devin & Elisa:
Online
On Facebook
Thank you so much to everybody who participated in this Spring 2016 Soap Swap! It was so fun, and I hope you all enjoyed receiving bars from fellow soapmakers. I can't wait to start using all the bars in my box! =)