With temperatures in the 60s this week, you can feel the seasons changing in Washington state. So, it's the perfect time to introduce the Spring Fever Fragrance Collection. The collection includes four new fragrance oils – Sunflower, Clover and Aloe, Blooms and Berries and Blueberry Jam. Right now you can get all four in a kit for just $15.95. Click through the Introducing the New Spring Fever Fragrance Collection post for color inspiration and notes for each scent.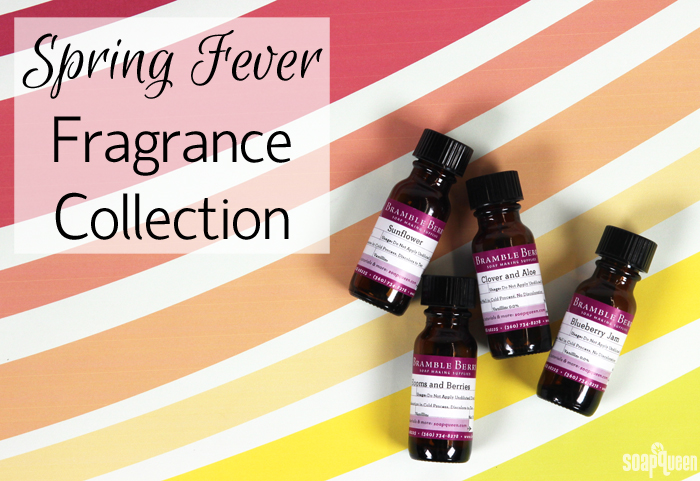 The Cinco de Mayo Cold Process Soap is a great way to celebrate the spring holiday. It's inspired by the Mexican flag. The red, green and white colors are poured into the mold using the Multi-Pour Sectioning Tool. The top of the soap is swirled in an "S" shape to add interest. A mix of Lime Fragrance Oil and Tobacco and Bay Leaf Fragrance Oil gives the recipe a fresh, earthy scent.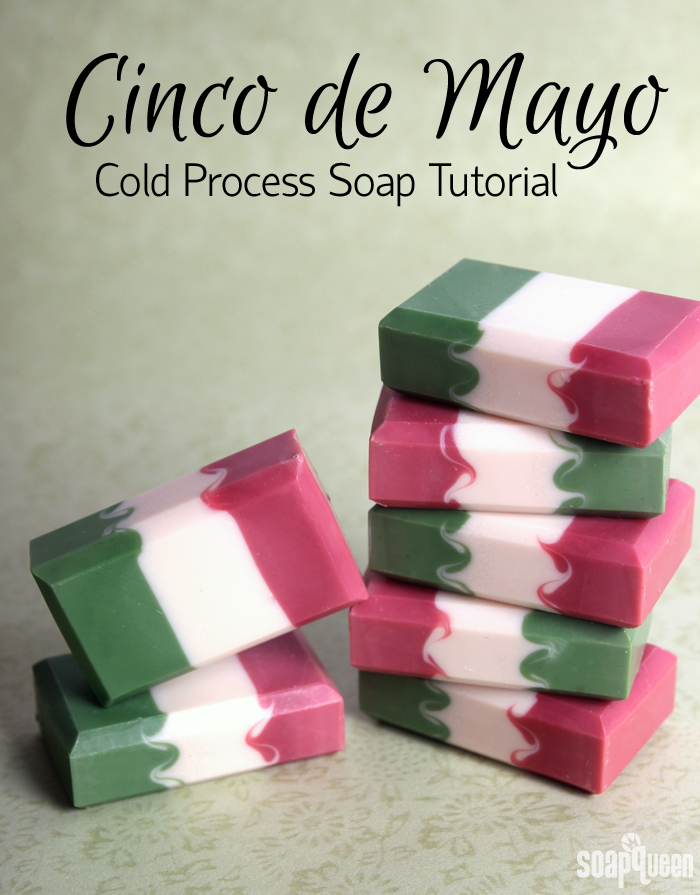 The Cold Process Soap Swap 2016 had plenty of fresh scents and vibrant colors. For the swap, participants sent us 10 cold process bars. We swapped them with other participants and sent them back 10 different bars. The soap featured swirls, layers, embeds, etc. There were so many beautiful and creative bars. Click through the Spring 2016 Soap Swap Roundup to see a few of them. I'll be opening up my swap box live on Periscope and the Bramble Berry uStream channel 2 p.m. PST so look for me there. I'm @brambleberry on Periscope.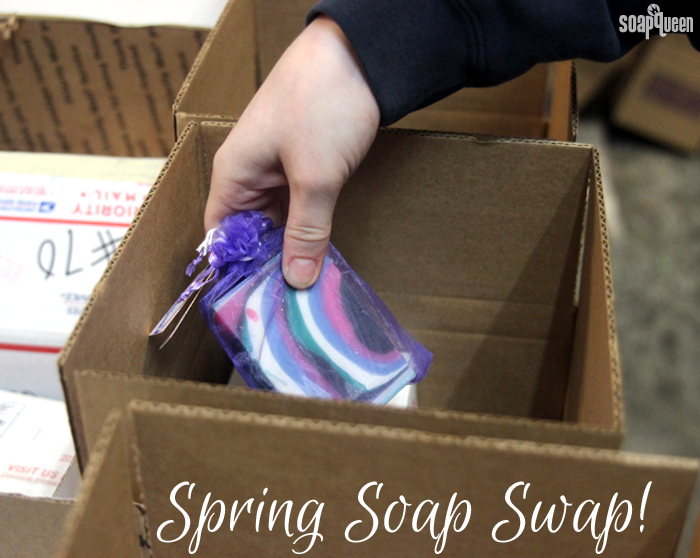 Carmen with Earths Raw Beauty is known for her beautiful and creative soapy techniques. She said she loves colors and layers, and also loves using more than one technique in her soap. She often gets design ideas in her dreams(!). Click through the Chatting with Carmen of Earths Raw Beauty post to learn more about how she got started soaping.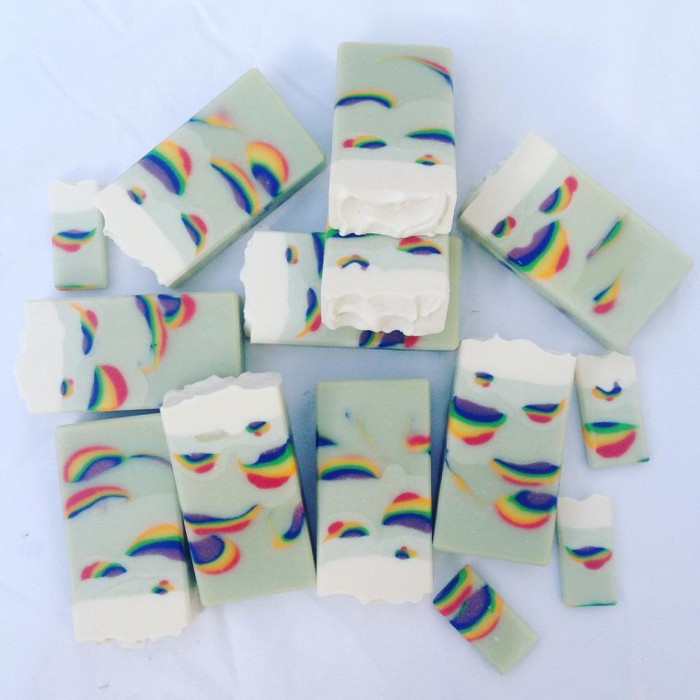 Amanda with Walking Tree Soaps creates inspirational designs as well. She is this week's Facebook Photo of the Week winner. Her beautiful swirled soap is made with Sunset Orange Mica.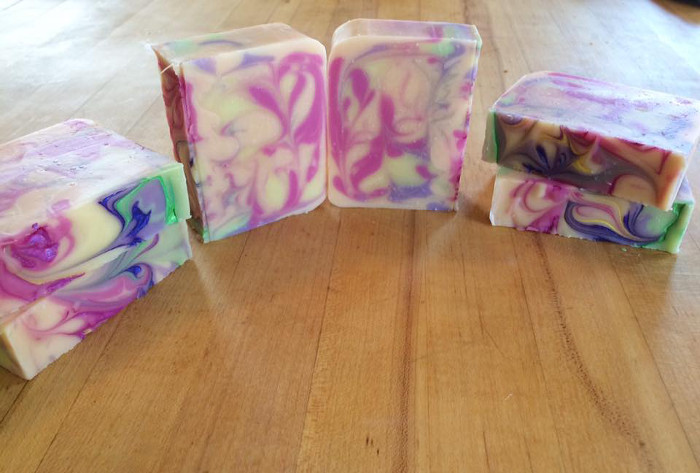 The Sunset Orange Mica creates a light peach color in Amanda's soap. It goes perfectly with the pink, green and purple swirls. I especially love the shimmer on top. To learn how to add some shimmer on top of your soap, check out the Black, White and Gold All Over Cold Process Tutorial. The Gold Mine Cold Process Soap features a mica painting technique as well.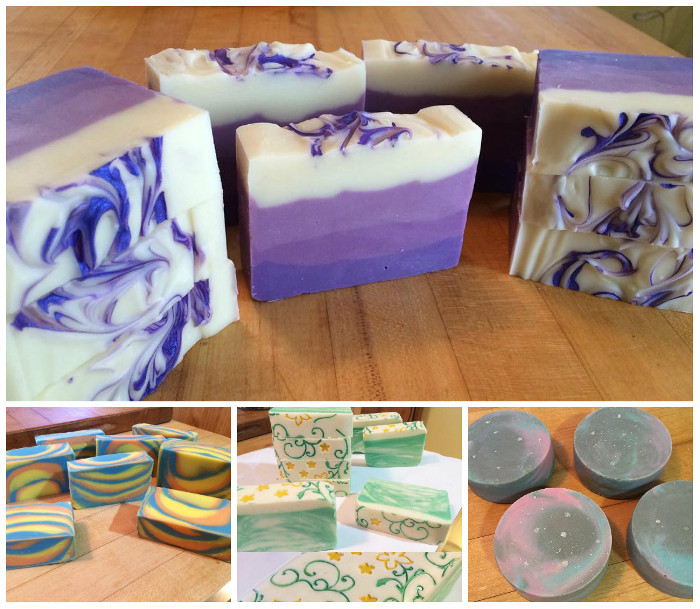 Above (clockwise, top) are Amanda's Layered Lilac Soap, Nebula Soap, Chamomile and Bergamot Soap and Energy Soap. For more layered designs, check out the Natural Colorant Rainbow Cold Process Tutorial. Layers look great in melt and pour as well, as seen in the Carnation Cube Cuties Tutorial.
Find Walking Tree Soaps
On Instagram
This week's Instagram Photo of the Week by Lucky Tree Soap Co. is absolutely stunning. "A Fairy's Home" Soap took three days to make. The end result is chock-full of beautiful detail, including the golden door knobs and flowers. Get more inspiration on their Instagram page.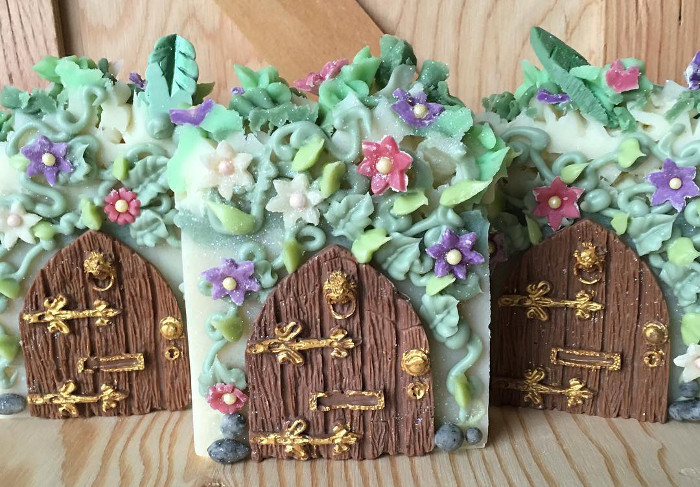 Post pictures of your crafty creations on the Facebook page each week for a chance to be featured on the Soap Queen blog and receive a sweet soapy package from Bramble Berry. Photos are chosen based on consensus from the Bramble Berry staff, so the best way to increase your chances of winning is to show us lots of photos!
To participate in the Instagram contest, hashtag your pictures with #soapshare. Each Friday, I will pick a photo on Instagram to be featured on the Bramble Berry Instagram account.
For those of you who have been featured on the blog, we now have an official "Featured on the Soap Queen" badge! You can include that badge on your website, blog, pictures, etc. To save the badge, click here. =)