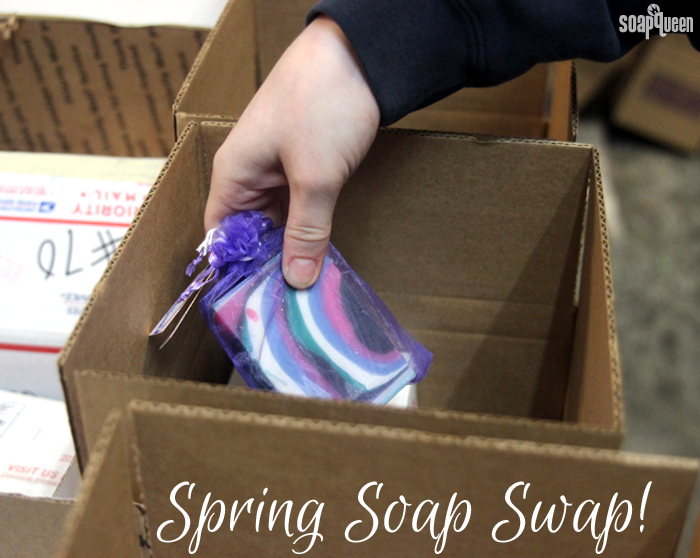 Last week, all the bars for the Cold Process Soap Swap 2016 were swapped and sent. If you participated in the swap, keep your eyes out for your box of goodies soon! If you're unfamiliar with the swap, the basic idea is that soapers send us 10 bars of soap. Then, we swap the bars and send 10 new bars back, each made by a different person.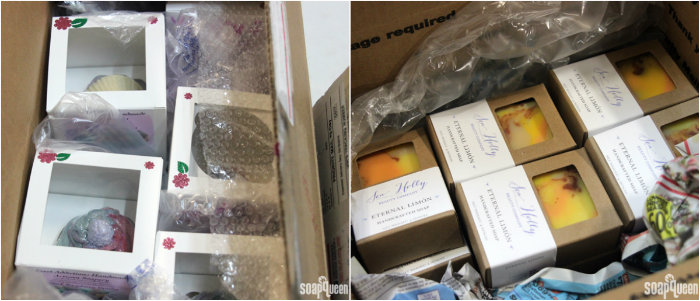 So many amazing soaps were sent for the swap!
If you did not get the chance to sign up for this swap, we will have another one later this year. I wish we could have swaps all the time with an unlimited amount of soapers. But, it takes a lot of time to swap 100 boxes! =) If you'd like to be among the first to sign up for the next swap, sign up for the Bramble Berry newsletter. We will give advance notice to newsletter subscribers about when the swap will take place and how to sign up. Click here to sign up for the newsletter.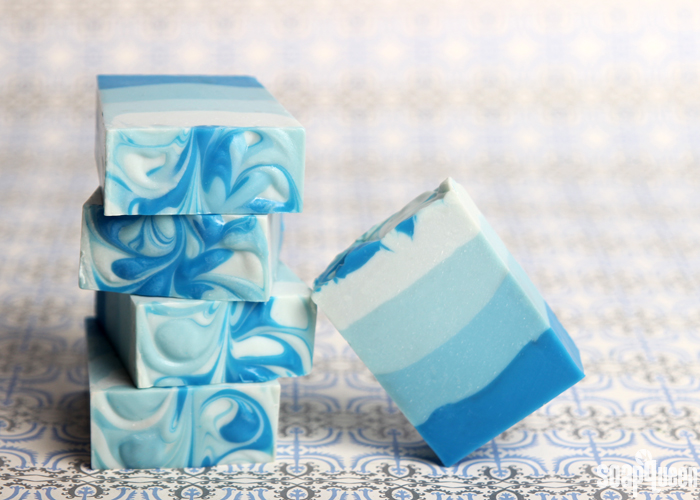 For this swap, I decided to be a participant. Ten random soapers will receive my Blue Bonsai Ombré Soap above. Likewise, I will be receiving 10 random soaps from participants in the swap. I can't wait to see what kind of soaps I get. I will stream the unboxing live on Periscope on April 4th at 2 p.m., so be sure to follow me on Persicope. My username is Brambleberry. =) Below, the Blue Bonsai Ombré Soap is packaged with cigar band labels and shrink wrap soap bands.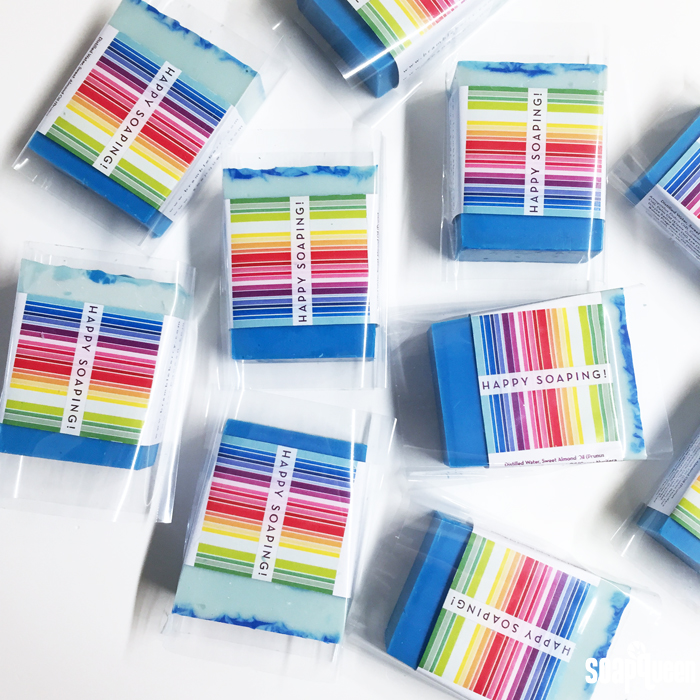 My Blue Bonsai Ombré Soap being wrapped in shrink bands before being shipped off to soapers. 
There were so many gorgeous soaps in the swap. It's always fun to see how soapers use Bramble Berry fragrance oils to create such beautiful bars. Below is a soap made by Kirkland's Creations. It's scented with Summer Melon Spritzer Fragrance Oil and features melt and pour embeds on top. It reminds me of candy!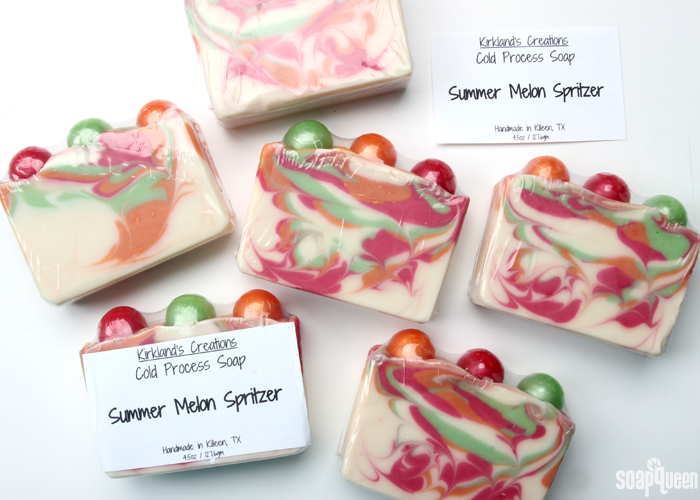 Colorful Summer Melon Spritzer cold process soap made by Kirkland's Creations. 
The beautiful Rose & Sandalwood Cold Process Soap below was made by Lavender & Lemon Co. I love the beautiful mica painting on top and the hanger swirl in the center looks amazing. Click here to see a better shot of the swirl on their Facebook page. This soap was made with a blend of English Rose and Sensuous Sandalwood Fragrance Oils.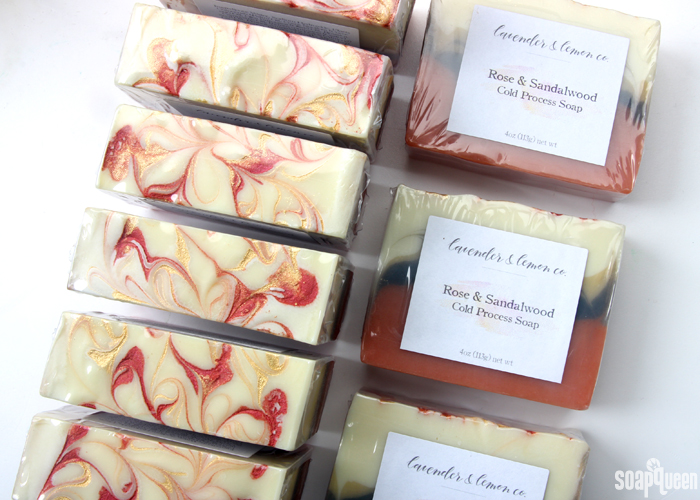 Made with English Rose and Sensuous Sandalwood Fragrance Oils, this soap by Lavender & Lemon Co. is so sophisticated. 
I was so impressed by this Heavenly Honeysuckle Cold Process Soap by Lily Bleu Soapworks. It can be tricky to achieve such a beautiful swirl and textured top in one bar, but Ami pulls it off beautifully. The subtle mica line really helps the layers pop. This soap was scented with Heavenly Honeysuckle Fragrance Oil, which is a great spring scent.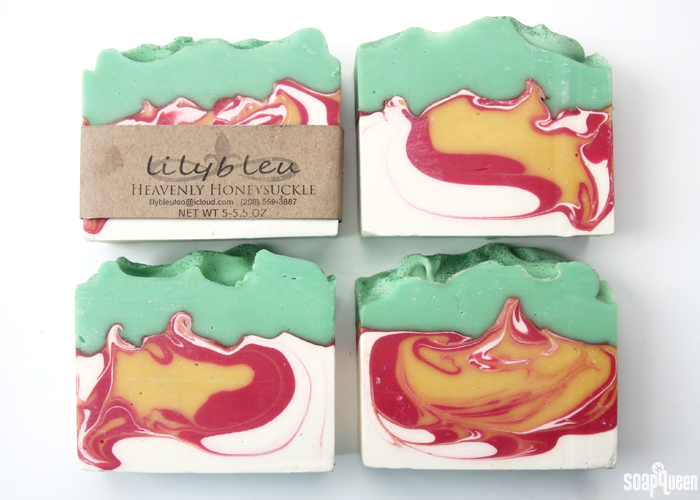 This colorful soap was made by Ami of Lily Bleu Soapworks. I love that colorful swirl!
This Rosehip Jasmine Cold Process Soap by The Olfactory Soap also features several layers of colorful swirls. It also has soapy frosting on top. This bar really demonstrates a mastery of trace. Made with Rosehip Jasmine Fragrance Oil, it has notes of rose and jasmine for a soft floral scent.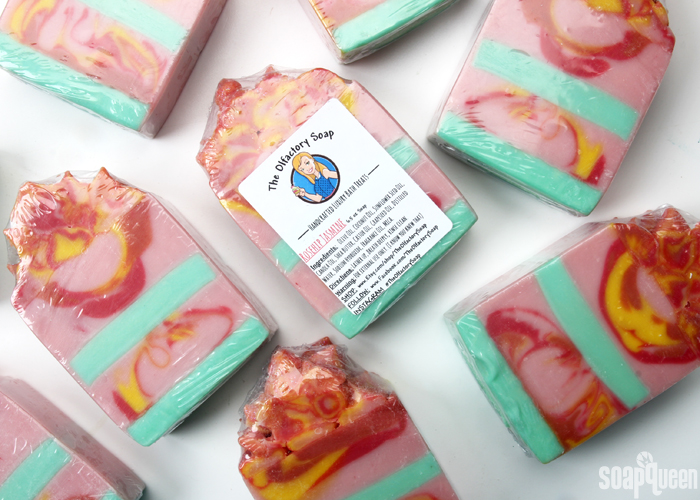 Made with Rosehip Jasmine Fragrance Oil, this soap made by The Olfactory Soap features lots of soapy techniques. 
Speaking of colorful swirls, check out this stunning creation from Bethany of My Sweet Savon. It's scented with Holiday Candy Fragrance Oil. Don't let the name fool you, this fragrance works wonderfully for spring and summer as well. Bethany used a great combination of colors in this bar, in addition to lots of glitter on top.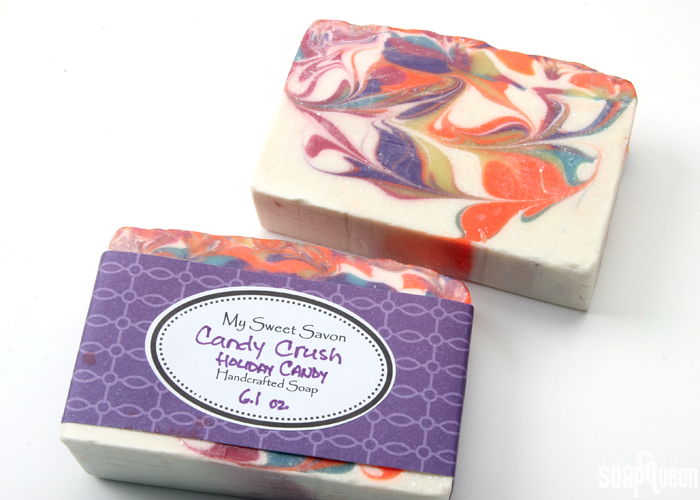 Thanks to everybody who worked so hard to create stunning soap for this Soap Swap. In addition, a big thanks to my team who made this swap incredibly organized! Be sure to sign up for the Bramble Berry newsletter to be notified for the next swap in August. I can't wait to open my box. =)