Welcome to Friday, everyone! Hopefully you're staying warm despite the insanely cold weather that has swept through many parts of the U.S (the Pacific Northwest even woke up to snow on the ground this morning). Even with the weather outside, this soap is bright and cheery Dandelion Zebra Cold Process tutorial and sure to liven up your soap lab and who doesn't love a pink cupcake (which feature a secret ingredient)? Thank you for the amazing comments on the new soapy tools post. A few lucky people will find a brand new Silicone Tool Set on their doorstep next week. Expect to see more Bramble Berry customized soaping tools in the future.
Show Your Love week is over and ended with with a pink salt foot scrub tutorial and a blow out 15% off fragrance oils sale. That sale may have ended, but good news: today is the last day to use the LOVE30 coupon, which is good for 30% off every item in the Mini Heart Bath Bomb kit.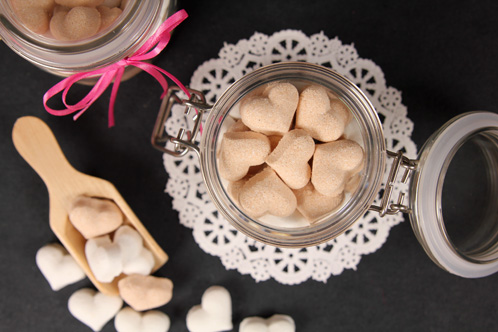 With a certain heart-themed holiday ahead of us, it's all about pink this week, and the Facebook Photo of the Week is no exception. Take a look: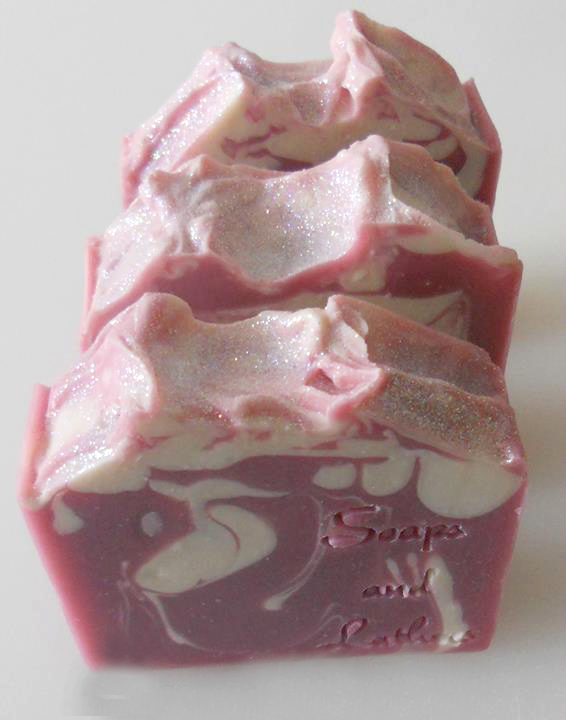 This week's photo is from Sophene Adams of Soaps and Lathers. This soap features a thick textured top embellished with what looks like fine iridescent glitter. It's such simple elegance. While I'm a huge fan of multi-colored swirls, I love the two-color combo of this soap; it's eye catching without being overwhelming. The same is true for Sophene's other soaps too.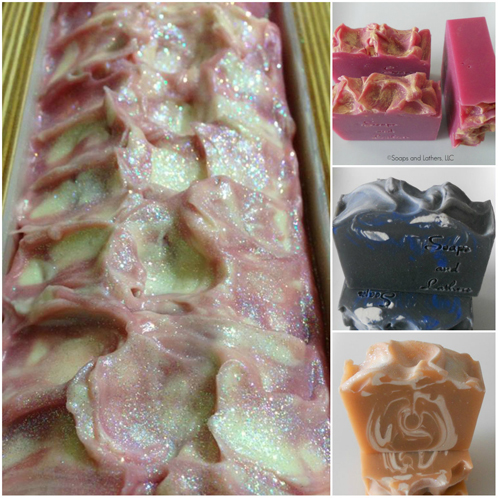 There is gorgeous top texture and bright solid colors all around! The soap on the left is her entry into our Soap Swap, and it's scented with the fruity Lychee Red Tea. Also pictured are (from top down): Valentine's Day Soap, a men's soap and a fresh fruity-scented soap.

Thanks to Sophene for being a part of our community, and thanks to everyone else who shows us photos each week. Try to stay warm, and happy soaping!
But wait…there's more! In addition to a Facebook Photo of the Week, we thought it would be fun to include a Facebook Question of the Week. We receive so many great questions on Facebook, and in order to provide you with as many tips and tricks as possible, we are going to start sharing them here. This weeks question pertains to vanilla discoloration. This is a topic that generates lots of questions, and if you'd like to learn more, the Why Did My Soap Turn Brown? post goes into great depth regarding how vanilla content affects your soap.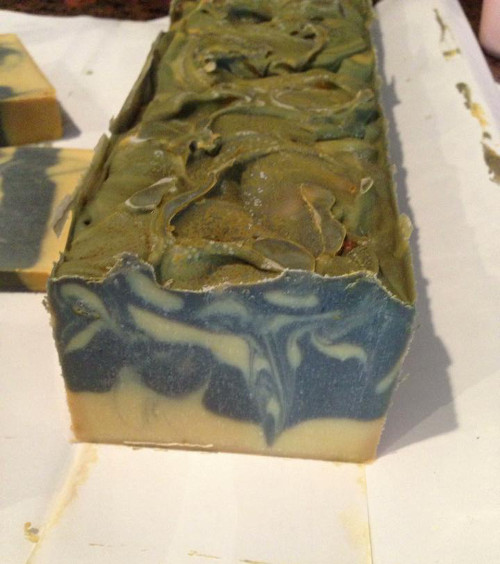 This photo came to us this week in a private message. The soaper was wondering what caused the strange green on top of her soap. To color, she used Yellow Oxide and Activate Charcoal in a 100% Olive Oil recipe.
This particular case of vanilla discoloration is special because it resulted in a green ring of discoloration instead of brown. Why would this happen? The answer lies in the fragrance oil. This soap was fragranced with Cedar and Saffron Fragrance Oil, which discolors to a caramel brown in cold process soap.
The vanilla in the fragrance brought out a rich green color at the very beginning of the discoloration process rather than dark brown right at first. Interesting, huh? Vanilla discoloration is "activated" when the soap is exposed to air. Eventually, the entire loaf will discolor to a lovely brown especially as the soap is cut. Have a good weekend, soapy friends =)