While I try to eat healthy the majority of the time, it's important to treat yourself every now and then. But if you can treat yourself and squeeze in a vegetable at the same time, why not? These rich, chocolatey cupcakes contain a whole cup of roasted beets, adding a subtle earthiness to their flavor. The frosting also contains beets, resulting in a striking hot pink color. When I brought these to the Bramble Berry office, they were gobbled up in no time. Some could not taste the beets at all, and one team member said they were the best cupcakes he ever had…success!
Ingredients, for the cake (Recipe Adapted from Joy The Baker):
2 medium beets, unpeeled but trimmed of greens
1/2 cup butter, room temperature
1/2 cup granulated sugar
1/2 cup brown sugar
2 large eggs
1 tsp. vanilla extract
2 cups all-purpose flour
2/3 cup unsweetened natural cocoa powder
1 tsp. baking soda
1/2 tsp. baking powder
1 tsp. salt
1 cup buttermilk
3/4 cup semi-sweet chocolate chips
Ingredients, for the frosting:
8 oz. cream cheese
3 cups powdered sugar
1 tsp. vanilla extract
2 large tablespoons roasted beets (grated)
Yields:
2 Dozen Cupcakes
Total Time:
1 hour 30 minutes
Prep: 60 min
Chill: 15 minutes
Bake: 15-20 minutes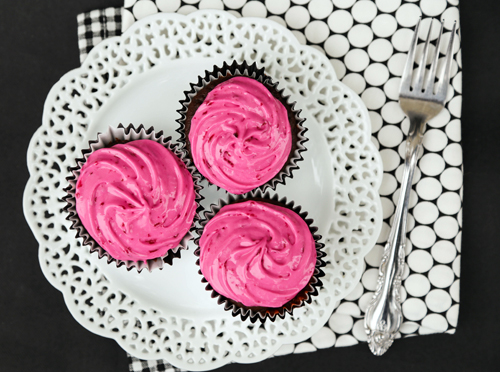 PREP BEETS: Heat oven to 400 degrees (remember to dial it down to 350 degrees after your beets are cooked) Wash beets, and remove any greens that may be attached. Place clean beets on a sheet of aluminum foil and drizzle lightly with olive oil. Wrap beets in foil, place on a baking sheet and let roast in the oven for about 45 minutes to an hour, or until beets are tender when punctured with a knife. Remove from oven, and let cool. Once cool enough to handle, remove peel using a pairing knife or peeler. Grate beets using a box grater on the finest grating plane. Set aside one cup of shredded beets for your batter, and two large tablespoons for the frosting. You may have some beets left over for salads, or a snack!
ONE: Using a hand mixer or stand mixer, blend butter and sugars until fluffy and well incorporated. Beat in eggs one at a time, blending after each addition. Add vanilla extract. Once all ingredients are incorporated and the sides of the bowl have been scraped (if necessary) add beets and blend until all ingredients are thoroughly mixed together.
TWO: In a separate mixing bowl,  add flour, cocoa powder, baking soda, baking powder and salt. Use a whisk to combine.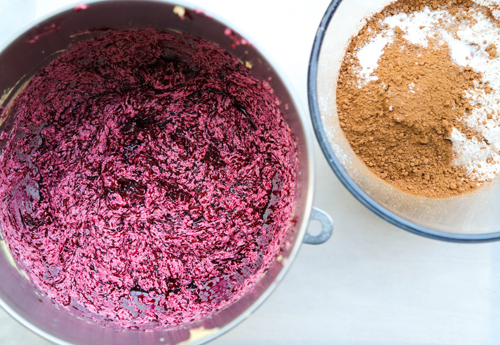 THREE: Add half of the dry ingredients into the beet mixture, and blend. Slowly, add buttermilk while blending. Once milk is incorporated add the rest of the dry ingredients and mix until just incorporated. You don't want to blend the mixture too much. Fold in chocolate chips.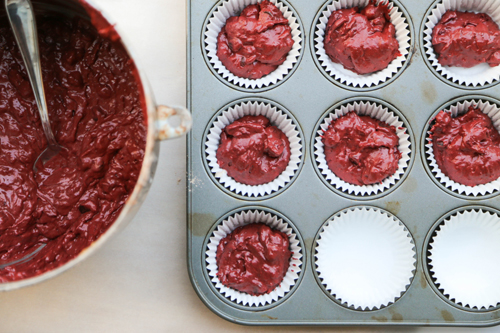 FIVE: Line cupcake pan with cupcake liners. Spoon in batter until the cupcake liners are 3/4 full. I found that these cupcakes did not rise much, so you can fill up the liners until almost full. Place into oven @ 350 degrees for about 15-20 minutes, or until a toothpick comes out clean when stuck in the middle of a cupcake. Remove from oven and allow cupcakes to cool fully.
PREPARE FROSTING: Using a stand mixer or hand mixer, blend cream cheese until smooth. Slowly add powdered sugar and blend to fully incorporate. Add vanilla extract and the 2 tbs. grated beets, and blend until smooth. If you'd like, you can certainly add more beets! Now it's time to frost your cupcakes. I used a frosting bag and frosting tip, but you can also just use a knife to spread on your frosting. Once your cupcakes are frosted, enjoy!