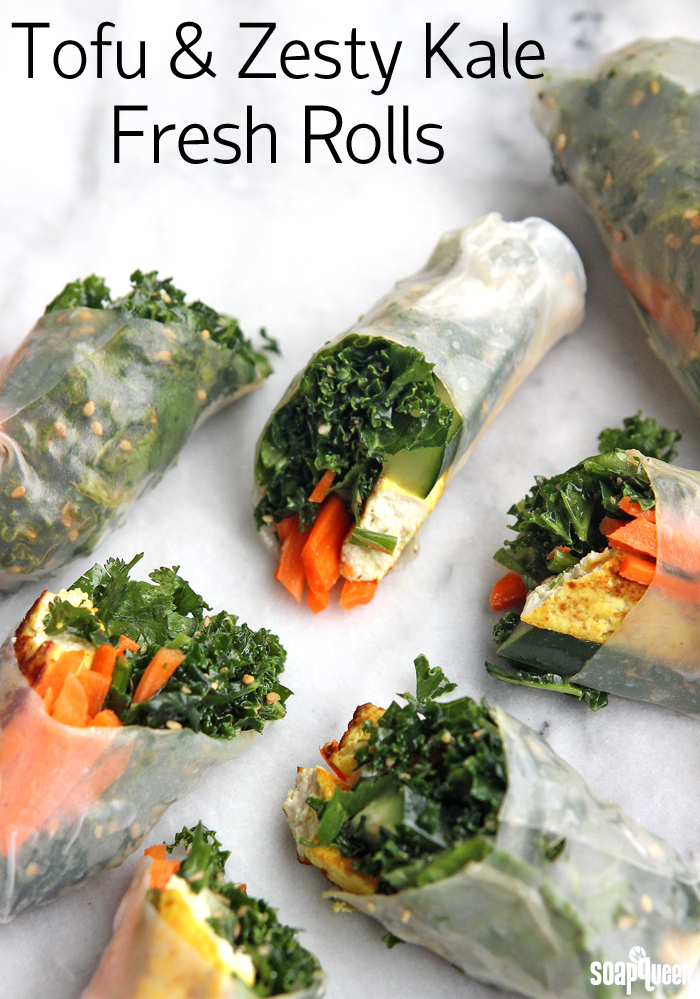 Did you make a health-related New Years resolution? I made a few, including completing 8,000 steps everyday and cutting out sugar. To help me achieve these goals, I try to plan and prepare my lunches ahead of time. I'm more likely to fall off the health wagon when I'm scrambling to get lunch. These Tofu and Zesty Kale Fresh Rolls are a fantastic lunch option; they fill you up without being too heavy. They're also super tasty and you can make them ahead of time.
You won't find kale in traditional fresh rolls, but that's the beauty of making them at home! You can fill your rolls with whatever ingredients you like. I chop the kale into smaller pieces and massuage a homemade dressing for extra flavor. Massaging the kale pieces helps to break them down and do away with the slightly bitter taste some people experience when eating kale. With the dressing, you don't even need peanut sauce…although these are still super tasty when dunked in a creamy sauce. =) I also cook my tofu with a small amount of yellow curry powder to infuse the tofu with flavor.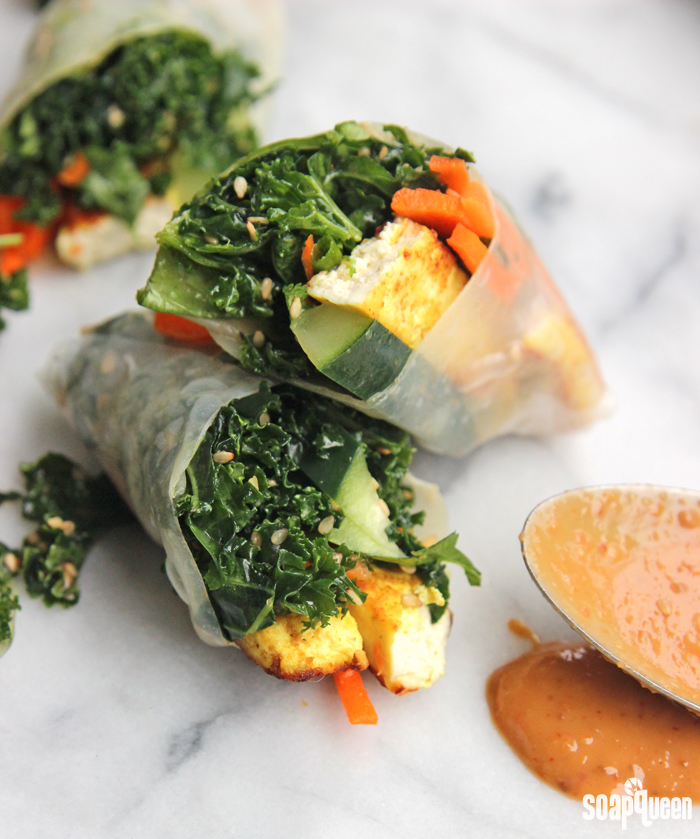 If you've never made fresh rolls before, they take a little practice. Fresh roll skins are thin and hard, but once introduced to water they become soft, sticky and stretchy. They can then be filled with whatever ingredients you prefer and wrapped up like a burrito. The trick is that the skin is rather delicate, so it takes a little bit of practice to roll without tearing. I found this YouTube video to be really helpful!
For this recipe, how much of each ingredient you need will depend on how many rolls you would like to make, and how much you like a particular ingredient. Feel free to swap out or substitute any ingredient.
What You'll Need:
Kale dressing:
1/8 cup Rice Wine Vinegar
1/2 Tbs. Sesame Oil
1 Tbs. Plum Sauce
1 tsp. Lime Juice
1-2 Tbs. Sesame Seeds
Tofu and Kale Fresh Spring Rolls:
Fresh Roll Skins
Tofu (cut into slices)
Yellow Curry Powder, Sesame Oil + Rice Wine Vinegar (optional)
Fresh Kale (chopped into small pieces)
Cucumbers (cut into thin slices)
Carrots (cut into thin slices)
Green Onion (chopped)
Cilantro, chopped
Thai Basil

PREPARE THE TOFU: If you prefer plain, uncooked tofu, you can skip this step. Personally, I like to fry mine in a pan with a little bit of oil and seasoning for a firmer texture. Cut the tofu into slices and heat a non-stick skillet to medium heat. Place about a tablespoon of oil (I like to use sesame oil) into the pan, and place the tofu in the pan. Season with a splash of rice wine vinegar and sprinkle with yellow curry powder. Cook until golden brown on both sides. Remove from heat and allow the tofu pieces to cool on a paper towel. Set aside.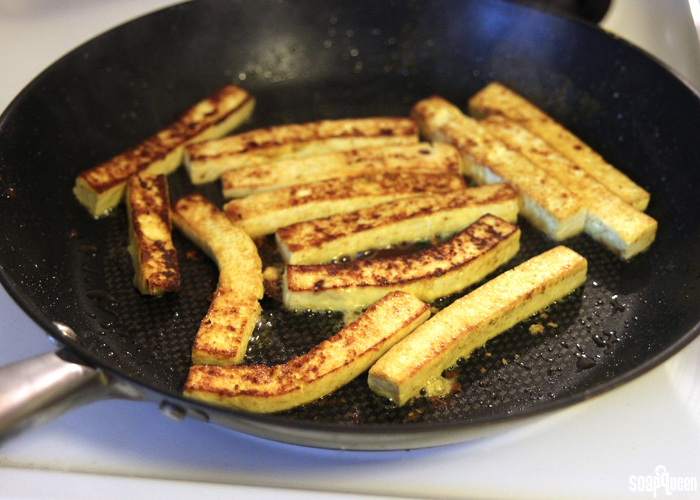 PREPARE VEGETABLES: Gather all the ingredients that you'd like to use in your rolls. You want to have each ingredient ready to go before you start filling. Wash the kale and remove the leaves from the stem. Roughly chop the kale into small pieces. Mix the dressing ingredients together in a small bowl and pour on the kale. Toss the kale with the dressing and set aside. Slice the cucumbers and carrots into long strips.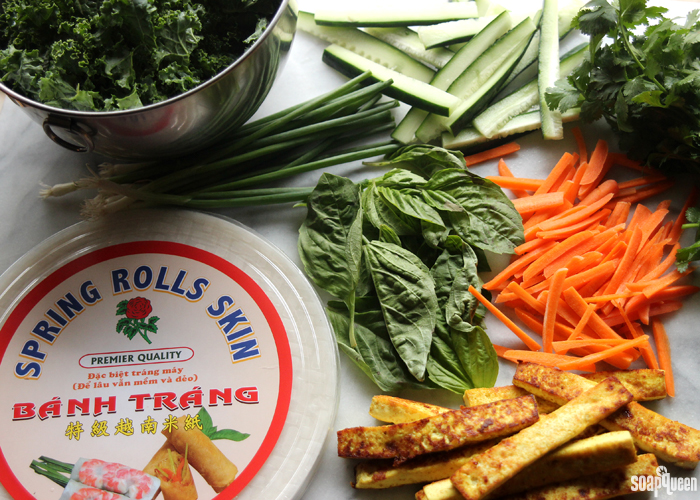 ONE: Once everything is prepped and ready, fill a pie pan or other large container with warm water. I find that pie pans are the perfect size for this step. Fully submerge a spring roll skin into the water and shake off any excess. Lay the skin on a non stick surface (marble and plastic cutting boards work well) and begin to fill the skin with fillings. As the skin sits, it will continue to absorb water and soften. Concentrate the filling in the lower half of the skin, and do not overfill.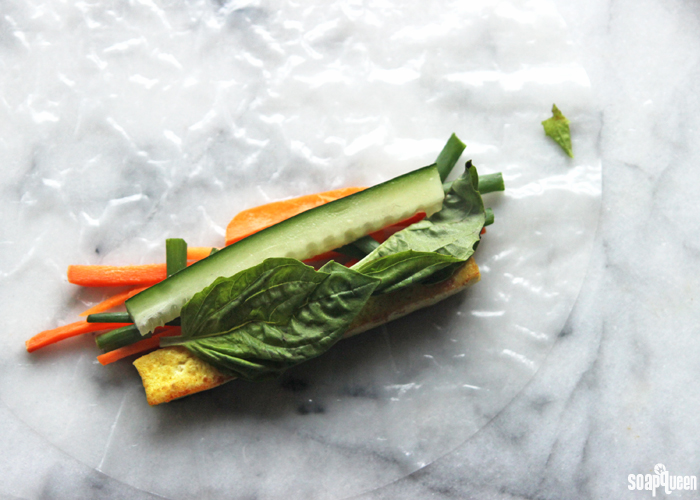 TWO: Continue to fill the skin with carrots, cucumber, tofu, cilantro, green onion, basil and any other filling ingredient you prefer. Very carefully, begin to tightly roll the bottom half of the skin away from you, and tuck the outside sides inward to seal. Use your hands to tuck in the fillings as you roll. Roll until it is completely sealed. This step takes a little bit of practice! Your first few rolls may be a little sad, but you'll get the hang of it.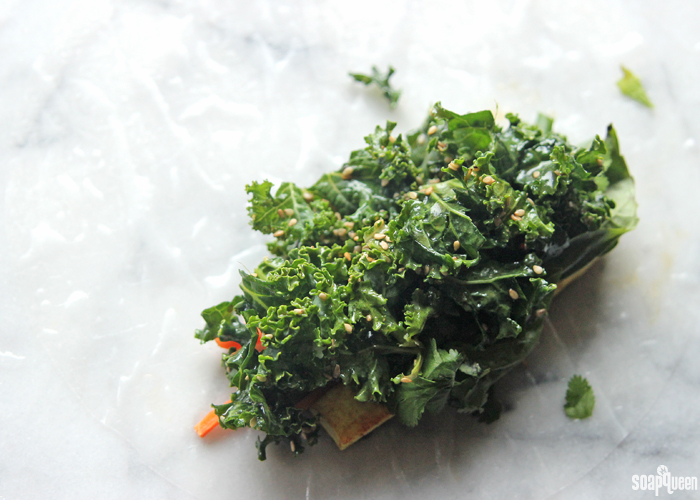 THREE: Continue the process of filling and rolling until all your ingredients are used up. Enjoy! I recommend eating fresh rolls within 24 hours of wrapping. I also highly recommend dunking them into peanut sauce, but because the kale has a dressing you may not need it. =)
What's your favorite healthy lunch meal?
Tofu & Zesty Kale Fresh Rolls
Ingredients
Kale dressing:
⅛ cup Rice Wine Vinegar
½ Tbs. Sesame Oil
1 Tbs. Plum Sauce
1 tsp. Lime Juice
1-2 Tbs. Sesame Seeds
Tofu and Kale Fresh Spring Rolls:
Fresh Roll Skins
Tofu (cut into slices)
Yellow Curry Powder, Sesame Oil + Rice Wine Vinegar (optional)
Fresh Kale (chopped into small pieces)
Cucumbers (cut into thin slices)
Carrots (cut into thin slices)
Green Onion (chopped)
Cilantro, chopped
Thai Basil
Instructions
PREPARE THE TOFU: If you prefer plain, uncooked tofu, you can skip this step. Personally, I like to fry mine in a pan with a little bit of oil and seasoning for a firmer texture. Cut the tofu into slices and heat a non-stick skillet to medium heat. Place about a tablespoon of oil (I like to use sesame oil) into the pan, and place the tofu in the pan. Season with a splash of rice wine vinegar and sprinkle with yellow curry powder. Cook until golden brown on both sides. Remove from heat and allow the tofu pieces to cool on a paper towel. Set aside.
PREPARE VEGETABLES: GGather all the ingredients that you'd like to use in your rolls. You want to have each ingredient ready to go before you start filling. Wash the kale and remove the leaves from the stem. Roughly chop the kale into small pieces. Mix the dressing ingredients together in a small bowl and pour on the kale. Toss the kale with the dressing and set aside. Slice the cucumbers and carrots into long strips.
Once everything is prepped and ready, fill a pie pan or other large container with warm water. I find that pie pans are the perfect size for this step. Fully submerge a spring roll skin into the water and shake off any excess. Lay the skin on a non stick surface (marble and plastic cutting boards work well) and begin to fill the skin with fillings. As the skin sits, it will continue to absorb water and soften. Concentrate the filling in the lower half of the skin, and do not overfill.
Continue to fill the skin with carrots, cucumber, tofu, cilantro, green onion, basil and any other filling ingredient you prefer. Very carefully, begin to tightly roll the bottom half of the skin away from you, and tuck the outside sides inward to seal. Use your hands to tuck in the fillings as you roll. Roll until it is completely sealed. This step takes a little bit of practice! Your first few rolls may be a little sad, but you'll get the hang of it.
Continue the process of filling and rolling until all your ingredients are used up. Enjoy! I recommend eating fresh rolls within 24 hours of wrapping. I also highly recommend dunking them into peanut sauce, but because the kale has a dressing you may not need it. =)