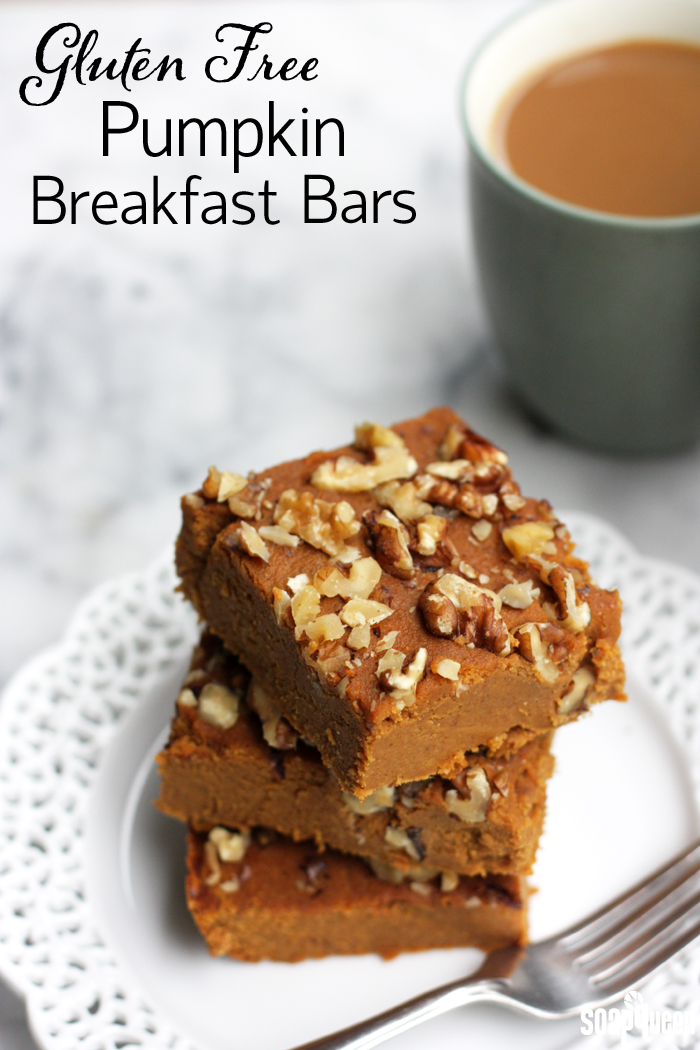 I love pumpkin treats during fall…I mean, who doesn't? Pumpkin and spice is such a comforting flavor, and lends itself to so many applications. Pumpkin is also full of fiber, vitamin A and iron, making it a great option for healthy recipes. In particular I enjoy eating pumpkin spice dishes for breakfast. They satisfy my sweet tooth right at the beginning of the day!
These Pumpkin Breakfast Bars are light on sugar but heavy on pumpkin flavor. Made with coconut flour, they are firm yet moist and taste very similar to chewy and slightly-grainy pumpkin pie. I love enjoying these bars after they have cooled in the fridge overnight, but you can also eat them warm out of the oven. Chopped walnuts add a nice texture and crunch. If you prefer a different kind of nut (or no nuts at all) feel free to swap them with your personal preference.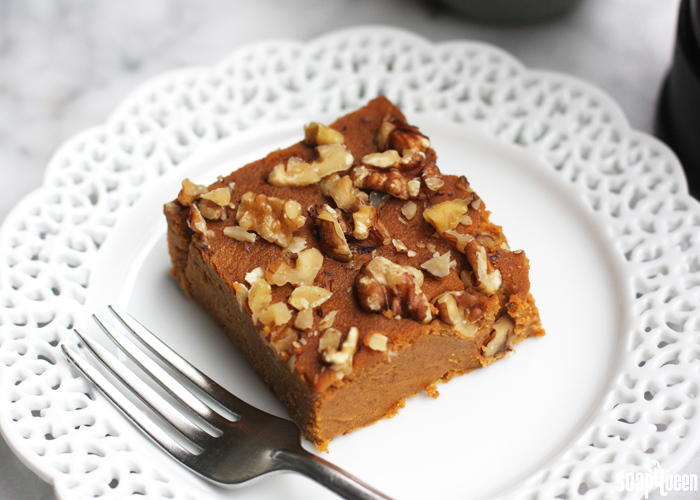 What You'll Need (Recipe adapted from Detoxinista):
30 oz. Pumpkin puree
1 ripe banana
3 large eggs
3/4 cups Agave syrup (light or dark)
2 tsp. Vanilla extract
2 cups Coconut flour
1/2 tsp. Salt
1 1/2 tsp. Baking soda
1 tsp. Baking powder
1 Tbs. Pumpkin pie spice
Chopped walnuts (optional)
Butter or coconut oil for greasing pan
ONE: Preheat oven to 350 ° F and grease a 9″ x 13″ well with butter or coconut oil. In a blender or food processor, blend banana and pumpkin puree until completely smooth. Transfer to a bowl and mix in eggs, agave syrup and vanilla extract until completely combined.
TWO: In a separate bowl, sift together the coconut flour, baking soda, baking powder, salt and pumpkin pie spice. Once the dry ingredients are smooth and contain no clumps, slowly add them to the wet ingredients and stir until fully mixed. The mixture will be thick.
THREE: Transfer the mixture into the greased pan and spread until smooth and even. Gently press the chopped walnuts (if you'd like) into the pumpkin bars. Place the bars into the oven and allow to bake for about 40-45 minutes, or until the edges are golden and the center is firm.
FOUR: Remove from the oven and allow to cool completely. Enjoy warm, or place in the fridge for up to a week. Personally, I prefer them cooled =)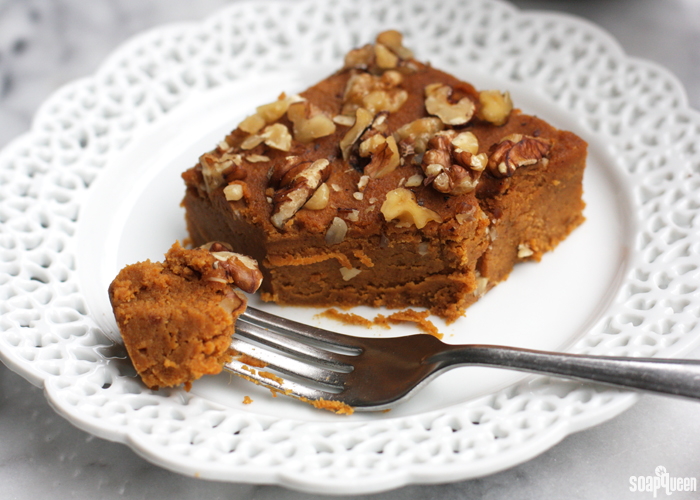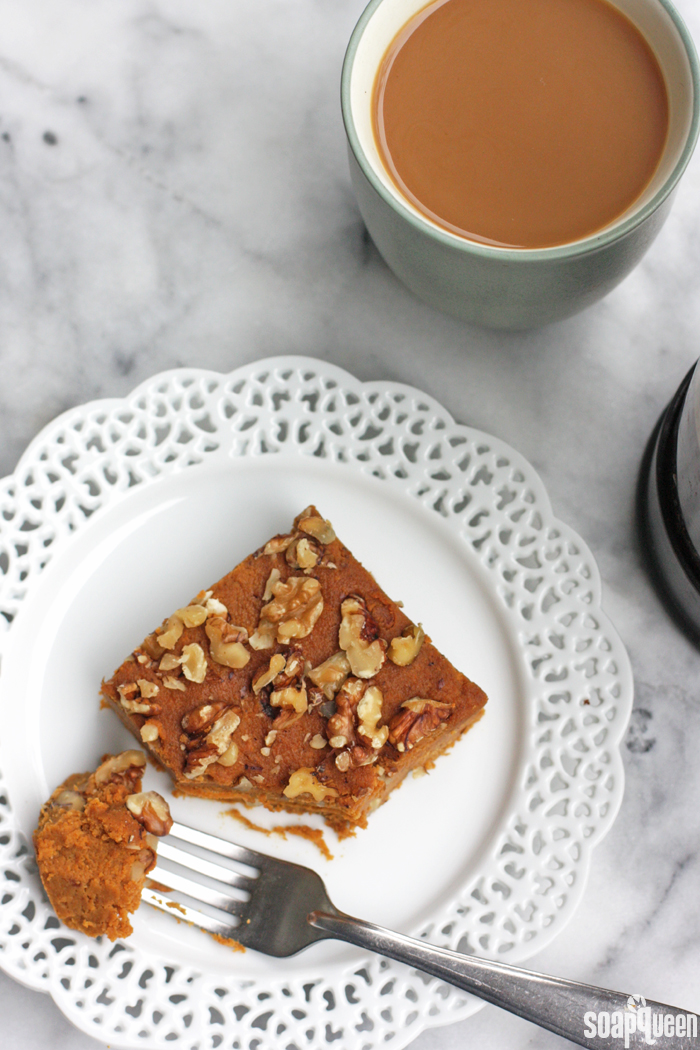 P.S. Jamisen's verdict? "I love these because they taste sweet and taste like pumpkin pie." If a four-year-old likes it, that bodes well for you and yours too.
What is your favorite way to enjoy pumpkin during fall? If you're looking for more pumpkin breakfast ideas, check out my Baked Pumpkin Pecan Oatmeal =)
Gluten-Free Pumpkin Breakfast Bars
These gluten-free pumpkin bars are a great snack, or perfect for breakfast on the go!
Ingredients
30 oz. Pumpkin puree
1 Ripe Banana
3 Large eggs
¾ cups Agave syrup (light or dark)
2 tsp. Vanilla extract
2 cups Coconut flour
½ tsp. Salt
1½ tsp. Baking soda
1 tsp. Baking powder
1 Tbs. Pumpkin pie spice
Chopped walnuts (optional)
Butter or coconut oil for greasing pan
Instructions
Preheat oven to 350 ° F and grease a 9″ x 13″ well with butter or coconut oil. In a blender or food processor, blend banana and pumpkin puree until completely smooth. Transfer to a bowl and mix in eggs and agave syrup until completely combined.
In a separate bowl, sift together the coconut flour, baking soda, baking powder, salt and pumpkin pie spice. Once the dry ingredients are smooth and contain no clumps, slowly add them to the wet ingredients and stir until fully mixed. The mixture will be thick.
Transfer the mixture into the greased pan and spread until smooth and even. Gently press the chopped walnuts (if you'd like) into the pumpkin bars. Place the bars into the oven and allow to bake for about 40-45 minutes, or until the edges are golden and the center is firm.
Remove from the oven and allow to cool completely. Enjoy warm, or place in the fridge for up to a week. Personally, I prefer them cooled =)