Happy weekend everybody! I'll be mostly out of the office this week but still blogging and on social media. If you want to see peeks into my trip, you can follow me on Snapchat. My username is Bramble-Berry. Follow along to also see what the team is up to at the Bramble Berry office. I posted a sneak peek for tomorrow blog post last night on Snapchat =)
What are you up to this week? If your weekend includes crafting, I'd love to see! I'm always inspired by all the creative soapy projects I see on Instagram, Facebook and Pinterest. Tag your photo on Instagram with #SoapShare…I check that just about everyday. =) If you love browsing through social media for inspiration, check out my favorite links below.
Left to right, clockwise:
Instagram:
Next week, be on the lookout for the tutorial on how to make these gold sparkle bath bombs! Covered in King's Gold Mica, these bath bombs give the skin a soft shimmer.
On the left is a super delicious smelling cranberry sugar scrub, made with Cranberry Fig Fragrance Oil. We are currently testing the recipe now, look for it in a few weeks. On the right, my 8-months-pregnant-bestie and I finished our second race this season! It's so nice to have a partner during the events.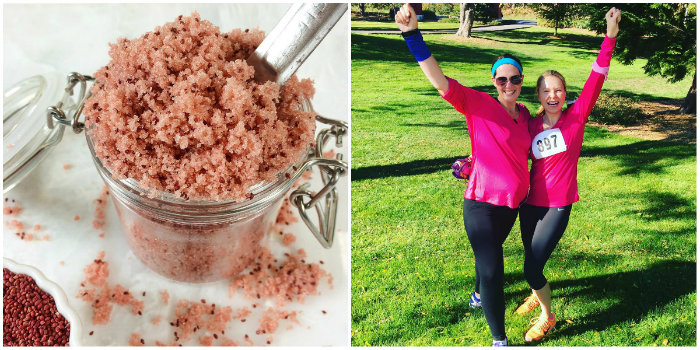 I hope you're having a great weekend! To keep up with the latest soapy social media throughout the week, you can follow me on Twitter, Tumblr, Instagram, Pinterest, Vine and YouTube and Snapchat. To watch my 'stories', which include sneak peeks into future projects, add me. I'm Bramble-Berry on Snapchat. Don't forget to tag your soapy projects on Instagram with the hashtag #SoapShare so I can see what you're making! =)