As every soaper knows, an intense soaping session requires intense tools, and this silicone tool set is up for the challenge. After years of soaping with lower quality tools that always seemed to break, I created these super durable and easy to clean silicone tools that can withstand temperatures between -40 to 446°F. They're ideal for cold process or hot process soaping, as well as any other project you can throw at them.
The tool set includes (from left to right) a Square Silicone Spoon, Easy Grip Ladle, Spatula and a Round Spoon. You can buy each tool individually, but buying them as a set is a better value (a.k.a. more cash for more soapy supplies!).
The tools are ubiquitous in the Soap Queen Lab — they're part of every soaping project. They're great for mixing, but each tool also has their own specialized soaping use. Use the Spatula or Square Silicone Spoon for any pour-over techniques when you're trying to achieve perfect unbroken soapy layers. For example, they were instrumental for achieving the clean lines in the Smoky Bay tutorial. The Silicone Spoon and Ladle are great for spoon plop techniques, such as the Busy Beeswax tutorial.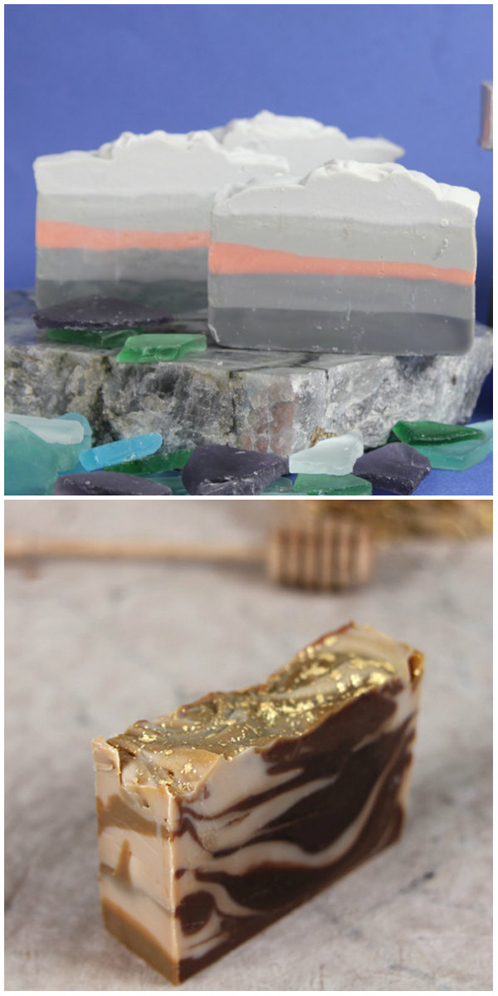 Top: Use the tools to achieve perfect layers in the Smoky Bay Cold Process tutorial.
Bottom: Give your soap some character with the spoon plop technique pictured here in the Busy Beeswax tutorial.
The tools measure 12″ in length, and they're a fun bright green color (made specifically for Bramble Berry) that makes them easy to find. Keep in mind that although they're durable and approved for temperatures higher than 200 degrees, handwashing them in the sink with simple soap and water will help them last a lifetime.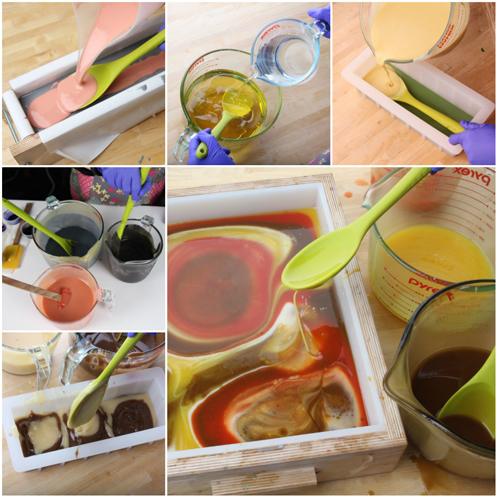 I'd love to know what sort of soapy tools you'd like me to create next. Be as descriptive as possible – and know that the sky is the limit. One lucky blog commenter will win a set of these soaping tools for sharing your great idea. Ready, set … comment!