Two weeks into the new year and we're off to a running start. I've kept up with the S.M.A.R.T. goals I set for myself this year (thank you Carrot app, my VitaMix and Bellingham-based Dandelion produce delivery). I'm excited to track my progress along with everyone else who told me about their goals. There's big plans for Bramble Berry this year, and we have lots of awesome promotions and campaigns planned, as well as adding to our continually growing product line. Be sure to check our What's New page frequently to be first in the know about new items.
For now, take a look at my favorite social media happenings from the past two weeks for all of our social media accounts:
Pins: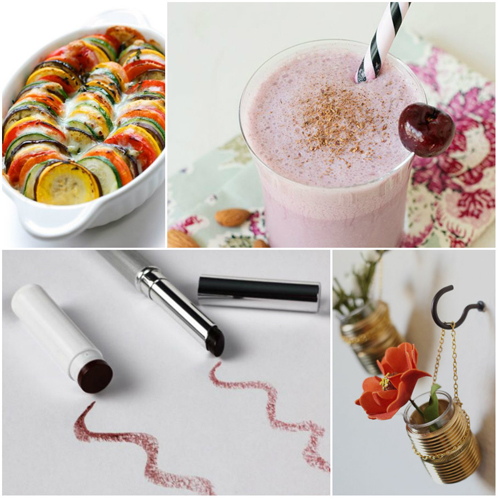 Clockwise from top left:
Instagrams:
This was the Taiwan Swirl we made for this month's Great Cake Soapworks Challenge. This soap is colored with Dark Red Brazilian Clay, Indigo Powder, Activated Charcoal and Titanium Dioxide. It's fragranced with a sprightly blend of Litsea and Spearmint Essential Oils. Expect a tutorial for this beauty coming soon!
If you're on the hunt for cute packaging ideas for upcoming spring craft shows, consider these cute Sleeve and Tray boxes. Watch the video below to see how to fold them:
This bubbling bucket of ash and water will eventually turn into something we're all familiar with — lye! This is a quick video shows the first stage of our lye-making experiment.
Tweets:
 Predictions for social media media marketing in 2014 include seeing more ads across platforms, the increased influence of Twitter and even more noisy content filling the social media-sphere. It's a great time to start thinking about how you can make your content more relevant, informational and timely to make it stand out from the crowd!
In light of more social media noise, this list of best practices is a great place to start if you want to set your content apart. Some tips we're trying to follow — be brief, include an eye-catching photo and use an "active" voice in when writing.
This is a super cute (and inspiring!) illustrated guide for reaching your goals. Some key take away points? You have to want it, don't wait for it and don't let 'no' stop you.
Have a wonderful weekend everyone! To keep up with the latest soapy social media throughout the week, you can follow me on Twitter, Tumblr, Vine, Instagram, Pinterest and YouTube.