If you are planning on giving handmade gifts for the holidays, now is the time to plan ahead and start creating. Handmade gifts are not only more personalized and unique, they cut down on holiday spending. In 2012, the average American spent an estimated $854 on presents for family and friends…wowza! This year is the year to not only save money, but show your loved ones how much you care with handmade gifts. Not to mention…crafting is fun!
Because cold process soap requires 4-6 weeks to fully cure, soap that is ready to use for the holidays needs to be made now. If you are looking to make a festive and traditional cold process soap, the Holiday Cookie Bar and Holly Berry Cold Process features cheery red and green.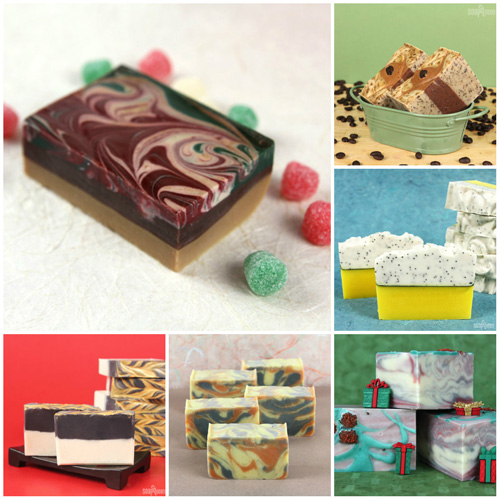 Top left, clockwise: Holiday Cookie Bar Cold Process, Espresso Shot Cold Process, Lemon Poppy Seed Cold Process, Holly Berry Cold Process, Indigo Spoon Plop Cold Process, Black White and Gold All Over Cold Process


For the food lovers in your life, the Espresso Shot Cold Process and Lemon Poppy Seed Cold Process soaps smell good enough to eat! The Indigo Spoon Plop uses all natural essential oils and colorants, while the Black White and Gold All Over brings the glitz and glam.
If you prefer melt and pour soap, the Cheery Cranberry Seed project is both sophisticated and holiday themed. The Pink Sea and Shea Bath Bar is a fantastic combination of exfoliation and moisture. For more advanced melt and pour soapers, the Fall Leaves Melt and Pour involves colorful layers and embeds. To make your projects more cost effective, the How to Make Recyclables blog posts shows you how to use everyday items to create soap!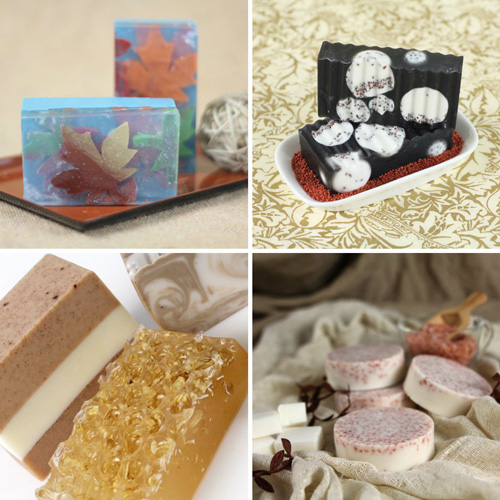 Top left, closkwise: Fall Leaves Melt and Pour, Cherry Cranberry Seed Melt and Pour, Pink Salt and Shea Bars, How to Recycle Your Recyclables 
Looking to pamper your loved ones this holiday? The Pumpkin Spice Latte Sugar Scrub made with coffee butter leaves skin feeling silky smooth. The Nourishing Nail Oil and Invigorating Foot Soak are both easy to make, and would make great stocking stuffers! For the cosmetic junkie, the  super wearable Honey Kisses Sheer Lipstick will make a great addition to their lip color collection.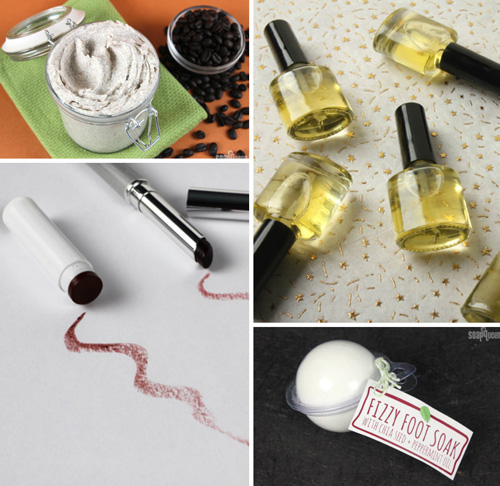 Top left, clockwise: Pumpkin Spice Latte Sugar Scrub, Nourishing Nail Oil, Invigorating Foot Soak, Honey Kisses Sheer Lipstick
Men are always a little bit hard to buy for, but we have you covered. The Havana Classic Disk Shaving Soap and Rum After Shave are the perfect additions to any shaving routine. If your guy prefers a creamy product, the Easy Whipped Shaving Soap is gentle on the skin. For bearded men, the Moisturizing Mahogany Beard Oil leaves facial hair soft and flake free. If facial products go unused by the men in your life, the Super Simple Boot Polish will keep his favorite leather shoes or boots looking  brand new.

Are you planning on creating handmade gifts this holiday season? I would love to hear your project ideas or tips!