Christmas is coming! Christmas is coming! I can hardly believe that this year has gone by so fast. It seems like yesterday that we were started our very first Make it Monday challenge but it was actually this summer. It's been so much fun seeing you all participate in these challenges and coming up with such clever and fun products all year, and we can't wait for our next series (starting next year!) to see what you have up your sleeves. Are you ready for the winners of Make it Monday #Christmas Schwag? Drum roll please…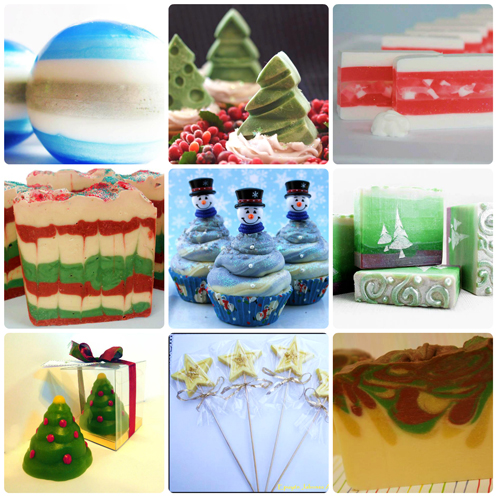 Top Row: 
Jill Lemaster-Moore – 'Yultide Soap Balls'
Yurie from Kumamama Soap
Krista Scott – Adaptation of  Cool Yule Peppermint Loaf from Soap Queen
Middle Row:
Katie from Royalty Soaps – 'Holiday Cheer Cold Process Hanger Swirl Soap'
Patty from Lather Rinse Clean – 'Snowman Cupcakes' with Fresh Snow Fragrance Oil
Heather from Blackbird Soap Company – 'Enchanted' 
Bottom:
Amanda from Bubblina's Soap Boutique – 'Christmas Tree Soap'  with  Santa's Spruce Fragrance Oil
Ludmila and Pablo from Epuyen Jabones Artesanales – 'Christmas Magic Wands'
Jenny Rose from I'd Lather Be Soaping – 'Christmas Cheer Soap'
Thank you all so much for participating in the #Make it Mondays this year. We have had an absolute blast seeing all the fun and creative ideas that you are making and can't wait to hear more about your soapy adventures.  This will be our last Make it Monday of the year, but keep your eyes peeled for next year when we introduce a whole new series of soapy challenges. Did you miss a #Make it Monday Challenge this year or just want to catch up on all the soapy eye candy? Check out the links below to get your fill until the next year!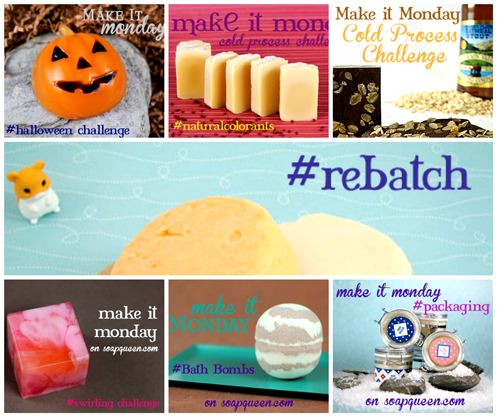 #Packaging Challenge / #Packaging Winners /#Packaging Facebook Album
#Rebatch Challenge / #Rebatch Winners / #Rebatch Facebook Album
#Soap Sculpting Challenge / #Soap Sculpting Winners / Sculpting Challenge Inspiration Mashup / #Soap Sculpting Facebook Album
 #Layers Challenge / #Layers Challenge Winners  / Layered Wall of Soap Inspiration / #Layering Facebook Album
#Swirling Challenge / #Swirling Winners / #Swirling Facebook Album
#Embedding Challenge / #Embedding Challenge Winners / Embedding Challenge Photo Mashup / #Embedding Facebook Album
#Natural Colorants /  #Natural Colorants Winners! /  Naturally Colored Eye Candy / #Natural Colorants Facebook Album
#UniqueTops / Unique Tops Winners! / #UniqueTops Challenge Eye Candy / #Unique Tops Facebook Album
#Bath Bombs / Bath Bomb Winners! / #Bath Bombs Facebook Album
#Halloween / #Halloween Winners / #Halloween Challenge Eye Candy / #Halloween Facebook Album