Who's ready for another Melt and Pour Challenge (Pick me! Pick me!)? Missed the first challenge? Check it out out here. I was so impressed with each and every one of your entries over the last two weeks of the #Layers Challenge. I can't wait to see what you come up with on the next challenge that's all about embedding in your melt and pour soap. Bring on the creativity!
Pssst… Check back later today to see the winners of the #Layers Challenge. Squee!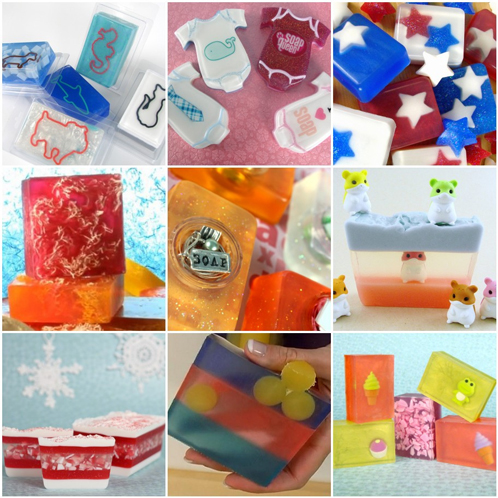 It's Soaping Cats and Dogs, Onesie, Twosie, Threesie, Easy 4th of July Stars
Loofah Soap, Secret Message Soap, Hamster Soap
Cool Yule Peppermint Loaf, Embedding Layers, 18 Bars of Pure Cuteness!
 Mission (if you choose to accept it)
Create a unique soap that follows the theme for the challenge of the week. This week we want to see embedding in MP!
Post your pictures of your embedded melt and pour soap to Bramble Berry's Facebook page during the entry period (June 25th-July 9th).
Your entry must have the hashtag of the week in order to be entered into the contest. This week, your picture must have the hashtag "#Embedding".
At the end of the two weeks, Team Bramble Berry will pick our favorite soaps. The winners of the challenge will be featured on the Soap Queen Blog! You have until Monday, July 9th to post your Melt and Pour #Embedding pictures.
You can submit up to three different pictures.
Note: The embedding can be either objects or soap…or BOTH!
For extra soapy embedding  inspiration, check out these Soap Queen TV Episodes:
Embedding Toys in Soap from Soap Queen on Vimeo.
How to Make Embedded Jelly Roll Soap from Soap Queen on Vimeo.
Soap Queen TV Episode 4: Embedding from Soap Queen on Vimeo.
Ready! Set! Embed!