It's coming up on the end of the year (I can hardly believe it!) and that means it is our very last #Make it Monday challenge of 2012. We've seen some pretty incredible projects over the last six months and can't wait to see what you have in store for us for this challenge! Are you ready for it?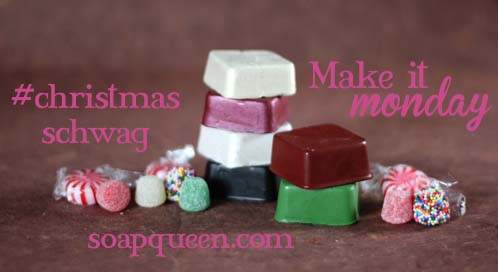 Mission (if you choose to accept it)
Create a unique product that follows the theme for the challenge of the week. This week is all Christmas themed bath and body products. Anything from melt & pour and cold process soaps, bath bombs, lotions, and more!
Post your pictures of your cute and creative Christmas projects to Bramble Berry's Facebook page during the entry period (December 3rd – December 17th).
Your entry must have the hashtag of the week in order to be entered into the contest. This week, your picture must have the hashtag #Christmas Schwag
At the end of the entry period, Team Bramble Berry will pick our favorite entries. The winners of the challenge will be featured on the Soap Queen Blog. You have until Monday, December 17th to post photos of your #Christmas Schwag. Please submit your photos by 12 pm (pacific standard time).
You can submit up to three different pictures!
And now here are a few ideas for some extra-special holiday inspiration
Soap Queen TV Special Edition: Holiday Travel Candles
Soap Queen TV: Gingerbread Soap Project
Soap Queen TV: Holiday Stamp Soap
Soap Queen TV: Orange Slice Soaps
See you in January and have a happy holiday season!
On a personal note, my sweet husband Chris has applied to be part of the CNN Triathlon Team for this upcoming year. You can watch his entry video and read his essay HERE. How he'll fit in training for an Ironman + a new baby + his business + our energetic toddler is anyone's guess but if there's anyone that can do it, it's him! =)
Jamisen is already trying to show him how the bike portion of the race is done:
We'd love to feature your soap on the Teach Soap website! You can send your tutorial with pictures to [email protected] and if you project is chosen you will receive a $10 gift certificate to Bramble Berry, as well as having your recipe (with full credit) on Teach Soap. For more information on the this ongoing contest, check out the Teach Soap Contest Update blog post and take a look at our already featured recipes here:  Soothing Avocado Foot Balm, Peach Pie Soap, Rose Garden Bath Tea & Refreshing Tangerine Melt and Pour Soap.