If you are a long time reader of the Soap Queen blog, you might remember when we hosted a contest for Fair Ivy a few years ago.  It was an absolute blast for everyone involved and we've decided to bring it back again and this year have doubled the fun. What is Fair Ivy? Fair Ivy is a premium subscription service that carefully selects the handmade gifts for women and they want to include YOUR handmade products with a theme of fancy soap and packaging that appeal to women.
What to Enter
Anything in the bath and body department; lotions, soaps (melt & pour and cold process), scrubs, candles or creams that fit in with the theme of fancy soaps and packaging. If you have any questions please email contest(at)brambleberry(dot)com or leave a comment below.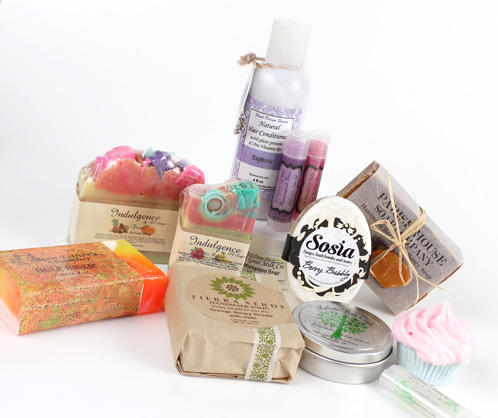 How to Enter
Send us your Fair Ivy submission ensuring that it arrives by Monday, April 8th, 2013. Please send two samples of your entry. We must receive your package before April 8th for your product to be considered. Finalists will be announced on April 15th, 2013.
Ship to: Bramble Berry Inc.
C/O Fair Ivy Contest
2138 Humboldt Street
Bellingham, WA 98225
Theme
Finalists 
Bramble Berry will test and judge your products then send the finalists to the Fair Ivy head quarters where the final winners will be chosen.
Your product must have your name, company, contact information and ingredients listed.
Remember to send a quantity of two so Bramble Berry can try one out and send a pristine example along to Fair Ivy.
Guidelines
Packages must be sent to:Bramble Berry
C/O Fair Ivy Contest
2138 Humboldt St.
Bellingham, WA 98225

 Submission for this contest must arrive at Bramble Berry on or before Monday, April 8th, 2013.
The winner of this contest will be announced on Monday, April 15th, 2013
Prize
The winner of the 2013 Fair Ivy contest will be featured during a single month as one of the surprise senders and will ship directly to the Fair Ivy customers during that month. Be prepared to make between 50-150 products.  The price range may vary.  Depending on the product, size, quality and wholesale price, Fair Ivy could pay up to $7.50 per product. Once you have sent out your product you will also be featured on Fair Ivy's Blog, Facebook and Newsletter. It's an exciting way to get direct contact with new customers.
Additional Prize
A second winner will be chosen based on their packaging. This winner will win a month of surprises from Fair Ivy regardless of whether your entry was chosen to be featured or not.
Coupon Code
Fair Ivy is offering any Soap Queen subscribers a chance to receive $5 off the first month subscription service. To receive this special offer enter SOAPY5 when you subscribe. This offer lasts until March 31st!
Good Luck!