This week, several more guest bloggers shared their take aways from this year's Handcrafted Soap and Cosmetic Guild Conference. First, Jodi from Empire Rose Soap Co. walked us through the process of creating your own nail polish. If you'd like to learn more about customizing your own nail color, the How to Customize Nail Polish Video is here to help.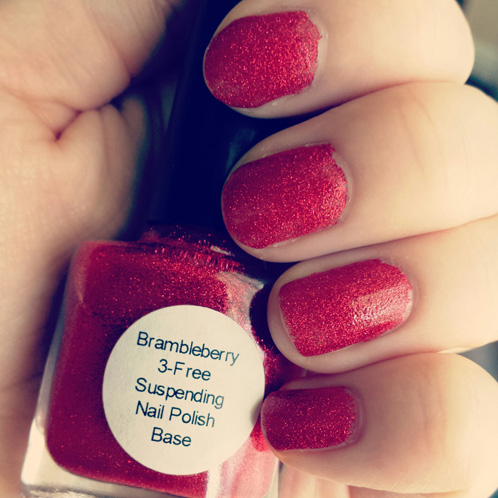 Jean from SoapArt summarized a Soap & Cosmetic Guild Conference session about how to use a wide variety of exfoliants in soapy projects. If you can't decide on a scrubby additive, the Exfoliant Sampler pack is a great way to try a wide variety. With this pack, you're on your way to creating everything from Gardening Cold Process Soap, to a gentle Oatmeal Facial Scrub Mask.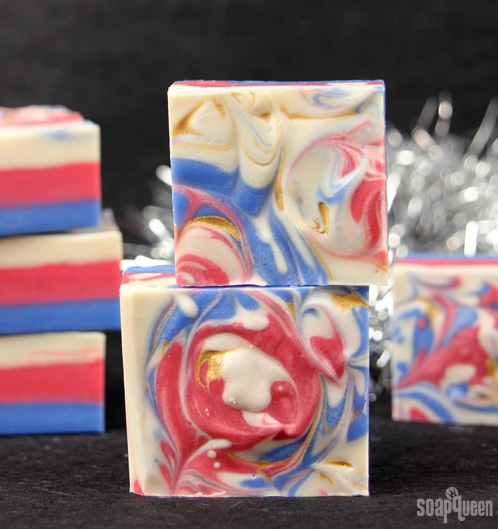 With summer in full swing , we were inspired to celebrate Independence Day with a soapy project. Full of red, white and blue spirit, the 4th of July Fireworks Cold Process Tutorial features a soapy swirl with Gold Sparkle Mica painting. If you are looking for more Independence Day inspiration, the Easy 4th of July Star Tutorial and the 4th of July Mashup are sure to give you some ideas!
Creating soap for holidays and events is a lot of fun, but when soap making can support a cause, that's even better. Created by Kerry of Sensually Soaps, this beautiful cold process was created as a fundraiser for Breast Cancer Research.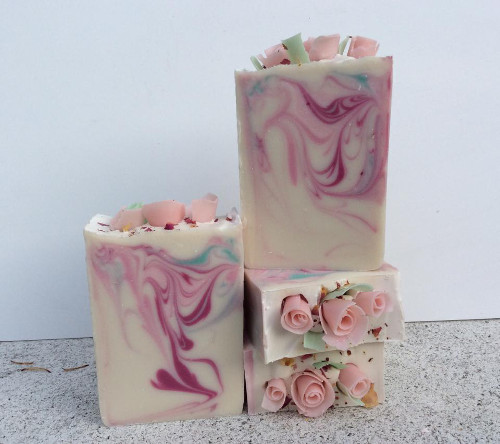 Created with Bramble Berry micas, the combination of soft swirls and rosey soap curls is stunning. If you are looking to improve your soap swirling skills, there are a wide variety of techniques to try including the Mantra Swirl Tutorial, Natural Colorant Taiwan Swirl Tutorial and the intricate Butterfly Swirl Soap Tutorial. Do you have a favorite kind of swirl?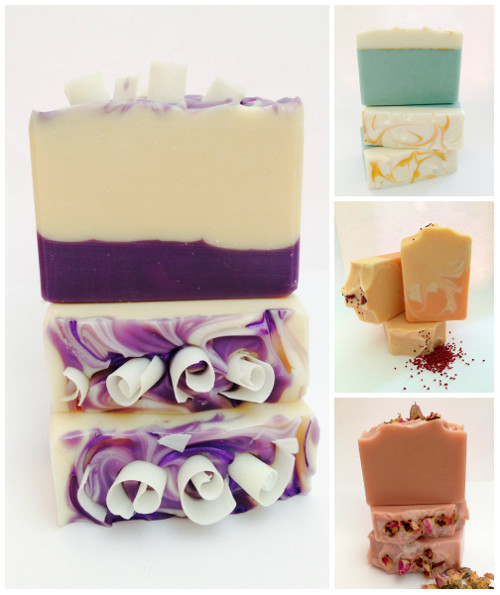 Pictures above (from left, closkwise) is Sensually Soaps Relaxation Soap, His' N' Hers Soap, Citrus Burst Soap, and the beautiful Alluring Soap topped with roses and made with goat milk. If you are interested in making your own goat milk soap, this Soap Queen TV Video is full of information!

Find Sensually Soaps:
Post pictures of your crafty creations on the Facebook page each week for a chance to be featured on the Soap Queen blog and receive a sweet soapy package from Bramble Berry. Photos are chosen based on consensus from the Bramble Berry staff, so the best way to increase your chances of winning is to show us lots of photos!