Can you believe the fourth of July is only two weeks away? I definitely can't! At Bramble Berry we're all looking forward to summer though, and earlier this week we featured a Fireworks Cold Process tutorial to get you thinking about summer-themed projects. Since the weather has been so nice lately, the kiddos and I have spent plenty of time outside either working in the garden or visiting the farmer's market for fresh veggies.
Speaking of summer, keep your eyes on the blog, follow us on Facebook or subscribe to our newsletter to be in the know about an upcoming promotion. It features lots of fun tutorials to get beautiful, beach-ready hair =) Until then, take a look at my favorite pins, tweets and 'grams from the week!
Pins: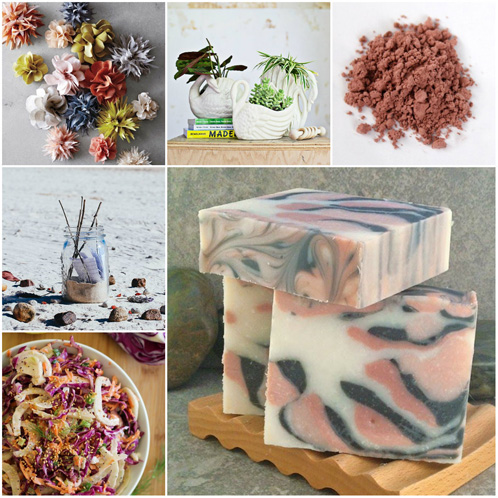 Top left, clockwise:
Instagram:
We've been experimenting with mica painting these past few weeks. It's a simple technique that involves dispersing mica in liquid oil and then drizzling it directly onto the soap. In this case, we got creative with swirls!
Tweets:
 This is an excellent read for people of any age. A 15-year-old asks the author what to do with her life, and the resulting essay is a refreshing take on the "follow your dreams" advice. The author's key takeway? "The idea behind all of this is that you can't know what you're going to do with your life right now, because you don't know who you're going to be, what you'll be able to do, what you'll be passionate about, who you'll meet, what opportunities will come up, or what the world will be like. But you do know this: if you are prepared, you can do anything you want."
Our sister store, Otion, has launched a new website. Stop over and pay them a visit, and if you're ever in Bellingham, stop by the store itself! They carry all our molds, fragrances and colorants.
If you've ever held yourself back from taking a risk, making a big change or trying something new, check out this list. I love numbers 4 & 9.
Have a great weekend! To keep up with the latest soapy social media throughout the week, you can follow me on Twitter, Tumblr, Instagram, Pinterest, Vine and YouTube.