Woohoo! Here we are again with another installment of Talk It Out Tuesday (check out our previous TIOT's on bath bombs, colorants, melt and pour and our latest on preservatives).  I am delighted about the topic this week because I know many of you have questions about  water-based lotions. I can't wait to help you answer them. So read on and find out everything you wanted to know about lotions! And, if I didn't answer it, feel free to ask me in the Comments section.

What is lotion?
Lotion is a basic skin-care product that is used to soothe dry skin and often has ingredients that are intended to give extra added benefits to your skin. Body butters, balms, salves, lotion bars, creams, and massage candles can all be considered a lotion. Generally, a traditional lotion will have water + oils + emulsifiers + preservative.
How do I make lotion?
While there are hundreds of recipes for lotions, body butters and salves out there, a basic lotion recipe would consist of your oils/butters, preservative, fragrance, an emulsifier and distilled water. To create your own lotion from scratch, you can go by the following guidelines:
70-80% Distilled Water
3-5% Stearic Acid
3-6% Emulsifying Wax
Add the rest in of your choice of Oils/Butters
To this add:
.5 – 1% Preservative
.5% Fragrance
For more information and hands-on-instruction, check out this video: How To Make Lotion
Is it possible to make lotions without preservatives?
It is very possible to make a water-based lotion without preservatives, but it isn't going to last very long. Within a few weeks (or less) it can start growing mold and bacteria (like I had happen here, pretty scary, right?). Properly using a preservative ensures that your lotion will not grow bacteria or mold and will last as long as the oil with the shortest shelf life. Check last week's Talk It Out Tuesday where I discussed the importance of using preservatives. If you don't want to use a preservative, you'll want to stick with just an oil + wax based balm and skip the water part of your lotion.
What are the different types of lotions out there?
Like I mentioned above, there are so many products that can fall under the umbrella of lotions, because they are skin-care products that are used to soothe dry skin. Below are some of my favorite lotion-type recipes!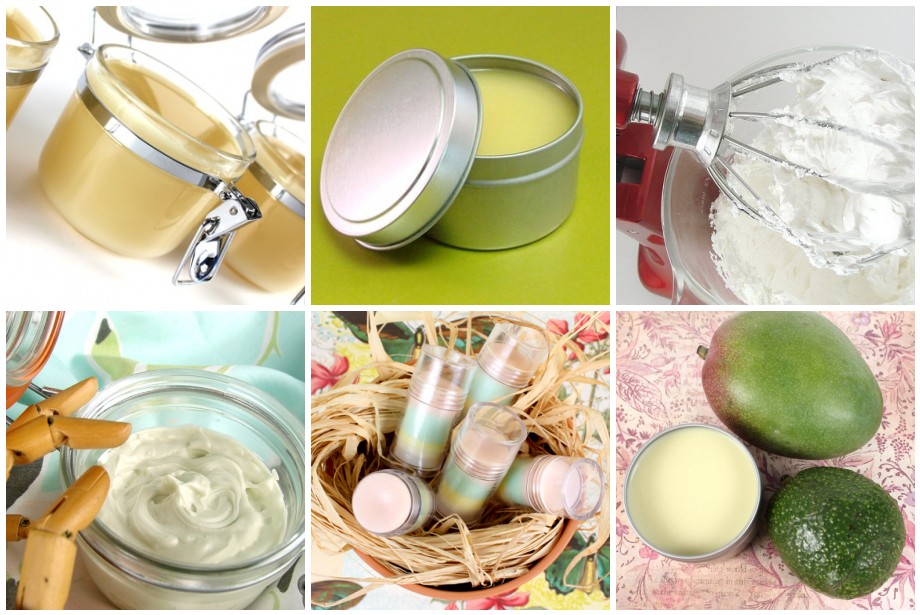 Row 1: Winter Body Balm, Pistachio Balm, Easy Whipped Shea Butter
Row 2: Whipped Belly Butter, Lotion Bar Love, Mango Avocado Balmy Salve
Help! My lotion is super greasy and I don't know how to fix it!
Have you ever made a batch of lotion or balm and found it to be a little too greasy for your tastes? Don't throw it away yet, you can save it! For many people, lotions/body butters can give that greasy feeling that can just feel a little off to them. But, there is a simple way to prevent that, try adding tapioca powder to your lotion recipe, it helps cuts down on that greasy feeling and gives your final product a silky smooth feeling. Start at 1 tsp per pound of oils. You can always add more but you can't take it out. If you've made a water-based lotion and don't want to use tapioca powder, you can increase the water and decrease the liquid oils to see if that solves the greasy feeling for you.
What is an emulsifier?
In simple terms, an emulsifier is a product that binds the water and oils (naturally, water and oils do not mix together). Without an emulsifier the water and oils in your lotion would eventually separate. To get your lotion recipes to work, you will need to add some type of emulsifying wax. Bramble Berry sells two different types of emulsifiers (either of which will work great in your recipes), PolaWax Emulsifying Wax or it's generic counterpart Emulsifying Wax NF. Bramble Berry also sells BTMS-50, which is a conditioning emulsifier that leaves a slightly more silky feel to lotions (and can be used as a hair conditioner emulsifier).
It is a common urban myth that Xantham Gum/Beeswax emulsifies into something resembling lotion, but I can tell you from experience that it doesn't do a great job. It may emulsify but it's not very stable. From a usage perspective, it's not ideal in my opinion. It dries in sheets on your skin and you can peel it off, rather than absorb in. Unfortunately, we have not found an all natural emulsification system that is stable for commercial use (and we've tested them all).
What can I use to color my lotions with?
We have always had the best luck with our LabColors. They give that gorgeous color and stay really well in your lotions and body butters. If you haven't used them before, check out this post to find out how to dilute and use them. You can use any water soluble colorant (so long as it's food or cosmetic grade) or many micas. Oxides and pigments don't work great as they are oil-soluble and can leave skin streaky with color.
 How do I label my lotions?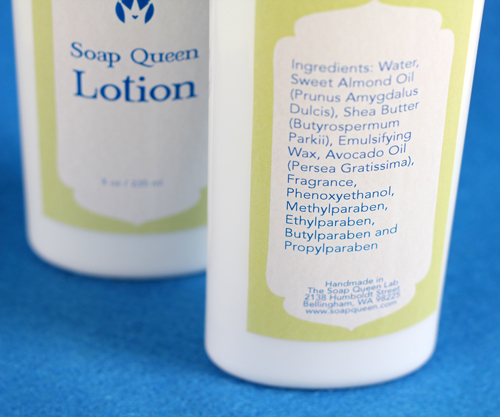 Labeling your lotions is an important topic as consumers (and sellers) want to know what they are putting on their skin. I can't count the number of times I've been asked  "How on earth do I begin to label my lotions? It just seems so confusing!"
The ingredients on your lotion label should be listed in the order used, so for example if you had a recipe that was:
18 oz. Distilled Water
1.2 oz. Shea Butter
1.7 oz. Sweet Almond Oil
1 oz. Avocado Oil
1.2 oz. Emulsifying Wax
1 oz. Stearic Acid
.2 oz. Phenonip
.1 oz. Fragrance
Your ingredient list would look like this: Ingredients: Water, Sweet Almond Oil (Prunus Amygdalus Dulcis), Shea Butter (Butyrospermum Parkii), Emulsifying Wax NF, Stearic Acid, Avocado Oil (Persea Gratissima), Fragrance, Phenoxyethanol, Methylparaben, Ethylparaben, Butylparaben, Propylparaben
You also need to include your business name, your business address and the net weight in fluid ounces – example: 6 fl. oz / 180 ml. For more information on labeling your lotion, check out this handy-dandy guide to labeling your lotions or buy the (awesome awesome!!!) book by Marie Gale on labeling your products here.
We'd love to hear your comments about your experiences making lotions and any burning questions you have about making lotions.