It's still baby mania around here! I've been trying to get back into my normal routine (with Lily always in tow, of course), and I've been making it into the office for at least a few hours every day. Lily is the unofficial Bramble Berry mascot these days. She loves being walked around the warehouse. We also received some exciting news this week. Team Bramble Berry was the top referrer of new members to the Handcrafted Soap and Cosmetic Guild for 2013! I can't say 'Thank you' enough to the HSCG board and volunteers. Their conference is an event I look forward to each year (curious about our coverage of this year's conference? Check our archives here!). As a gift for referring more than 30 new members, they even sent me a fantastic cheese basket! They know the way to my heart; if I had to live on only three things in life, they would be cheese, bread and cupcakes.
In the social media world, everyone is abuzz because you can now use hashtags on Facebook! The tags work the same way they do on Twitter or Instagram. The reason to use them is that they give you a quick and easy way to search and find groups of posts. We're going to start using hashtags such as #brambleberry, #soapqueen and #soapcrafting, and we'd love for you to do the same when you post relevant content on your Facebook business pages.
Use the hashtags when you add a photo, comment on our Facebook page, or use a Bramble Berry product. My hope is that you'll be able to search the tags and be rewarded with a wealth of information and awesome photos from your fellow soapers =)
This week was fun in social media. Here are my favorite Pins, Tweets and Vines of the week:
Pins.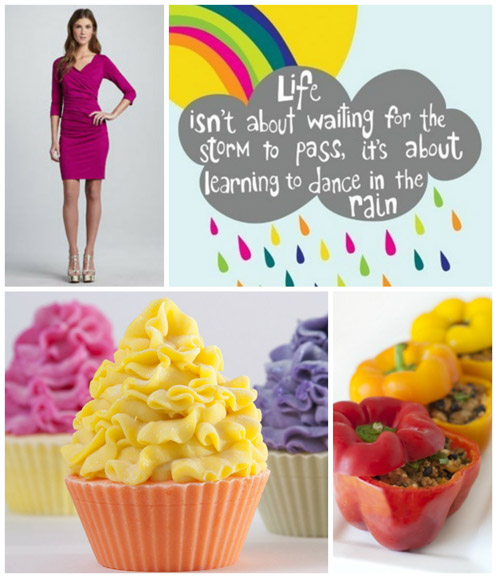 Top left: How cute is this Bentley Ruched Short Dress? I love the bright fuchsia color! And, it looks figure flattering for post-baby.
Top right: Rain is something we're used to in Washington State (they didn't coin the term 'Juneuary' for nothing!) and this is an inspiring quote no matter where you are.
Bottom left: I'm such a fan of foodie themed soaps, and these cupcakes from Jennifer's Handmade Soaps are some of the best I've seen. Bright, fun colors and excellent attention to detail make these really stand out. Want to see more of Jennifer's work? We interviewed her earlier this week!
Bottom right: It's been hard to find a spare minute to get back into the kitchen, but I am just dying to try these Southwest quinoa stuff peppers. Quinoa is a great source of protein and fiber, and I eat it at least once a week if not more. The rest of the family hardly notices when I slip it into random things, like pancakes, cookies and burgers.
Vines:
With dreams of a summer vacation on my mind (and no, with a newborn and a 2 year old, that will not be happening this year!), I made a Hawaiian shirt-esque cold process soap yesterday. Keep your eyes peeled for a full tutorial coming to this blog. We scented the soap with our brand new Shave and a Haircut Fragrance Oil, which was one of the winning scents chosen by our 2013 S.O.A.P. Panel. It performed admirably, giving me plenty of time to get a perfect design in the soap below.

Here is the final photo from the Instagram feed here.
I hope everyone has a wonderful weekend. Chris is doing his first triathlon tomorrow (!!) and Lily, Jamisen and I will be there to cheer him on at the finish. What projects do you all have in the works? If you're looking for some inspiration, try your hand at our newest Make It Challenge. This one has a patriotic theme, and I'd love to see what you all come up with on our Facebook page.