All of the snow has melted in Bellingham. It's (finally) starting to feel like spring has sprung! The whole family took a quick trip to Hawaii with my parents for a little surf and sand. It was wonderful to enjoy the sun rays and sand. Back at the office, we are busy clearing room for the latest round of Soap Swaps. There are a record breaking number of soapers (205, to be exact) participating this year. If you couldn't get in on this round of swapping fun, keep your eyes on the blog because you can bet we'll announce another swap soon.
I'm a fan of many of social media options out there to keep touch with friends and customers from all over the world. I pin, tweet + 'gram a lot. These are my favorites from the past two weeks.
Pins: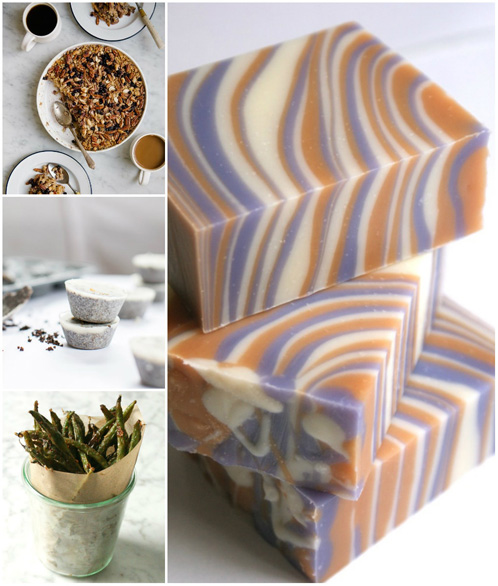 Clockwise, from top left:
Instagrams:
When it comes to cleaning off soda ash quickly and easily, a steamer really is a soaper's best friend. It's even effective for soaps with delicate tops, such as this mica topped black & white cold process soap. To achieve the embellished top, mix 1 teaspoon of mica with 1 tablespoon of liquid oil and delicately pour it over the raw soap. Use a chopstick or dowel to swirl the mica on top of the soap.
New tool time: this project demonstrates the Multi-Pour Sectioning Tool, which easily divides the 5 lb. Wood Log Mold into 3 or 4 sections for a variety of soaping designs. It's great for mantra and Taiwan swirl designs.
Tweets:
This is the ultimate quick guide filled with social media tips. Try adding fun symbols to tweets, creative emoticons to Facebook updates and formatting photos and text for maximum eye-catchiness.
Lipstick wearers everywhere, this is something to think about: lipstick is one cosmetic known for containing lead. The Beauty Brains blog breaks down how harmful lead in lipstick can actually be. Their verdict? You'd need to eat 15 full tubes of lipstick in a single day to raise your blood lead level to dangerous concentrations.
A good quote to keep in mind on your Saturday afternoon. Always seek opportunistic situations and if they aren't there, make them for yourself =)
To keep up with the latest soapy social media throughout the week, you can follow me on Twitter, Tumblr, Vine, Instagram, Pinterest and YouTube.
 Happy weekend! =)