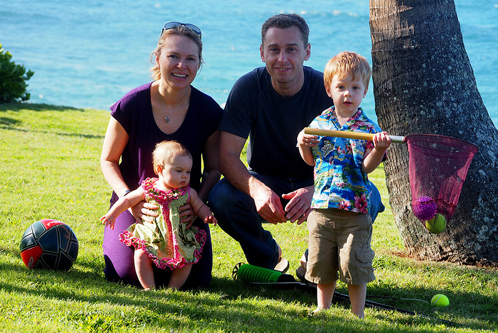 "Laughter is an instant vacation."  – Milton Berle
We recently took a family trip to Hawaii with Grandma and Grandpa Faiola. My Dad had a medical conference and invited us to tag along so I cashed in all of our air miles and we took off an adventure.It was our first time traveling with the kids so we were both a little nervous. The flights were just as bad as we expected (worse, actually) but once we got to Hawaii, memories of the bad flight quickly faded. It was Jamisen and Lily's first time experiencing sand and they loved it! We had a good time exploring the waves, making sand castles, eating yummy food at the restaurants and laughing. Click to read more.
We found an amazing beach called Baby Beach that was basically the best beach on the planet for the babies. It's this tiny little beach that has tons of small coral beds that break the waves so the lagoon is entirely lovely and calm. The lagoon also has a maze of coral. Grandpa Faiola and I went snorkeling and basically sucked in our bellies and held our breath to try to get over the very shallow water that barely covered the coral. We were rewarded for our efforts with not one, but two but THREE little puffer-fish that loved us. That was entirely worth it.
The kids played nicely on the beach together and Jamisen loved it all – until he got too dirty. He's still quite fastidious (and has been since birth) but didn't let that stop him from fully enjoying the beach. He did request to be showered off multiple times during our sand construction. My most funny part of sand castle construction was that he asked Chris for a "computer station" and then sat and "typed emails." You can tell he sees far too much of both of us typing and working from home. Whoops.
I have been a scuba diver since I was 16 years old and scuba diving with the whales is on my Bucket List. Chris started diving  seven years ago and loves breathing air underwater. My folks gracious agreed to watch the kids for the entire day (bless them) so Chris and I could go diving for the day. Though we heard the whales while we were underwater, we didn't see any while we were diving. We were thrilled to see them many times from the boat however. It just means that we'll have to go back to try to hit that Bucket List item.
The most kind gift my parents gave us on the trip was sleep (!). They took Lily in their room for the entire week and let us sleep in every morning. Since Lily is a very early riser, this was an amazing gift and sacrifice on their part. I think they both went home more tired than when they had arrived after a week with Miss Lily.
I am so thankful for technology. It allowed me to work seamlessly, anywhere, even the beach. So, even though there was a lot to catch up on from when we were gone, I was still able to do a lot of my work remotely. The team at Bramble Berry kept things running smoothly at the warehouse. It was great to get away for a few days – and I'm hoping I can convince Chris that the plane rides weren't *that* bad so we can make the medical conference trip with my folks an annual thing. Fingers crossed! =)