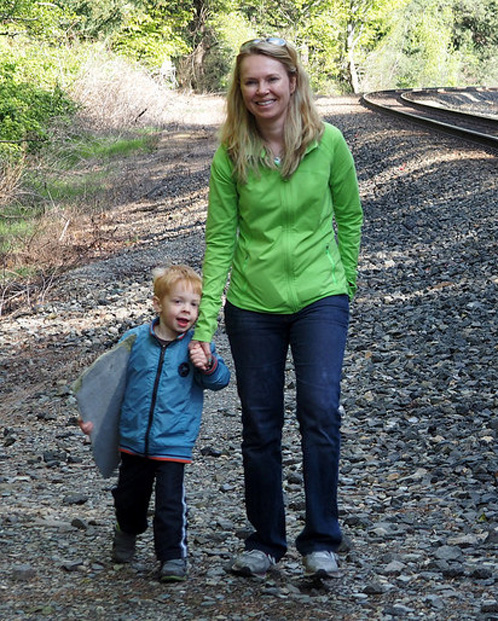 "Think of all the beauty still left around you and be happy." — Anne Frank
Happy Weekend! We've had a chance to get outdoors (yesterday) and even do a bit of gardening (bean bushes). Like last year, I went way overboard on the greens. I have enough kale to open up my own farm stand at this point. I still want to plant squash, zucchinis, cucumbers, garlic and corn later in the year.
Jamisen had a birthday. He's 3 years old and we had a few little friends over to celebrate, eat cake and generally run all over the place. Children seem to have one speed: fast.
Lily got in on the cake (big time). She was double-fisting it, taking giant chunks of cake and frosting with both hands. She was very happy about it, despite going on week 5 of a cold/sinus infection/something-that-keeps-her-up-all-night-coughing.
Jamisen's birthday theme was tractors. We splurged on a cardboard tractor cut out so all the kids could pose for a special birthday shot. Jamisen's gift to us? He is eschewing diapers in favor of underwear. The angels are singing and all of our household is rejoicing as he makes this transition. I sort of thought the day would never come!
I spoke at the LEXI conference this week. My talk was "Fortune Favors the Brave" and it was about the steps I've taken to mitigate risks as my team and I have grown Bramble Berry. My seven steps for helping to plan for successful change were: Talk to People; Run the Numbers; Save your Resources; Get Buy In; Surround Yourself Well; Commit; Say 'Yes' to Compelling Vision. It's funny. Every time I agree to do a talk, I always wonder why I did it. I'm nervous before the talk. Prepping takes a long time. And then, I get there and realize that in doing the talk, I'm given so much more in return. Being in a room full of inspirational women, listening to the stories and feeling their energy makes all the prep work and the butterflies in the belly all worth it.
This week, I'm excited to start the wireframing (a fancy way to say "layout") for the Bramble Berry website redesign, do monthly planning and work through the results of our SOAP panels to get new products ordered. It's going to be a busy – awesome – week.