Despite the name, The Soap Queen blog posts all kinds of information and how-to guides on everything from sewing to cooking. It's sort of a smorgosboard of my personal interests at the time. This week however, was all about the subject that got it all started: soapy projects!
Learn how to make Luscious Lemon Cupcakes with this tutorial. Don't be fooled by the fluffy frosting, these cupcakes are made with melt and pour soap and feature the Lemon Cake Fragrance Oil. As a bonus, this wonderful fragrance is also 20% throughout all of March.
Visit the Soap Queen Tumblr for this rum aftershave recipe as part of the Havana Classic series.
The Havana Classic series began this week, so be on the lookout for projects featuring the Tobacco & Bay Leaf Fragrance Oil until March 26. This series features projects that are perfect for the man in your life, including the Havana Layers Melt and Pour Soap. Made with lots of scrubby exfoliants and fun colors, it's a tough soap that will make hands squeaky clean. Visit the Soap Queen Tumblr for a recipe for rum aftershave too!
Speaking of fun colors, the Facebook Photo of the Week is bright, cheery and features sherbet-like colors that are perfect for spring.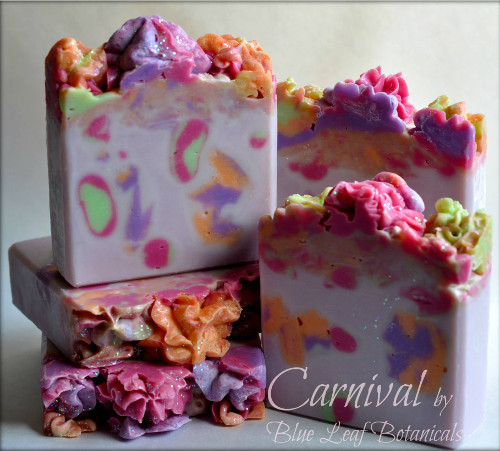 This "Carnival" soap is from Blue Leaf Botanicals, and features the drop swirl technique. This was Blue Leaf's entry for the Great Cakes Soapworks Challenge, and everything from the bright color combination to the thick, textured top make this soap a winner. The glitter is a nice touch too! The spots of color are reminiscent of those in the Leopard Spot tutorial, which is a great way to mimic this technique.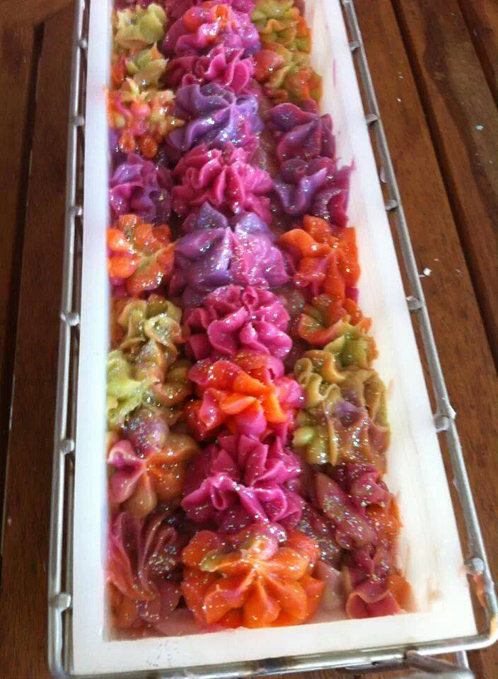 Here is a closer look at the top of the soap. The pink, orange and green-hued dollops of frosting look like sprouting flowers.  Check out this blog post to learn how to frost your own soap loaves or soapy cupcakes. For those with the Soap Crafting book, take a look at the "Cupcake Cuties" recipe on page 114.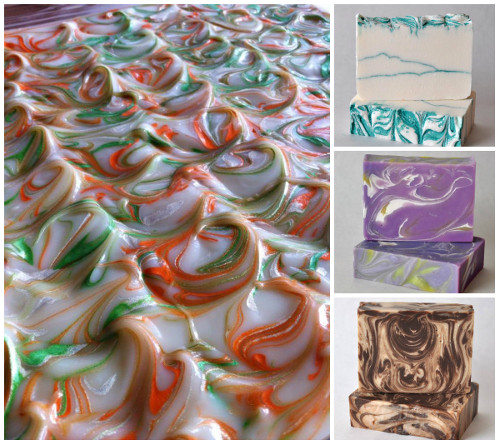 Many of Blue Leaf Botanicals' soaps feature textured tops and beautiful swirls. Shown above (left to right, clockwise) are the lovely orange and green swirl, Mountain Dreams, Lavender Whispers, and Chocolate Espresso Soap. Thanks to Blue Leaf Botanicals for being a part of our soapy community — your creativity inspires us all!
Find Blue Leaf Botanicals:
On Facebook
You can win the next Facebook Photo of the Week by posting pictures of your crafty creations on the Facebook page. Winners are featured on the Soap Queen blog and receive a sweet soapy package of goodies from Bramble Berry. Photos are chosen based on consensus from the Bramble Berry staff, so the best way to increase your chances of winning is to show us lots of photos!