I love food. Love. Food. I enjoy food from all over the world, and when I was in NY last year I came across a delightful little Cuban restaurant. What I learned is that Cuban foods tend to feature a mixture of flavors and spices that are savory and truly unique. I wanted to bring a little Cuban inspiration to a healthy snack, and these baked plantain chips with garlic cilantro dip did the trick. They won't take all day to make, and the complexity of flavors in such a simple dish will delight and surprise everyone. Watch out! The chips in combination with the dip are highly addictive.
This Cuban-inspired snack is part of the Havana Classic series, which runs through March 26. This week, watch the Facebook page, Instagram, Twitter, Tumblr, Homepage and Soap Queen blog for coupon codes and discounts as part of the series.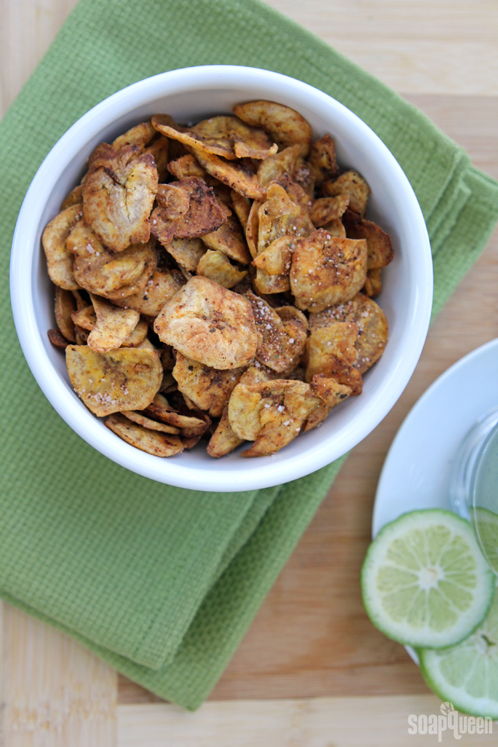 Spicy Plantain Chips
Plantains look much like a banana, but they are longer and their skin is more dense. They are starchy and low in sugar, making them a filling snack. They're a cousin of the banana, and they're typically cooked before serving. I suggest using a more green plantain to get a delicious tasting chip. Greener plantains will also keep their shape when baked.
What You'll Need:
3 plantains
3-4 tablespoons olive oil
1 ½ teaspoons chili powder
1 teaspoon cumin
⅛ teaspoon cayenne pepper
½ teaspoon salt
¾ teaspoon garlic powder
Yields: 2-3 cups of chips
Time: 30 minutes
1. Preheat your oven to 400 degrees Fahrenheit.
2. Take a mandoline slicer and slice the plantains thinly. You can also finely cut them on a cutting board, but the mandoline slicer does the trick much faster. Once the plantains are sliced, place them in a large mixing bowl and then add the olive oil and spices. Toss them well so the plantains are evenly coated. You can modify your spice level, but I prefer a little extra kick.
3. Bake 15-20 minutes turning the slices after about 8-10 minutes. Watch closely after turning since they can burn quickly. Remove from oven and serve.
4. Eat the chip immediately for the tastiest results, but they'll keep for about a day.
Now create the dip!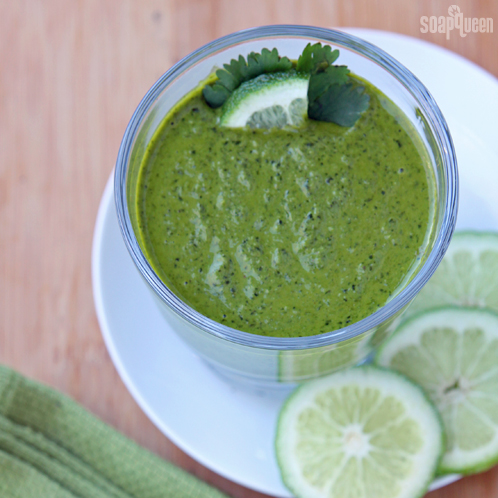 Spicy Garlic Cilantro Dip
8 cloves of garlic (yes, it's a lot but so worth it!)
½ – 1 cup cilantro
Juice from one Key lime. A regular lime will do if you don't have a Key lime on hand
3 tablespoons white vinegar
4 tablespoons plain yogurt. Greek yogurt can be used as well.
2 dashes of red hot sauce
⅛ teaspoon cayenne pepper
Salt and pepper to taste
Yield: About 1 cup
1. Put all ingredients into a food processor and blend until it is almost pureed, but still has a few larger bits of cilantro. If you don't have a food processor, a blender will work just as well. Add the remaining ingredients and blend thoroughly.
I hope you enjoy this island treat!