I hope everybody had a happy and safe New Years! This week we did plenty of reminiscing on 2013 and planned for a fresh new year. Soap Queen's Best of 2013 features our favorite and most popular blog posts, ranging from informational posts for beginners such as the Free Beginner's Guide to Melt and Pour Soapmaking, as well as more advanced tutorials such as the Rainbow Squirty Swirls Tutorial. Reviewing soaps from 2013 (156 likes and counting) makes me excited for what 2014 will bring!
If you're also feeling inspired by a new year, check out A Goal Without a Plan + Contest post and learn how to make your goals more tangible. Plus, tell us about your goals for the year and you could win some Bramble Berry goodies!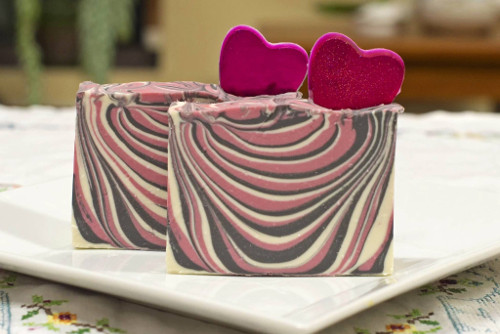 This week's Facebook Photo of the Week comes to us from Jodi of Lakehurst Farms. Jodi's soap caught my eye with the sophisticated layers of color and playful hearts on top. Fragranced with the Black Raspberry Vanilla Fragrance Oil, this soap would be the perfect gift for Valentine's Day. If you're also starting to plan for Valentine's Day, we have plenty of ideas to get you started too. You may also find inspiration in Bramble Berry's free sample of the month, Dark Chocolate Fragrance Oil.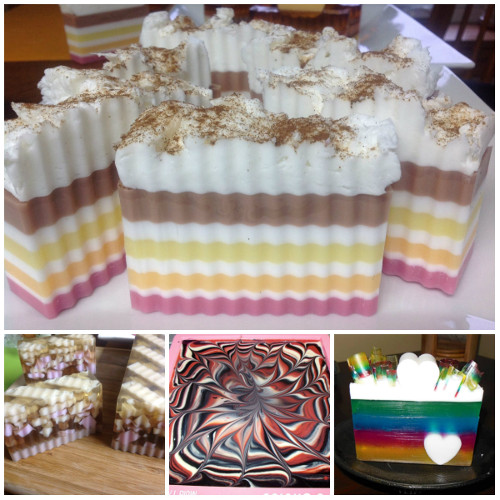 Jodi's soaps are full of color and personality! Featured above (top, counter clockwise) is a Harvest Ale Shea Butter soap, Apple Pie Honey base soap, a Black Cherry scented dream catcher swirled soap and a Passion Fruit and Pineapple soap. As you can see, Jodi's soaps are full of technique and fun! Thanks so much for being a part of our soaping community Jodi!
Post pictures of your soap creations on the Facebook page each week for a chance to be featured on the Soap Queen blog and receive a sweet soapy package from Bramble Berry!