Welcome to 2014, everyone! I have so many goals both personally and professionally for this year, and I'm excited to put them in motion. In fact, I'm inviting everyone to join me in my goal-setting mission. Earlier this week I wrote about SMART goals and how I make them work for me, and I encourage you to set your own goals in a similar format (as an added bonus, we're offering a prize to three commenters for sharing their goals). My plans for this year include placing a higher priority on personal fitness (yay treadmill desk!) as well as taking a few Friday mornings off per month to spend more time with Jamisen (he's gotten less time with me after baby Lily was born).
Over at Bramble Berry, they're back running at full capacity busily getting orders packed and shipped. If you placed an order over the holiday period (between Dec. 24 – Jan. 1), rest assured that your order is on it's way =) For now, take a look at my favorite pins, tweets and 'grams:
Pins: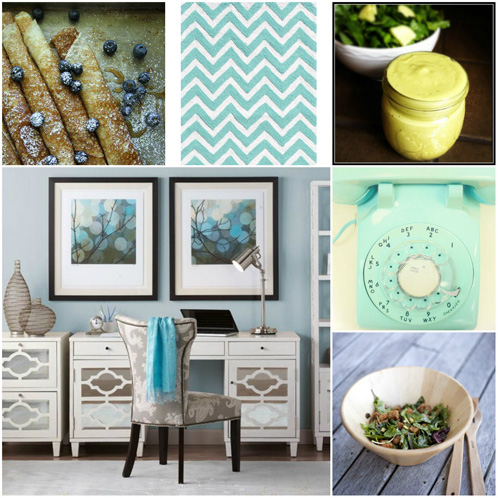 Clockwise:
Instagram:
This collage from Statigr.am is super cool. It pulls together the most 'liked' posts from our Instagram feed this year to come up with this a fun wrap-up.

This was a last minute project made to demonstrate unmolding an 18-bar Birchwood Mold for a SQTV Short, and the example soap turned out wonderfully. This fun soap incorporates "embeds" that are actually grated chunks from leftover cold process soaps. Combined with a little bit of the new Neon Blue Raspberry colorant and fragranced with Cherry Blossom, this soap is a hit.
It was a soap cutting extravaganza earlier this week! These are the Silicone Column Pour, Peacock Swirl and the Cotton Candy Cold Process soaps. Expect SQTV episodes for each of them coming this year.
Some Top Tweets:
 The best creative solution to a recurring problem: Wisconsin is using leftover cheese brine to de-ice city streets. It's an environmentally friendly de-icer because of the high salt content, and according the article provolone or mozzarella cheese brine is best. Who could have guessed?
With little kids, Magic Erasers can be a life saver. As it turns out, it's super easy to make them yourself! They're made of a material called melamine foam which you can buy straight from big retailers such as Amazon.
This year is the year of Instagram, and that's because it's matured from being selfie-central to a bona fide storytelling platform. If your soapy business doesn't already have an Instagram account, make it a point to sign up and grow a following in 2014. And of course, follow us. We're @brambleberry on Instagram.
To keep up with the latest soapy social media throughout the week, you can follow me on Twitter, Tumblr, Vine, Instagram, Pinterest and YouTube.