With so many folks throughout the country right now in such extreme cold weather conditions, it is important protect your skin and your lips. In any weather, balm protection is key to keeping your lips hydrated and protected to avoid chapping and cracking. So why not have some fun in creating your own balms in your own style and flavors? When making lip products, adding a little (lip safe) scent and flavor can take your balm to the next level. Flavor oils are lip-safe fragrances and ironically, they don't actually taste. Instead, flavor oils provide your lip products with scent. When using lip products from a store, the flavor you taste is actually a sweetener (commonly a sugar substitute like aspartame) that when combined with the flavor oil, tricks your brain into "tasting" the product.
Bramble Berry carries both sweetened and unsweetened flavor oils. For the unsweetened flavoring oils, Bramble Berry carries bleached stevia and lip smacking sweet flavor oil, which you can use to sweeten balms yourself.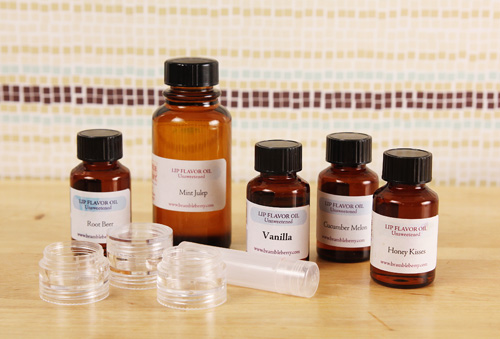 The usage rate of Bramble Berry flavor oils in lip balms is 1% to 3% of the total weight of your recipe. Keep in mind that some flavoring oils will have their own recommended usage rates, but 1 – 3% is a pretty safe bet across the board.  The usage rate is so small that we recommend flavoring large batches of lip balm all at once. For example, if added flavoring oil to one 4 oz. container of Lip Balm Base, the usage rate would be .12 oz. of flavor oil for the entire batch (at the top 3% usage rate). A word of warning: if you use too much flavor oil, the balm will not get better. Instead, you might notice a tingling or burning sensation on your lips if you use more than the recommended amount.
What's the difference between flavor oils and fragrance oils? Can I use fragrance oils in my lip balms?

Please do NOT use fragrance oils in lip products! Fragrance Oils are a different class of oils that are skin safe without being lip safe or edible, so do not put them on your lips.
What about essential oils, can I use those in lip products?
This is a more complicated question as some essential oils are lip safe while others are not. Essential oils are pure distillations from botanicals, and they possess certain characteristics that greatly impact whether or not they can be used in leave-in products and at what rate. Additionally, the type of botanical used and the distillation method affect final usage ability. Thus, one lavender essential oil may be okay to use in lip products and another variation may not be. Always check with your vendor as to the suitability of their particular oils for lip products.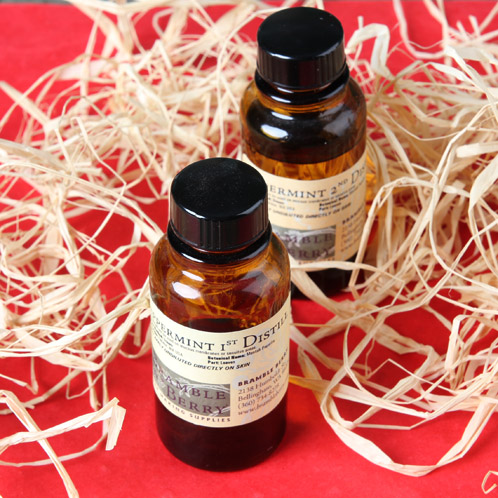 A general usage rate of .5 – 2% is commonly used for essential oils. For example, if you were to buy a 4 oz. container of Nourish Lip Balm Base, this works out to be .08 oz. of essential oil (at a huge 2% usage rate) for the entire container of balm. It's such a small amount and some scales can't be that exact, so use a dropper and measure in milliliters. In this case, .08 oz. is roughly equivalent to 2.3 milliliters. Keep in mind, that is the usage rate for an entire 4 oz. container of lip balm!
Even at such small amounts, be aware that essential oils such as Peppermint 2nd Distilled and Cinnamon Leaf can cause a tingling, cooling or burning sensation and so use those oils at a .5-1% usage rate. Only the following Bramble Berry essential oils are currently safe to use in lip products:
Anise Essential Oil
Egyptian Geranium Essential Oil
Hungarian Lavender Essential Oil
Bulgarian Lavender Essential Oil
Lemongrass Essential Oil
Peppermint 2nd Distilled Essential Oil
Rosemary & Rosemary Organic Essential Oil
Spearmint Essential Oil
Tea Tree Essential Oil
Feeling inspired to make your own lip balm with flavor oils? Here are a few tutorials to get you started: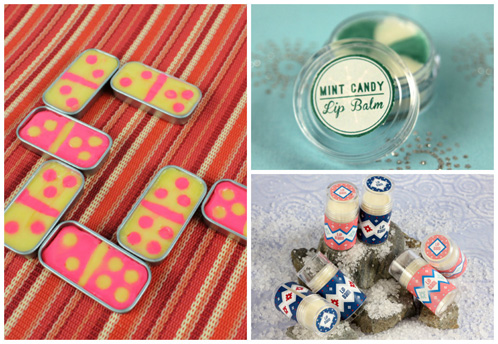 From left to right, clockwise: Domino Lip Balm Tutorial (using Papaya and Pineapple flavor), Mint Candy Lip Balm Tutorial (using Mint Julep flavor) and Winter Lip Balm (using Acai flavor)
Here's a SoapQueen.TV episode on making infused lip balm using stevia for sweetening:
Do you have any questions about making lip balms, using flavors or extracts? Ask below and I'll do my best to answer.