Happy New Years Eve! I hope your last day of the year has been wonderful, and I hope your New Years Eve is fun and of course, safe. With 2014 coming to a close, it's fun to look back on all the creative projects that have been created in the Soap Lab. We have been soaping up a storm this year!
From bath fizzies scrubs to cold process soap, I love sharing bath and body tutorials with you all. Thanks for all the support, thoughtful comments and amazing feedback. Based on the reception from our readers (you!) and the Soap Queen team, we have gathered our favorite tutorials from 2014. Have you tried any of these recipes? We would love to hear about it, or better yet, see photos on Instagram and Facebook.



TEN: Save the Honey Bee Melt and Pour
This adorable melt and pour project was not only cute, it supported a great cause. With every Save the Honey Bee Mold sold, Bramble Berry donates $3.50 to the UC Davis Honey Bee Research Fund. Created using white and honey melt and pour bases, and the warm Wildflower Honey Fragrance Oil, this project is great for the intermediate soaper.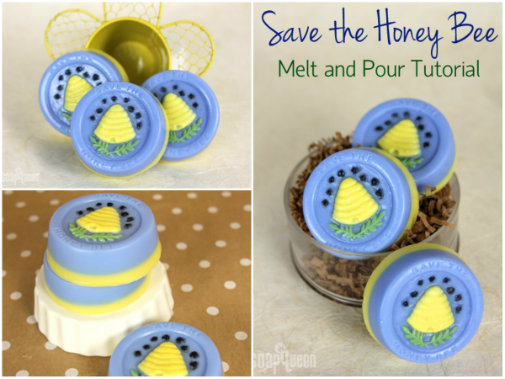 NINE: Queen of Hearts Cold Process
Inspired by the regal Alice and Wonderland character, this Queen of Hearts Cold Process is full of striking contrast and feminine details. With melt and pour embeds, cold process frosting and plenty of glitter, this soap is sure to wow. Fragranced with Lovespell and Baby Rose Fragrance Oils, this project would make a wonderful gift for Valentine's Day!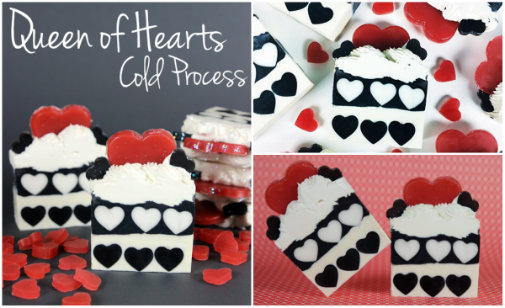 EIGHT: Super Simple Boot Polish
If your boots or leather goods need a little TLC, the Super Simple Boot Polish leaves leather surfaces looking shiny and refreshed. Made white beeswax and olive oil, this polish is extremely easy to make. If you'd like to add a bit a color  to your boots, you can add brown or black oxide to the polish as well.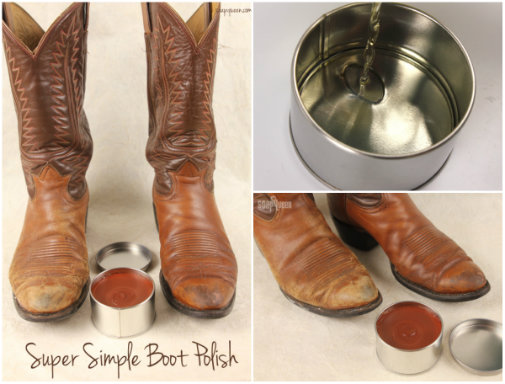 SEVEN: Radiant Red Lipstick on Soap Queen Tv
Some cosmetic trends come and go, but red lipstick will always be a beauty staple. The Radiant Red Lipstick on Soap Queen Tv shows you how to create three different red lipstick shades from scratch. With jojoba, chia seed and castor oils, this lipstick formula is extremely shiny and moisturizing.

SIX: Aromatherapy Shower Fizzies
When temperatures drop, or when you just need a little pick me up, nothing beats a hot shower. The Aromatherapy Shower Fizzies add soothing aromatherapeutic vapors with various blends featuring Litsea Essential Oil and Ylang Ylang Essential Oil. Simply place the fizzy on the floor of your shower and allow the steam to carry the scent!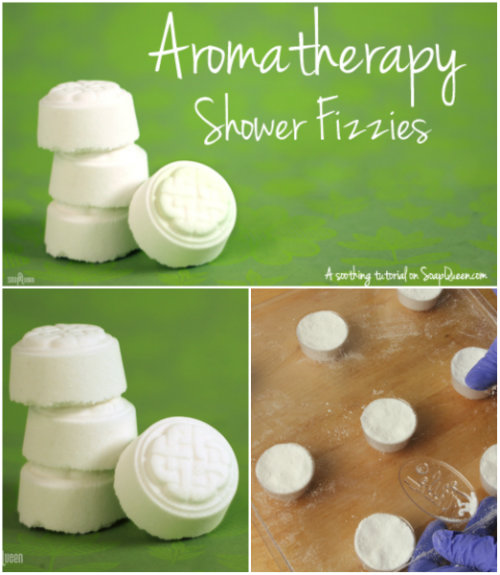 FIVE: Rainbow Hearts Melt & Pour
What's better than rainbow colors? Hearts and rainbows of course! This colorful and cheery melt and pour project really spreads the love with six brightly hued heart embeds, created with the Mini Heart Silicone Column Mold. Scented with Pink Grapefruit Fragrance Oil, these adorable soaps are a happy addition to any bathroom.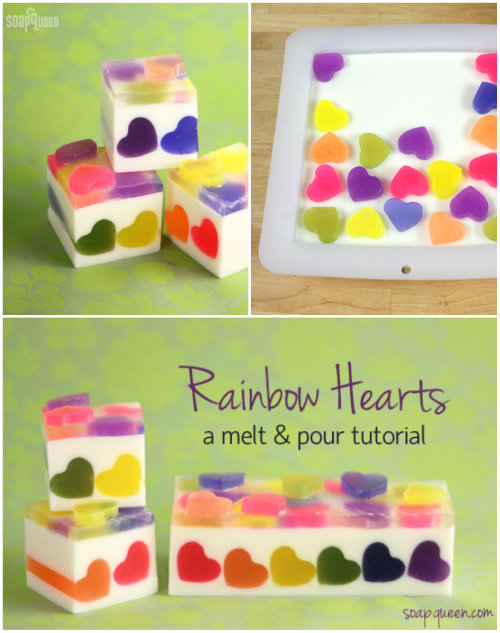 FOUR: Moisturizing Heel Butter
When your heels are feeling cracked and dry, this Moisturizing Heel Butter is here to the rescue! With a spreadable and luxurious texture, this balm also works great on dry cuticles and hands. If you're looking for more projects to give your feet some extra attention, check out our 5 Steps to a Pedicure Spa Day!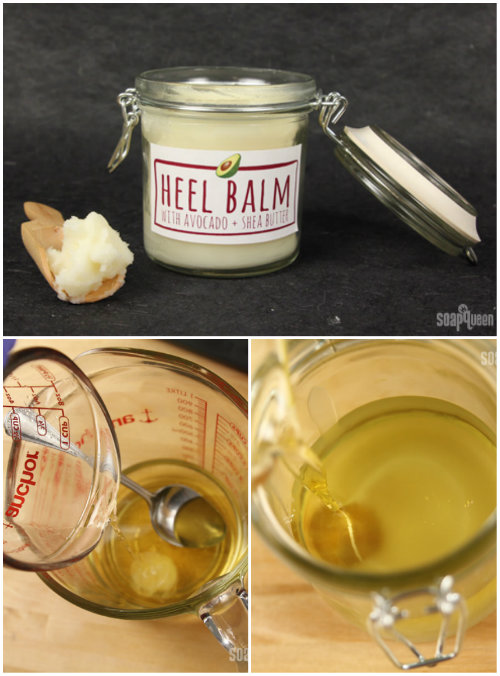 THREE: Pumpkin Spice Latte Sugar Scrub
When fall arrives, nothing hits the spot quite like a pumpkin spice latte. This delicious beverage was the inspiration for the Pumpkin Spice Latte Sugar Scrub. Made with a creamy blend of coffee butter and Foaming Bath Whip, this scrub leaves skin feeling soft without a greasy residue.  The fragrance blend of Pumpkin Spice Fragrance Oil and Turkish Mocha Fragrance Oil smells absolutely delicious as well!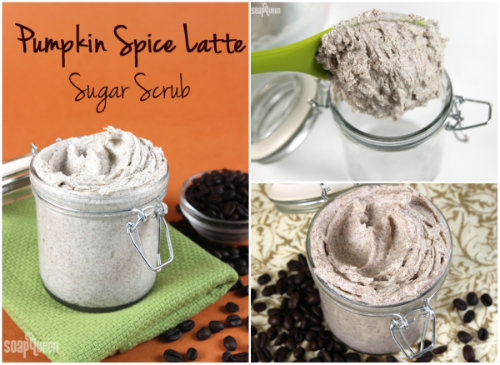 TWO: Melt and Pour Soap Ribbons
Adding extra glycerin to melt and pour soap gives the soap a bendable texture, allowing you to create these adorable Melt and Pour Soap Ribbons! This tutorial is a more advanced technique, but the results are worth the extra time. Aqua Pearl Mica produces a classic turquoise hue, while Lovespell and White Tea and Ginger Fragrance Oils give these boxes a fresh, feminine scent.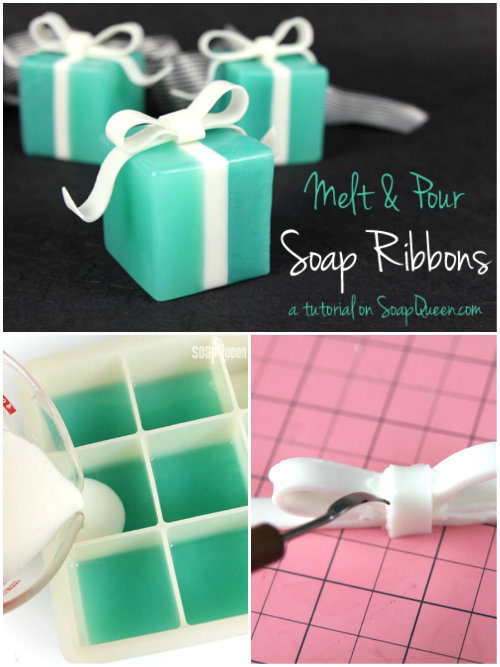 ONE: Lemon Poppy Seed Cold Process
The top spot this year goes to the cheery Lemon Poppy Seed Cold Process project! With a bright yellow base, extra-straight mica line and a textured poppy seed top, this cold process project really sings. We have loved seeing your photos of this soap on Facebook and Instagram! Scented with a fresh blend of Lemon Verbena and Champagne Fragrance Oils, this soap smells  as happy as it looks.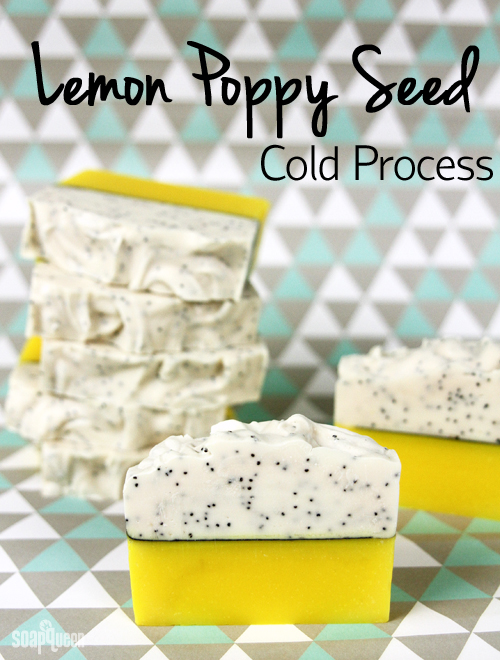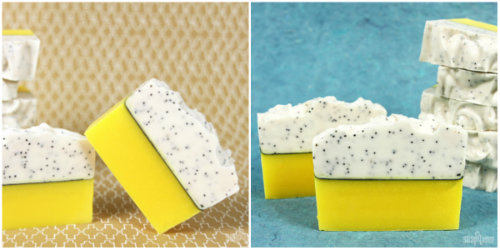 What were your favorite tutorials of 2014? We would love to hear your thoughts. I can't wait to share more projects with you in 2015!