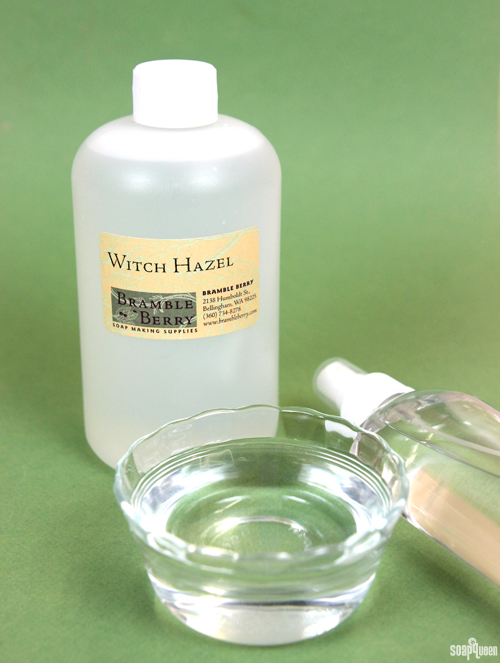 Produced from the witch hazel shrub, witch hazel is a clear liquid that is often used as an astringent. The witch hazel shrub (genus: hamamelis) is a small plant that grows in North America, as well as Japan. Extracted from the leaves and bark of the North American variety  (Hamamelis virginiana), witch hazel is fantastic for sensitive or dry skins because it is extremely gentle. Once the extract is obtained, water and alcohol are added for use. A clear liquid, witch hazel does have a unique, slightly sour odor.
One of the most popular uses for witch hazel is for creating toners.A natural astringent, witch hazel leaves skin feeling refreshed and clean. In the Chamomile & Calendula Infused Toner, witch hazel is combined with aloe vera liquid infused with chamomile and marigold to create a toner great for dry skin.  Looking for more infusion ideas? In the Lavender & Rose Water Toner, aloe vera liquid is infused with lavender to create a floral toner.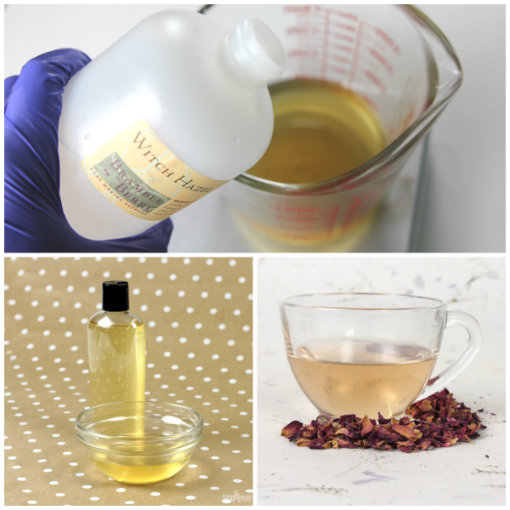 Bottom row: Chamomile & Calendula Infused Toner, Lavender & Rose Water Toner
Another use for witch hazel is to add moisture to bath fizzies. In order to create the mold-able texture, liquid must be added to the dry bath bomb ingredients (baking soda and citric acid). But, adding water to the mixture will set off the fizzy reaction!
Witch hazel is partly comprised of alcohol, so small amounts of witch hazel can be safely added to bath bombs without setting off the fizzing reaction. A few sprays does the trick!When used in bath bombs, the smell of witch hazel quickly disappears. However, the smell does stay in toners and astringents. It's not an unpleasant smell, but it can take a little getting used to.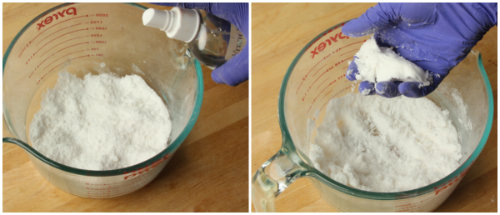 Because such a small amount of witch hazel is necessary, pouring the witch hazel into a spray bottle is recommended. Once the dry ingredients are mixed and clump free, begin spraying the mixture with witch hazel, mixing in between each spray. Once the mixture is damp enough to form a ball when squeezed (shown above on the right), your bath fizzies are ready to mold. If too much witch hazel is used the fizzy reaction can occur, so stop spraying once a mold-able texture is achieved.
Looking for some bath bomb recipes to use your witch hazel in? The Bath Fizzy category page is full of fun bath bomb projects. Below are a few of our favorite bath fizzy tutorials, and all of them use a few spritzes of witch hazel to create a mold-able consistency. In addition to witch hazel, several recipes such as the Invigorating Foot Soak use lightweight oils to give additional moisture to bath bomb mixtures.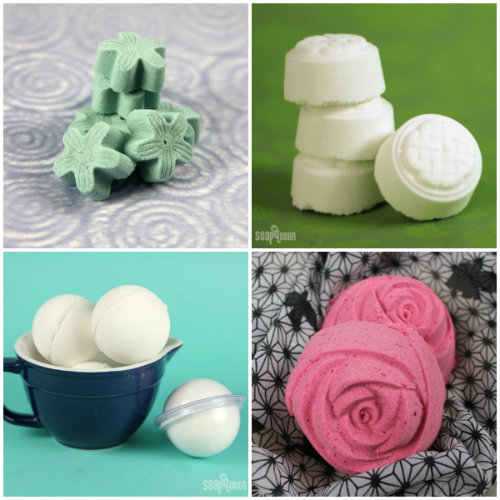 Top row, left to right: Mini Flower Bath Bombs, Aromatherapy Shower Fizzies
Bottom row, left to right: Invigorating Foot Soak, Sparkle Power Bath Bomb Tutorial
 Have you used witch hazel in a toner or bath bomb? It's one of my favorite beauty ingredients, I often pour it on a cotton ball to apply as a toner.