Between the arrival of Miss Lily and getting recaps from our HSCG Conference guest bloggers (here, here and here), there has been serious excitement in the air here. Let's take a look at some of my favorite happenings this week in social media. I have been making it online in between feeding Miss Lily seventeen trillion times a day.
Favorite Pins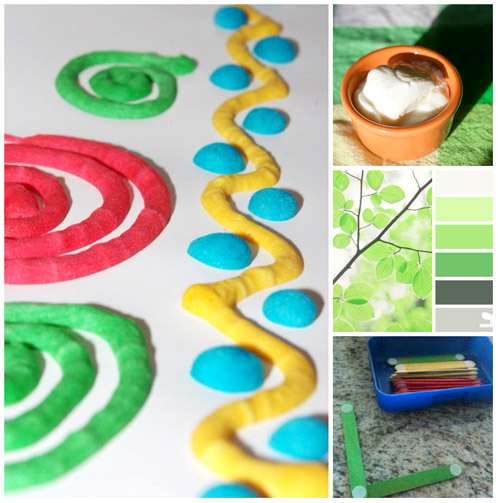 Left: Need a fun indoor activity? Check out this awesome homemade microwave puffy paint. It's just flour, baking powder, salt and food coloring so it's super easy to clean up too!
Top right: If you're craving a little snack, yogurt is a great option. It's healthy and delicious, so it's the perfect pick-me-up between meals. This homemade yogurt is a less expensive alternative to store-bought brands, and it's easier than you may think to make.
Middle: If you're not familiar with Design Seeds yet, you should be. This fresh color palette is just one of hundreds on their site, and we use it all the time when we're looking for color themes for our soaps. The best part is you can choose by color or by theme, so it's a great way to find the perfect combination of colors for your next soaping project.
Bottom: Who needs Legos when you can make your own Velcro Popsicle Stick Shapes? These are a great educational toy too because you can practice making shapes and letters with your toddler.
Favorite Vines
We have been soaping up a storm these past few weeks (fitting it all in before baby's arrival), and we have plenty of Vines to share with you all. Below are some clips of a Strawberries & Cream soap made with real strawberry puree and heavy cream.
We must have been on a foodie kick; here is a sneak peek at our beer soap.
We unmolded it a day later and were thrilled with the results.

Want more Vines? We also made a beautiful beeswax soap, got colorful with a Dreamcatcher soap, and went for round 2 with the carrot and cucumber puree soap.
Favorite Tweets
What a whirlwind past few weeks it's been. Enjoy the holiday weekend, everyone and take a moment to reflect on why Monday is a holiday. My Dad served in the Air Force and my Grandpa fought in the South Pacific in World War II. I'm thankful for their sacrifices and that of all of our armed services.