Happy Saturday, everyone! It's hard to believe we're halfway through February, especially because it feels like we were just celebrating the new year. Time flies, and Lily is now 8.5 months old and already able to hold herself up. It has been amazing to watch her grow! Jamisen is doing wonderfully also, and has really enjoyed our Friday morning craft time. I get a ton of ideas from my Toddler Fun Pinterest board, but I'm always open to more suggestions.
Speaking of Pinterest, take a look at my favorite pins, tweets and 'grams from the past two weeks.
Pins: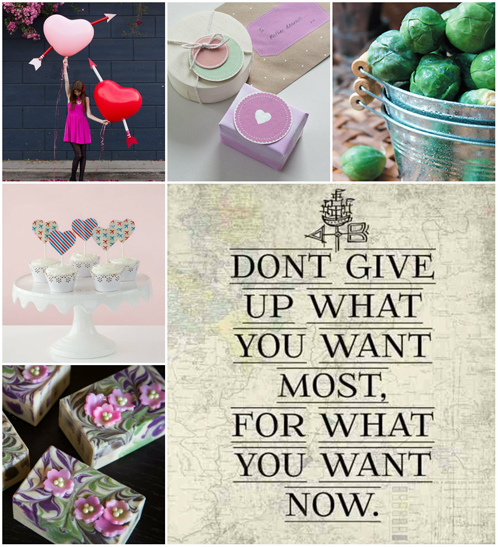 Bottom left, clockwise:
Instagrams:
The Soap Swap is well under way, and here is a little snapshot of the making of the Amethyst Garden soap. Swappers who send their boxes in early enough will receive a complimentary mini bar.

The Central Soapers will host this year's first Soap Gathering. If you aren't familiar, soap gatherings are mini conferences held by soapers across the country. Many of the gatherings feature workshops and speakers. Best of all, they're organized and put on by members of our own soaping community! The Central Soapers workshop is organized by Kenna of Modern Soapmaking, and takes place March 22 – 23 in Overland Park, Kansas. Bramble Berry is a proud sponsor of many soap gatherings, and this year I'm sending the mold & ingredients to make this soap as a raffle prize. Scented with Wildflower Honey, it features four natural colorants including Yellow Silt Clay, Purple Brazilian Clay, Dark Red Brazilian Clay and Activated Charcoal.

This is a preview of a cold process project for an upcoming promotion (yes, that does mean more sales!). This pour-over technique involves layering soap over an object, usually a wood block. This one features a star column made from cardboard, and the results are truly beautiful.

Demonstrating the pour-over technique with the star column.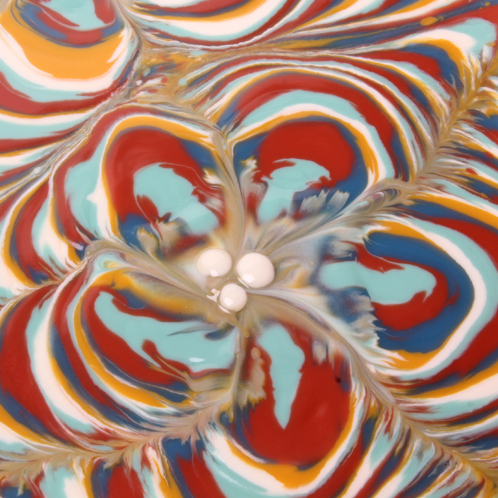 The resulting design after pulling the star column out.
 For all you social media junkies out there, listen up: it's not enough to simply be on social media, you must create an effective social media strategy too. This is an excellent run down of tips and advice for not only attracting followers to your social media outlets, but keeping them hooked as well.
This triangle silicone spatula is my favorite new tool by a long shot. The unique shape allows it to bend and curve around the base of your soaping bowls to get every last drop of batter.
What a cool project — national flags made of foods from that country! Click through to see some wonderful interpretations of national flags. The U.S. flag is comprised of hot dogs, mustard and ketchup.
To keep up with the latest soapy social media throughout the week, you can follow me on Twitter, Tumblr, Instagram, Pinterest and YouTube.