This week, we covered a wide variety of topics including soap making oils, Pinterest business strategies and two crafty tutorials.
If you are a cold process soapmaker, you know your soap is only as good as the oils in the recipe. For All Olive Oils are Not Created Equal, we tested 10 different store bought oils to see how they held up in cold process soap, and the results may surprise you. If you'd like to learn more about soapmaking oils, the Free Beginner's Guide to Soapmaking: Common Soapmaking Oils is full of information regarding a wide variety of oils.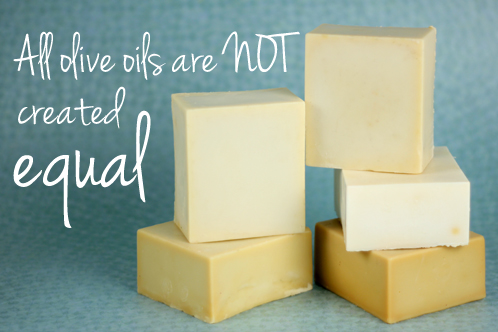 Curious about store-bought olive oils in cold process soap? Check out the post.
Ready to start crafting? This week our retail store Otion shared a fun tutorial for soapers of all ages. Inspired by astronomy, the Cold Process Planets in a Melt and Pour Galaxy Soap involves cold process and melt and pour techniques to create a soap that's out of this world! If you're looking to make lotion instead of soap, this massage cream tutorial made with White Thyme Essential Oil is both calming and moisturizing. It's perfect for dry, winter skin.
If the cold weather has you feeling down, this week's Facebook Photo of the Week is full of spring inspiration.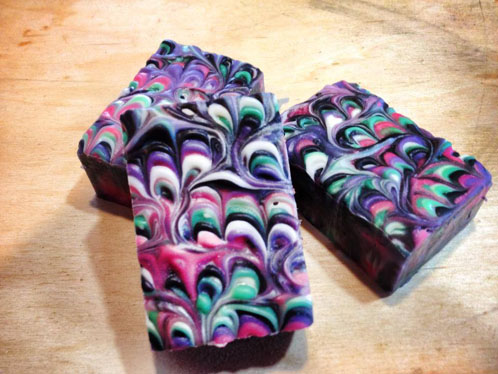 This photo is from Blind Date Bodyworks, a husband & wife duo who decided to become more self-sufficient. They started with gardening, moved on to canning and now they have a full blown soapmaking company. This soap is reminiscent of the Butterfly Swirl design with its complex swirls and contrasting color combo. Scented with Blackberry Sage and Champagne, this sounds like one invigorating bar of soap.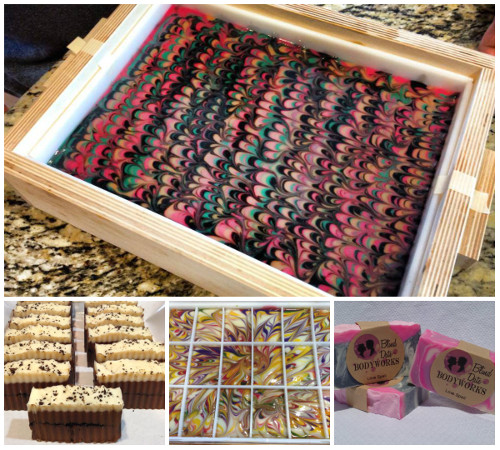 Many of Blind Date Bodyworks' products feature bright colores, intricate swirls and fun textured tops. Thanks to Blind Date Bodyworks for being a part of our soaping community, and expect a soapy package stuffed full of Bramble Berry goodies to arrive in the mail soon. Thanks to everybody who submits their photos each week, we love seeing your creativity and personality shine through your products =)