Welcome to the end of another week! We started the first Monday back from the Thanksgiving break with an interview with one of our favorite soapers, Andrea from Soap4Squares. Then, we shared a scrub to buff away that wintery dry skin with our Rough Patches Wash Tutorial. Walnut shells are a super gentle exfoliant, and they're quickly becoming one of our favorite additives. In fact, we used them again to mimic sand in our Stormy Seas Cold Process soap! Finally, we posted a quick vid on how to properly prep colorants for cold process soaping. If you're new to cold process, it's a great skill to learn!
Speaking of color, this week's Facebook Photo of the Week includes plenty of color. The gold top really makes the fuchsia embeds pop!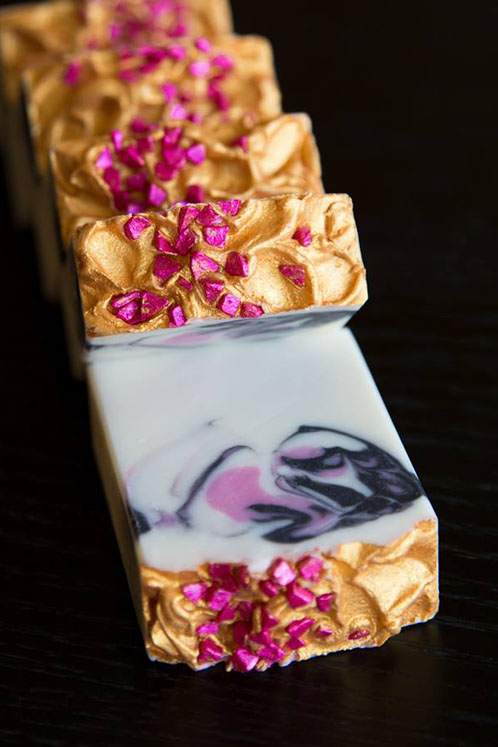 This week's Facebook Photo of the Week comes to us from Emily of Shieh Design Studio. Emily's  "Cherry Blossom" soap immediately caught my eye because of the vivid gold and pink… isn't it gorgeous?
This soap is just the tip of the iceberg though because Emily makes countless colorful and intricate soaps and shares them on her blog, Soap & Restless. She makes other body products too, such as this BTMS and Caffeine Cream Body Butter. It look luxurious! Not only are her products beautiful, but her photography skills make them look like works of art! It's always fun to see a crafter who knows how to present their products in a beautiful way, and we've got plenty of tips in case you want to step up you product photography skills. Check out Tips on Soap Photography, How to Photograph Products and our Make it Monday: #Photography.
Thanks to Emily for being part of our soapmaking community, and be sure to check out more of her beautiful soapy creations below!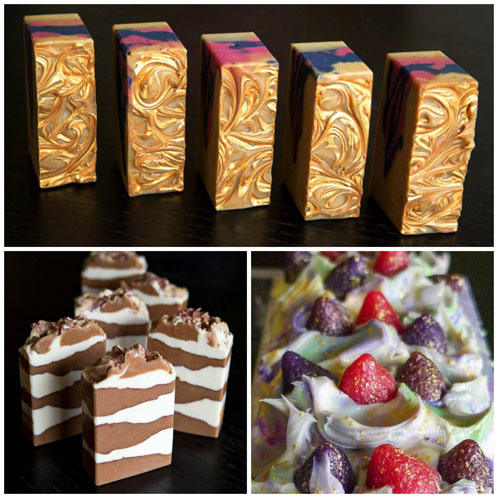 Emily's Facebook Page: Shieh Design Studio
Emily's Blog: Soap & Restless
Post pictures of your soap creations on the Facebook page each week for a chance to be featured on the Soap Queen blog and receive a sweet soapy package from Bramble Berry.