Welcome to the end of a very chilly week, everyone! We're packing up the kids this weekend and driving 4 hours out to the coast for a mini vacation at a cute little cabin. The kids have never been in the car for that long, so it's going to be an interesting drive for sure. We're bringing one of Jamisen's good friends along, and we're prepared for an energetic — I'm avoiding the word 'exhausting!' — weekend.
We're also gearing up for hosting Christmas at our house this year, so I've got the holidays in mind. I definitely started playing Christmas music in the office the day after Thanksgiving (and would have started before that if the team had let me). Before all the holiday hustle & bustle hits, take a look at my favorite pins, tweets and 'grams from the past two weeks.
Pins: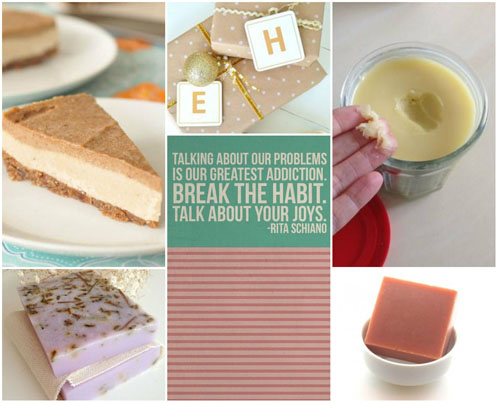 Instagram:
Last week we were hard at work filming the next few episodes for our Winter Soap Crafting Club. The recipe below is the Tye-Die Soap. If you're not familiar with the Soap Crafting Club, it's a super fun way to learn how to re-create recipes from the Soap Crafting book with custom-made videos, a private Soap Crafting Club forum and personalized instruction. You can sign up here.

This is our dual column pour for the December Great Cakes Soapworks Soap Challenge. We used a custom-made star to pour over to create a fun pattern in the soap, and we can't wait to see this one cut. I also posed a gel versus no gel 'gram here from this recipe. Wow! What a difference gel makes.
Tweets:
This was a fun little experiment: making my own lye! I've never made my own lye before, so I'll keep you updated on my experience! I'm only on step one of ten gajillion steps.
Such an amazing story in the Seattle Times — a man survived 60 hours at the bottom of the Atlantic ocean in an sunken tugboat. People are incredible. Can you imagine his surprise at seeing a rescue diver?
This advice applies to any soapy business with a Facebook page. The gist of it? Provide incentives, interact, and encourage engagement to grow your following.
Have a wonderful weekend, everyone!
To keep up with the latest soapy social media throughout the week, you can follow me on Twitter, Tumblr, Vine, Instagram, Pinterest and YouTube.