Welcome to the end of August, everyone! Although I am sad to see summer go, and I'm getting excited for fall and all the great things we have planned. Thursday was our Soap Crafting book release party at Village Books in Fairhaven (and the launch of the Soap Crafting Club). I was beyond thrilled to see so many of my fellow soapers in attendance. It's always a pleasure to chat with the folks who have helped Bramble Berry become what it is — we wouldn't be here without all of you!
In baby news, Lily is growing more and more everyday, and I can really tell that she is actively trying to explore the world around her. We took a trip to the zoo last Saturday with my Entrepreneur's Organization Group and she was fascinated by all the animals. Jamisen had a wonderful time too, and fell in love with not the exotic lions or tigers or bears — but a group of baby ducks! Needless to say, it was adorable.
And now, the latest and greatest from Planet Social Media!
Pins: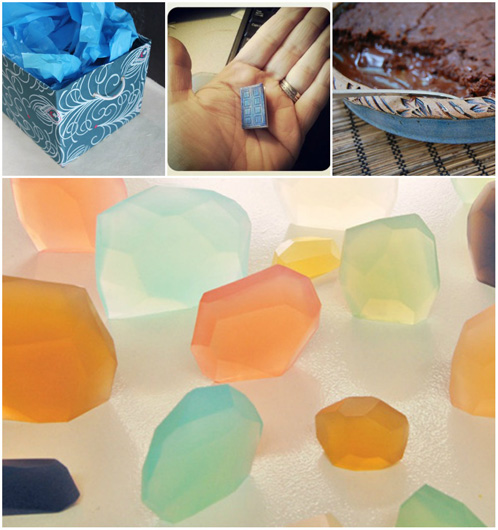 Top left: If you're like me, you somehow seem to be a magnet for stuff. Sometimes my junk drawer seems like it's becoming more of a junk room! To tame the junk problem, I decided to try my hand at making these cute and easy fabric bins using just a cardboard box, some scissors and a bit of glue. I hope they'll help me stay organized and look good while doing it!
Center: So to be totally honest, I'm not sure how practical this is, but I could not get over how cute these tiny books are. I love the idea of building a mini library that you can hold in your hand! There's a tutorial at the link but I'm not sure I have the patience or dexterity to try it.
Top right: It's impossible for me to not highlight a delicious dessert whenever I collect my favorite pins, and this week's dessert is truly delightful: it's a gluten-free, dairy-free, vegan Brownie Pudding Cake. It sounds so decadent and rich while still containing lots of healthy ingredients. Might be something to try out this weekend =)
Bottom: Gemstone soaps seem to be trending this week! On the blog, we borrowed a fabulous tutorial from Otion on how to make geode soap, and then I came across this awesome handcut gemstone soap tutorial from soaping duo Jean and Oliver Pelle. These soaps are so simple and yet so pretty.
Instagrams:
We made many, many Peacock Swirls this week (not an exaggeration, we made at least six!)  in order to get the perfect batch to release on camera as we shot Soap Queen TV today.  With each batch, I was mesmerized by the In-The-Pot swirl technique that we used to form the base. Check it out below!
This is a two-for-one: this video demonstrates how to unmold soap in our 2 lb. Wood Loaf Mold and it also reveals our very spooky eyeball-inspired soap.
Tweets:
We are so thrilled that two of our customers (and friends! I've met both of these talented soapers in person) are in on the Martha Stewart American Made contest. You can vote for Etta + Billie and Bathhouse Soapery here and here.
I hope everyone has a fantastic Labor Day weekend. Please keep in mind, the warehouse and our customer service department will be closed on Monday, so we won't be shipping orders out and we may be a bit slower to return your calls and emails. However, we will work hard to catch up on Tuesday and as always, you can always ask us questions on our Facebook page. Enjoy the holiday!