Welcome to the end of April, everyone! It's hard to believe it's almost May, and I've been busy doing some spring cleaning and prepping my garden. Needless to say, I'm excited for more sunshine and more evening walks with the kiddos.
In Bramble Berry land (Bramblandia?), we just wrapped up two fun contests, #BBEarthDay and #ShowMomLove.  Both contests are great sources of inspiration for soapmaking and gift-giving! The contest fun may be over, but we've got a big promotion coming up in May. Think rosy color palettes, floral fragrances and tutorials fit for a queen. I can almost guarantee there will be a few sales and discounts too =) Be sure to subscribe to the newsletter to get in on the action.
Talk of roses and flowers doesn't stop there. Take a look at my favorite pins, tweets and 'grams from the past two weeks. There's lots of fun floral inspiration!
Pins: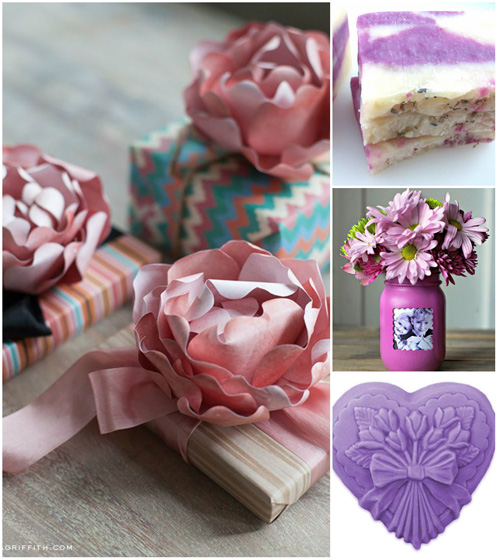 From left, clockwise:
Instagram:
Soap frosting is so versatile, and in this video we used it to make cute soapy roses.
After the roses had dried, we used them as toppers for a flower-y cold process recipe. Look out for the tutorial coming in May!
Tweets:
 This list of 20 things that 20 successful people do each day is mundane… but in a good way. Frequently mentioned activities include getting enough exercise, indulging in passions & hobbies and taking time for themselves. It just goes to show if these are the habits of 'successful peope,' then there is nothing separating you from them!
If you follow me on Pinterest you know I'm a big fan of quinoa. Billed as a super food, it's easy to slip into family dinners. As with any craze though, quinoa seems to be on its way out. Supposedly the new foods arriving to take its place are the Japanese citrus fruit Yuzu and root vegetables.
Everyone is busy, but this article has an interesting take on busy-ness: you're so busy because you keep telling yourself you're busy! In reality, many people generally have 30 – 40 hours of free time per week. From the article, "The answer to feeling oppressively busy is to stop telling yourself that you're oppressively busy, because the truth is that we are all much less busy than we think we are."
Have a great weekend! To keep up with the latest soapy social media throughout the week, you can follow me on Twitter, Tumblr, Instagram, Pinterest, Vine and YouTube.