Let the countdown begin — our August Soap Swap is now less than a month away! If you aren't familiar with our Soap Swaps, they are a wonderful way to connect with other soapers, be inspired by new techniques and designs, and experience a wonderful array of fragrances. If you've swapped before, you know that the day your swap box arrives is practically the equivalent of Christmas morning for a five year old.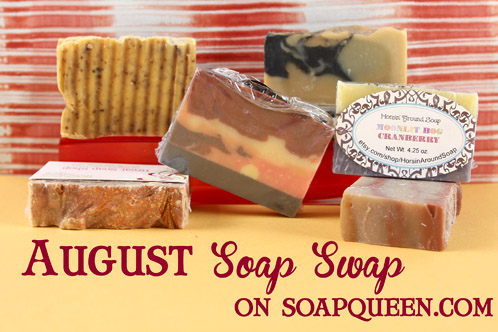 Keep in mind that swap entries should be in batches of twelve, 4 oz. soaps. Swap boxes are due to our warehouse by August 12, so we recommend getting them packed and shipped by August 5. We will ship out the swap boxes no later than August 23. Swap boxes should be addressed to:
Bramble Berry Inc. C/O Soap Swap, 2138 Humboldt Street, Bellingham, WA 98225
Cold process, melt & pour and hot process soaps are all perfectly okay, and if you haven't made your soaps yet be sure to consult the chart in the swap post to make sure the fragrance you want to use is still available. The swap is free, but you will need to pay for your own shipping. To do so, be sure to purchase the Magical Swap Express Item before the August 12 deadline.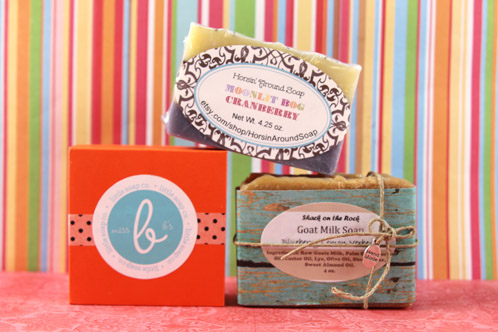 Keep in mind that if you make cold process, you will receive a batch of cold process in return. The same applies to melt & pour. Along with your soaps, don't forget to include a list of ingredients and the fragrance you used in your soaps — this is helpful to the swappers who will receive your soaps. Feel free to get creative with your packaging and labeling because it's all part of the fun!
For those of you who want to participate in the swap, there's still time! Simply email Swap(at)BrambleBerry(dot)com with the type of swap (cold process, melt & pour or hot process) and the fragrance. Be aware that if you decide to do cold process, your soap may not cure in time for the recipient to use. If that's the case, simply add a cure date along with your ingredient list.
Sounds easy enough, right? It is! To spark your creativity, take a look below at some of the wonderful soaps we've received so far. Happy Swapping!