If you're craving a little tropical vacation, Shaka Soap can transport you to a land of sun, sand and sea. The artisan behind Shaka Soaps, Jessica Taylor, founded the business in Hawaii, but now resides in Bend, Oregon. Jessica aims to create products using natural ingredients at affordable prices, and her soaps were included in celebrity gift bags for the the 2012 Oscars and MTV Movie Awards.
Although the company is no longer based on the Big Island, Shaka Soaps continues to bring an easy going, 'hang loose'-vibe to every bath and body product. For more on Jessica, her products and what "shaka" actually means, read on!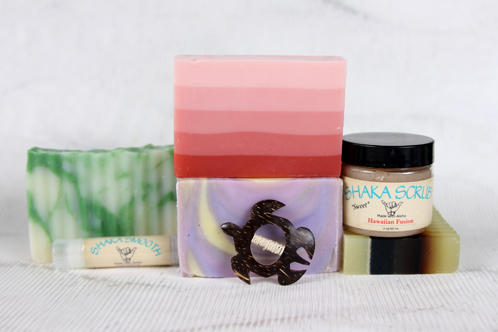 Soap Queen: How did you first get started soaping?
Jessica Taylor: This is a toughie, because I had wanted to make soap for 6-7 years. I like the feeling of, "I made this and it is useful!" I did scrapbooking and didn't like how the books piled up. I also took up cake decorating, but got really tired of eating cake (I know, it sounds impossible right?).
I started to noticed the artistic capabilities in handmade soap and I was intrigued. I bought all these books and a giant stainless steel pot (I knew that was a must!), and then I got pregnant. I am one of those really cautious gals who has to research like crazy before I try anything new, so I wanted to wait until after baby was born. Then the baby was born and I just never found the time. Then second baby was born and then there was no time at all! We moved to Hawaii shortly after having our second baby, and inspiration was EVERYWHERE. I busted out the books and the giant pot. I made my first batch of cold process, and was instantly addicted!
Soap Queen: I totally love your Hawaiian-themed business; could you tell us a little bit more about how that came about?
Jessica: When we moved to Hawaii, I knew I would love it but I had no idea how in love I would fall with the culture, flowers, beaches, everything. The Hawaiian culture is so powerful and historic, I wanted to emulate my respect for it in an artistic way.
I quickly learned that the hang loose sign is referred to as the "Shaka", and Shaka Soap just sounded fun (I'm a sucker for alliteration). I also learned that many bath and body products that are made in Hawaii were very spendy, and many of the people there wanted to buy handmade, but simply couldn't justify the price. That became the driver for me; to make high quality, handmade bath and body products (from Hawaii) that everyone could try. At the end of 2012, we had to move to Oregon, but I continue to use Hawaii as my inspiration for every creation since that is where the company was founded.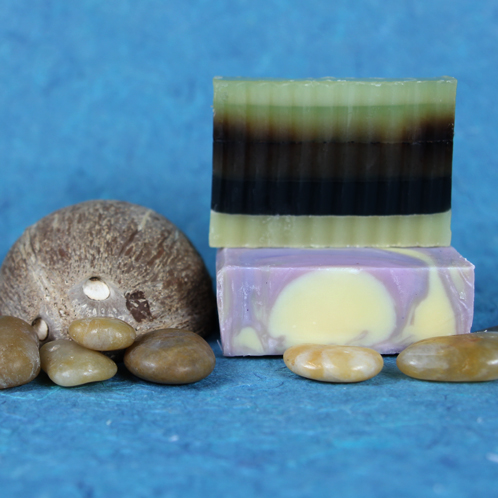 Soap Queen: What is your favorite type of bath and body product to make?
Jessica: I really love making cold process soap — I think it keeps me sane! There are infinite ways to be creative with cold process soap.  From different pouring techniques, to swirling techniques, texturing capabilities, and coloring and infusing oils, the list goes on and on!
When I've had a rough day with the kiddos, my husband knows I need to saponify as my therapy. I do go in spurts of 'creative explosions' after I see a really fun video of a new technique. After I saw Kenna of Amathia Soapworks do the Tiger Stripe Swirl I was whipping out oils 10 seconds after the video was finished. Once that is out of my system, then I need to make a salve or some lotion for a few days after, so I don't get burnt out on just one type of product. With cold process though, it's hard for me to get tired of making it — really, really hard! I basically have to run out of oils to stop, and my family claims a lot of the soaps I make before they even make it on the website!
Soap Queen: Alright, it's a cold process vs. melt & pour showdown — to you, what are the advantages of each?
Jessica: I go back and forth. My love is cold process, even to personally shower with. It just feels so "homestead-y" to me. Making it from scratch feels so much like a pioneer!
I love melt & pour because I don't have to wait. I hate waiting for cold process to be ready to use, that is the worst part. I also love melt & pour because I don't have to worry about a batch ricing, seizing, or turning into a soap brick unexpectedly. Any fragrance oil or essential oil is a friend to melt & pour and that is a nice peace of mind. I also love the different molds that can be used for melt & pour. A few hours it can be used!  I've had some molds that I've  used for cold process and it was like trying to coax a frightened animal out of a hole. Eventually you're yelling at it to just "get out of there!" I also feel there is a sort of mystery with cold process. You try to pour a certain way, but until you unmold and cut, you never know quite how it turns out. I really like how clean my layers come out with melt & pour as well. For someone who has a touch of OCD, the clean layers are beautiful to see. I really do enjoy doing both melt & pour and cold process, but cold process has my heart.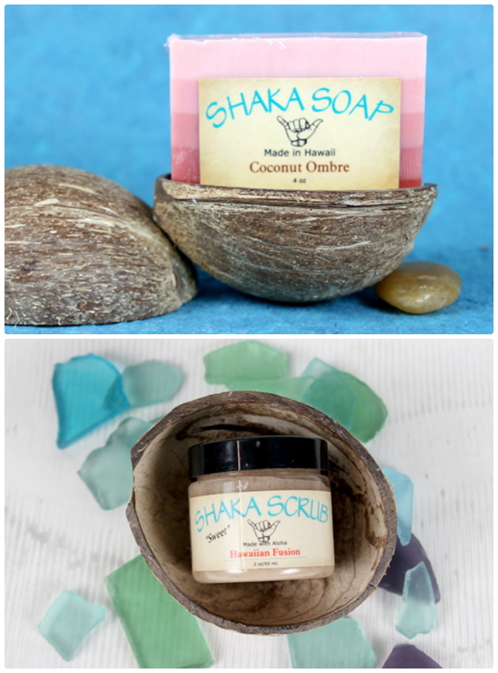 Soap Queen: What sort of advice would you give to people new to the business and soaping world?
Jessica: I want it to be fun!  When I first started, I wish I would have been told to "slow down!" I was making cold process soap in August 2011, turned Shaka Soap into a business in November 2011, then had my products at the GBK Oscars Gift Lounge with The Artisan Group in February 2012 and the MTV Movie Awards in May 2012. For me, it was too much, too fast. The fun was taken out of it and it became something I had to do rather than something I wanted to do.
So take your time and enjoy it, because once those orders start coming in, it becomes a job and not so much a hobby. If you are ready to turn your hobby into a business, social media is your friend. Blog, make a Facebook page, and have a website (or an Etsy shop). Be awesome with customer service (like BB is!) and be ready for questions anyone might have about your products. I have gotten some real doozies, but thecustomer is always grateful that I took the time to answer.
I also try not to take things personally. I have had many people say some nasty things about the business choices I have made (gifting celebrities for one), but I'm doing what I feel is best for my company. Also, donating to charities is a must. We sent a bunch of soap to the Red Cross for the explosions in Texas, donated to charity auctions for Habitat for Humanity and woman's shelters and always that feels nice to do. Plus, I get to make more soap to stock up again!
Soap Queen: What is your favorite Bramble Berry product?
Jessica: Oh my gosh! How does one choose their favorite Bramble Berry product? I've often joked about how I need an intervention for my Bramble Berry obsession. It's real —  help me!
If I absolutely had to choose a favorite product it would be the fragrance oils. They always smell so amazing and really authentic, and I have yet to smell one (and that is a pretty high number of "smells") that had a synthetic scent to it. They are really great quality. If I had to choose a favorite fragrance oil — and that is nearly impossible for me to do — it would be Rain Cybilla. It is just so fresh and clean. It is my personal favorite but it sure moves quick in cold process!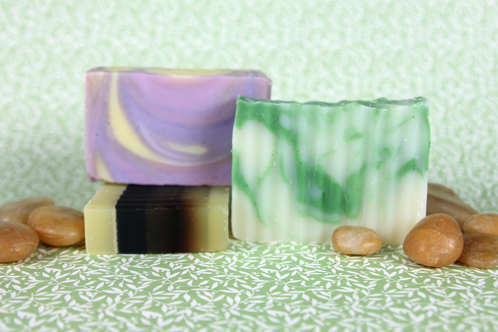 Want more Shaka Soap? Check out her website, blog and Facebook!
Website: Shaka Soap
Blog: Shaka Blog
Facebook: Shaka Soap