After a brief break from our Make it Month contest, we're bringing it back in full force! Throughout the month of May, you'll receive a complimentary .5 oz. sample of Sunny Herb Garden Fragrance Oil with every order. It smells like fresh picked herbs with a subtle floral scent. It holds up wonderfully in cold process soap, and it's refreshing scent for scrubs body washes.
We're switching this Make it Month up a bit because in addition to making projects with Sunny Herb Garden, you can also use Carnation Fragrance Oil, which was April's Sample of the Month.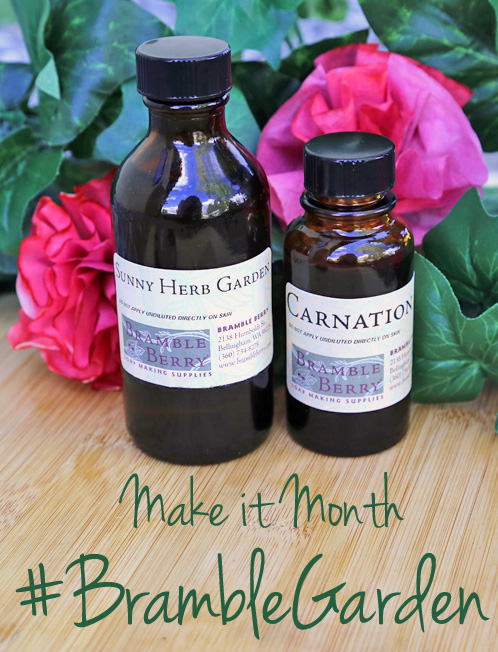 The guidelines for this Make It Month are the same as our previous Make it Months, but here is a quick refresher on how it all works:
Your project needs to utilize the Sunny Herb Garden or Carnation Fragrance Oils. Cold process, melt and pour, lotions, scrubs, home crafts and all other bath & body projects are all welcome.
Post photos of your creations on Bramble Berry's Facebook page or tag your photo on Instagram or Twitter between now (April 28th) and Friday, May 30. Entries submitted after May 30 will not be eligible for the contest, but we'd love to see them anyway!
Your entry must include the hashtag "#BrambleGarden" in the photo caption. Without the hashtag #BrambleGarden, your photo will not appear in our collages (the hashtag makes it possible for us to search for just those photos for the Make It Month).
You can make multiple projects, but we will only consider three photos per person.
We will post a collage of staff favorite projects on Monday, June 9th. We'll base our choices on how unique and creative the item is.
We encourage everyone to participate, from veterans to newbies!
Need a little project inspiration? Check out the tutorials below that use Sunny Herb Garden and Carnation: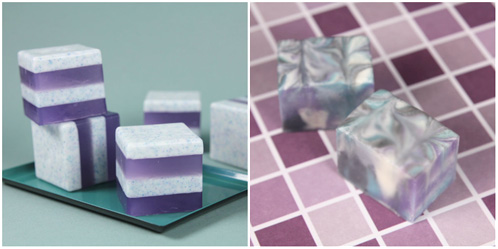 Left: The Carnation Cube Cuties melt & pour tutorial uses Carnation Fragrance Oil. This is a great project for beginning melt & pour soapmakers.
Right: For cold process soapers, the Amethyst Garden tutorial uses Sunny Herb Garden Fragrance Oil. This recipe makes a whopping 12 lbs. of soap!
Ready, set, create! We can't wait to see what kinds of projects you'll create this month =)