Happy October, everyone! We've officially entered the season of pumpkin patches and trick-or-treaters, and we've been keeping warm by making batches and batches of soap. Earlier this week, we showed you a rustic Leopard Spot Melt & Pour project, discussed pesky (or awesome, depending on what you're after!) vanilla discoloration in soaps, and capped off the week by introducing you to the Frog Foot Swirl.
We've been busy coming up with tutorials for the holiday season and we can't wait to share more of them with you in the following weeks. Are you ready to see which soap inspired us this week?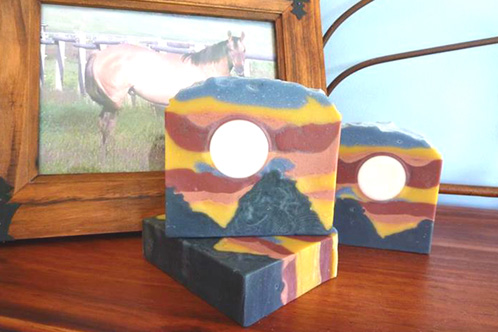 Our Facebook Photo of the Week is a layered soap with a very artistic twist.  Patricia, owner of Lathered Pony Soap Company, made a soap she said imitates the "…evening sky when the Montana mountain moon rises."  Using Bramble Berry's Indian Sandalwood Fragrance Oil and vibrant, deep colors, she definitely pulled off the imagery she was going for. The soap almost looks like an oil painting! She has even made her own versions of the Peacock Swirl, Swirled Hearts and Leopard Spots (see below). Thank you so much for sharing your soapy creations with us, Patricia. Expect a lovely soapy package on your doorstep soon.
For the rest of our fellow soapers, we encourage you to keep posting and sharing your soapy creations with us on Bramble Berry's Facebook page — we love seeing what you create!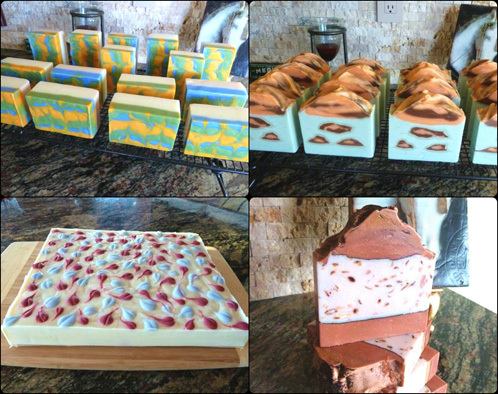 Patricia's Facebook Page: Lathered Pony Soap Company
Post pictures of your soap creations on the Facebook page each week for a chance to be featured on the Soap Queen blog and receive a sweet soapy package from Bramble Berry.