This week, we shared a collection of recipes designed to keep your hair silky and smooth. The Argan Oil Shampoo Tutorial uses hair loving ingredients like Nettle and Carrot Extract to nourish hair during hot summer months. To complete the routine, the Leave-In Argan Oil Conditioner Tutorial is incredibly moisturizing and great for de-tangling.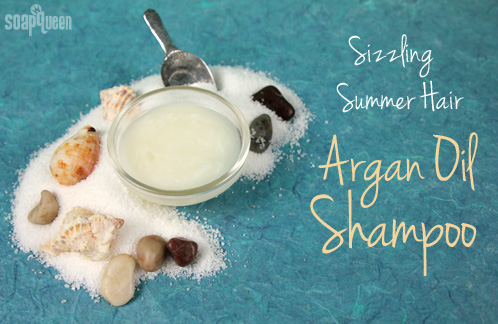 If going to the beach everyday this summer is not a possibility, you can easily recreate the texture of beach-hair with the Pink Sea Salt Beach Spray. Simply spray dry hair and "scrunch" to help define curls, and make your hair more manageable when creating up-dos. If you're tired of the traditional pony-tail, included in this post is a simple hair tutorial that's great for beating summer heat.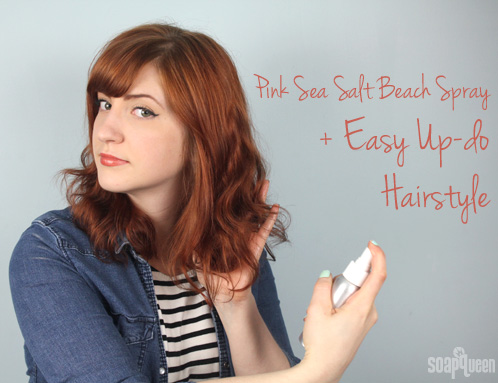 The warm weather has certainly inspired use of bright color palettes and fruity scents. The soap created for an upcoming Soap Queen TV short is a perfect example! On the other hand, our Facebook Photo of the Week  from Shana of Bathvs features a classic color combination of black and white, resulting in a soap that is perfect for all seasons.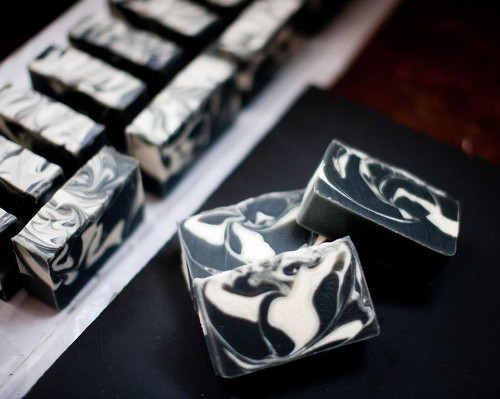 Shana's Obsidian Soap is scented with a blend of  Jasmine, Sandalwood, Vanilla, and Patchouli, making it a great soap for both men and women. If you love the striking contrast of black and white soap, the Black, White and Gold All Over Cold Process Tutorial is the perfect project to try. If you prefer melt and pour, the Licorice Candy Soap Tutorial features black and white stripes that really pop.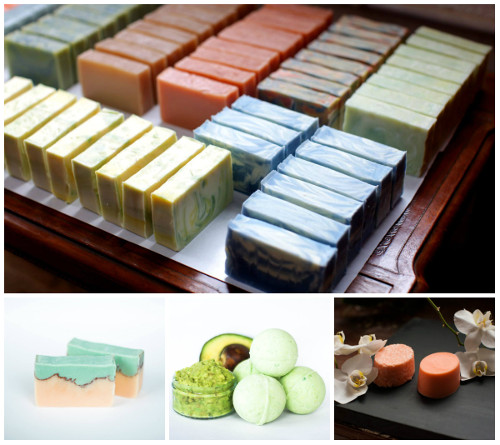 Shown above (top, clockwise) is a collection of Shana's beautiful soaps, a Sweet Orange Shampoo Bar and Conditioner Bar, Avo-Bomb Avocado Bath Bombs, and the Cucumber Melon Soap Bar. Cucumber Melon is a classic summer scent and works perfectly in a wide variety of projects, such as this Cucumber Melon Deodorant Tutorial.  If you're looking for a fun twist on cucumber scents, check out the sample of the month, Cucumber and Kiwi Fragrance Oil.

Thanks to Shana for being a part of our awesome community, and thanks to everyone else who shows us photos, asks questions and contributes to the lively Bramble Berry Facebook page community. We are continually inspired by your creativity and personal successes!
Find Bathvs
On Etsy
On Facebook
Post pictures of your crafty creations on the Facebook page each week for a chance to be featured on the Soap Queen blog and receive a sweet soapy package from Bramble Berry. Photos are chosen based on consensus from the Bramble Berry staff, so the best way to increase your chances of winning is to show us lots of photos!