Welcome to mid July, everyone! The sun is out, the surf's up and this week there was a collection of tutorials to get your skin looking its bronzey best. From the Bronze Lip Tint to the Magical Bronze Shimmer stick, these projects featured lots of nourishing oils and sparkling Gold Mica. Check out the round up post for a full list of projects, and don't forget that many of the items  in the tutorials are 20% off part of this month's Web Specials!
In between the glittery gold tutorials, there was a two-part series on an original soapmaking ingredient: tallow. Guest blogger Eric Vought explained the benefits and properties of tallow and then presented a full step-by-step tutorial for making tallow soap.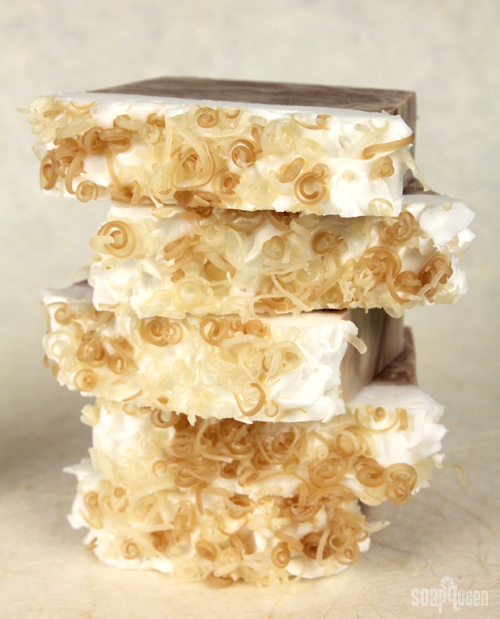 Dreaming of coconuts? Look no further than this summery recipe for Coconut Cream Pie Cold Process Soap, using the new Coconut Cream Fragrance Oil and real coconut water. Speaking of summer fragrances, the Facebook Photo of the Week by Cathy of Luna Soaps features the fragrance sample of the month, Neroli & Shea Blossom! If you are a fan of the Neroli & Shea Blossom Fragrance Oil, keep your eyes on the blog next week for a fun collection of tutorials featuring this scent.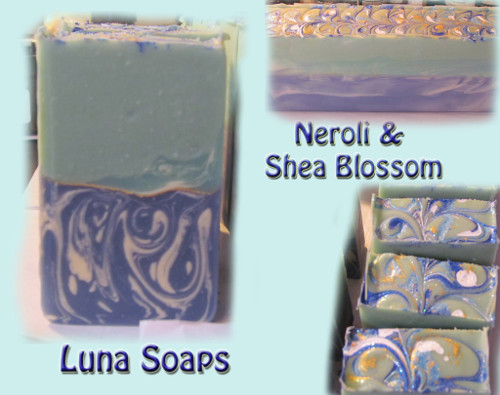 Featuring layers, swirls and mica painting on top, Cathy's soap combines a wide variety of techniques. If you'd like to try mica painting, check out the Black, White and Gold All Over Cold Process Tutorial which uses the gold sparkle mica to create a beautiful swirl.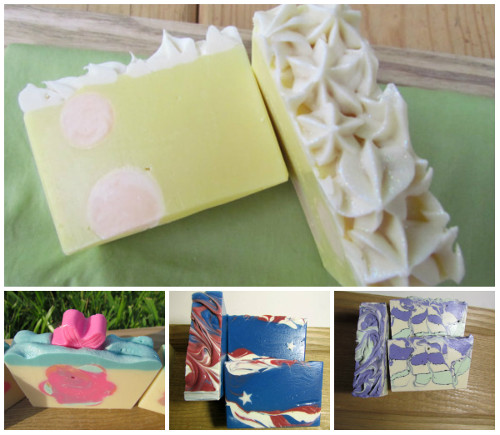 Shown above (top, clockwise) is Cathy's beautiful Lemon Soda Cold Process Soap, Mangosteen Cold Process Soap, Stars and Stripes Cold Process Soap, and the Sarbear Cold Process Soap. Severa; of these soaps features embeds to give extra color, personality and flair. If you'd like to try working with embeds, check out the Crisp Anjou Pear Embed Tutorial. If you prefer melt and pour, the adorable Rainbow Hearts Melt and Pour Tutorial features embeds along with plenty of color.
Find Luna Soaps
On Etsy
Post pictures of your crafty creations on the Facebook page each week for a chance to be featured on the Soap Queen blog and receive a sweet soapy package from Bramble Berry. Photos are chosen based on consensus from the Bramble Berry staff, so the best way to increase your chances of winning is to show us lots of photos!