Back when people first started making soap, there were only two readily-available ingredients: lye and tallow. Tallow is basically animal fat rendered for soapmaking, and many soapers still use tallow in their recipes. While it can be a controversial ingredient, it acts similar to palm oil in soap, adding lather stability and hardness to soap. Some soapers choose to use it in place of palm oil, because they have a ready supply of it or because they like the properties it adds to their soap. In today's guest post, crafter Eric Vought explains the benefits of tallow and how to use its unique properties to your advantage.  — A.M.
Tallow is rendered animal fat (curious how to render tallow? This post has information as well as this informative Teach Soap post). Tallow is mentioned in the first Greek legends when soap was accidentally created from ash and fats. It's great for making hard, white bars, and it's ideal for certain decorating techniques.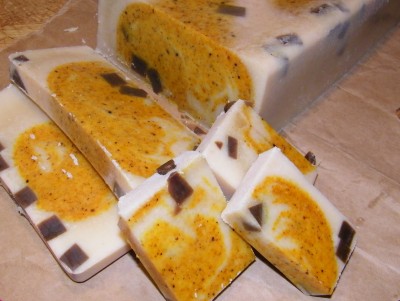 Eric Vought, the author of this post, made this laundry soap from a combination of sheep tallow, coconut oil and olive oil. Watch for the tutorial coming soon!
Guest post by Eric Vought – The fatty acids in tallow include palmitic and stearic acids. Since both are often sold as additives for making soaps and candles hard, white, and opaque, it should come as no surprise that tallow-based soaps are hardy, long-lasting bars.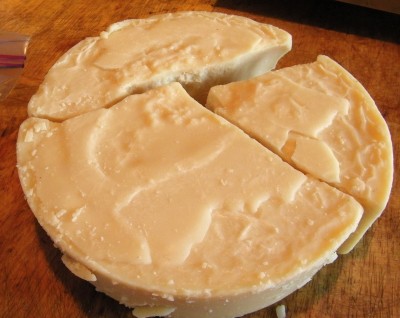 A cake of sheep tallow. Tallow is known for being a hard, opaque fat that creates robust bars of soap.
In southwest Missouri (where I live), if we want to make soap from local ingredients, we mostly have soy, sunflower, peanut, and canola oils to work with. With the exception of peanut, which has allergen issues, our local oils yield very soft, somewhat yellow soaps. Animal fats such as tallow and beeswax, also locally obtainable, give us harder, longer-lasting bars. We raise sheep (primarily for wool) and process our own tallow as part of a "use everything we take" philosophy. We sometimes get beef fats from local butchers. You can also order tallow online.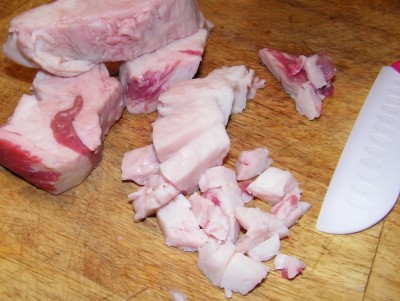 Beef trimming that are about to be rendered into tallow.
The best, most hard tallow is from sheep fats and the organ fats referred to as suet. Beef, deer, and goat fats also work. Rendered pork fats are referred to as lard: softer and of lesser quality. Pork/goat fats will have a strong odor unless "deodorized". SAP tables often give tallow entries by animal (0.139 to 0.140). For home tallow, the difference will be dominated by batch variation and measurement error. Add a small margin (at least 3%) in your fat amounts to account for this error.
When stearic acid saponifies, it releases heat and works quickly. Tallow soaps therefore tend to be wonderful for simply recipes: quick trace, no insulation needed, and sliceable with little set-up time.
Fast set-up makes tallow recipes excellent for certain decorating tasks. Embeds are easily suspended, for example. Tallow takes color well, and tallow-recipes are often very good choices for use in piping bags to decorate your bars because it is so hard. The firm surface of tallow-soaps will also take piping well.
Tallow soaps have stable, creamy and pleasing lather but are not exceptional cleaners. This is one reason that it is often combined with coconut oil. By itself, tallow soap is very easy on the skin, so you want to find a good balance of oils that increase cleaning and make your soap suitable for all skin types.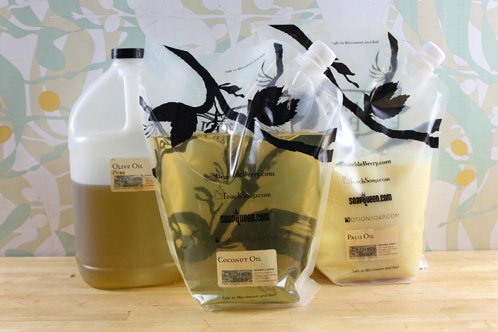 Tallow recipe tend to work well when combing with super cleansing oils, such as Coconut, or nourishing oils, such as Olive. Tallow is also an excellent replacement for Palm oil.
Beer and milk/cream in tallow soaps will tan your nice white soap. The heat from reacting lye carmelizes sugars. The resulting tones are pleasantly earthy, but if you wish to avoid them, freeze your cream or beer into cubes before mixing to keep the reaction at the lowest possible temperatures.
Tallow soaps do retain a mildly fatty scent, not enough to bother most people. What if you do not want to use tallow but want the same effects? The most popular alternative is Palm Oil and palm stearate. Palm waxes at 0.139 SAP can be substituted for tallow in recipes with no other changes. (Your manufacturer may provide an exact SAP value for your product.)
With fast trace, fast setup and forgiving behavior, tallow soaps are fun to experiment with and give you time to experiment with new soapy design.
For more on the tallow rendering process, see Eric's post on the Soap Making Forum. Stay tuned for a tutorial with tallow this week.